By Aria Finger, CEO, DoSomething.org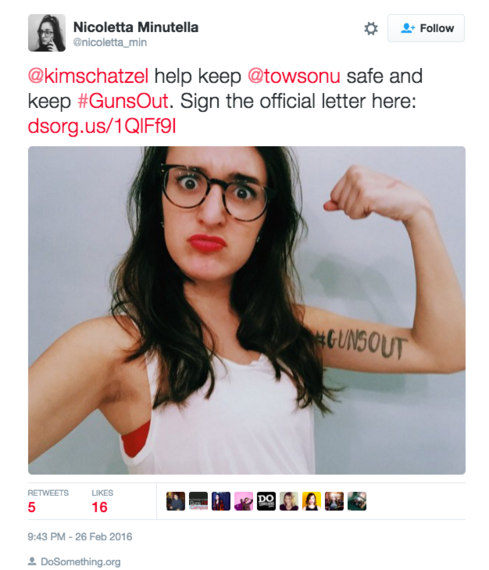 "The United States has experienced a dramatic decline in violent crime over the last two decades, yet the rate of gun violence, particularly among young people, has barely moved," writes Chelsea Parsons, Vice President of Guns and Crime Policy at the Center for American Progress.
If you don't think Millennials are paying attention, think again. After the Charleston massacre left nine dead last June, DoSomething.org reached out to its members  --  aged 13 to 25 -- for their responses to the shooting. Within days, we were bombarded with over 26,000 messages from young Americans who described themselves as "disgusted," "heartbroken," and "ashamed."
"How many shootings will it take for people to realize that guns kill people?" asked Sabrina, 16.
Young people are disproportionately affected by gun violence, yet most feel silenced on the issue. When asked, 85 percen of DoSomething.org members say their voice isn't being heard in the gun violence prevention debate. Today, we're going to change that, starting with a place young people should feel the safest: their own college campus.
If you were a college student, how would you feel knowing someone  -- a stranger, anyone  --  could be carrying a concealed weapon when you're eating in the dining hall? Or studying at the library? Or hanging out in a friend's room? Or if your roommate said, "Don't worry, I have a gun under my bed." Would that make you feel more or less safe? Then consider parties. And binge drinking. Can you imagine?
Current bills could make these scenarios a reality. 
Since the 2007 Virginia Tech shooting that killed 33 people, bills have been introduced in at least 37 states that would allow guns on college campuses. Eight states have already passed bills to allow guns on campus, and this March alone, at least 15 more states will be debating bills that would do the same.
There is no reason to arm our college students. Concealed carry isn't allowed at most schools, and colleges have in fact been some of the safest places in America. Students themselves vehemently oppose allowing concealed carry on their campus; when surveyed, 7 in 10 DoSomething.org members say they would feel less safe if people were allowed to have concealed weapons at their school.
Now it's time for college administrators to take a stand. While 95 percent of college and university presidents don't want concealed carry on campus either, only about 400 out of 4,500 have signed this official letter from our partners at The Campaign to Keep Guns Off Campus, an org that will leverage the letter to influence state legislatures on the issue.
Today, we're amplifying young people's voices and, beyond that, giving them a tangible way to keep their school safer from gun violence. This is the Guns Out campaign, a national initiative that is activating thousands of students to demand their college president take a public stand against guns on campus.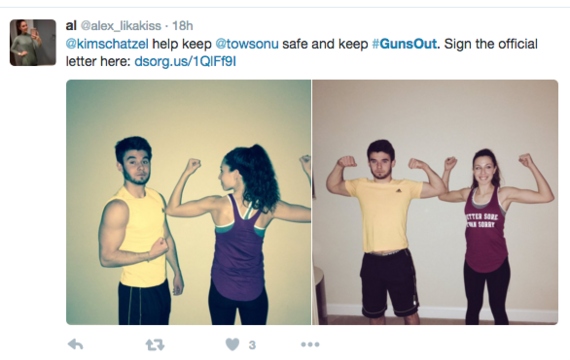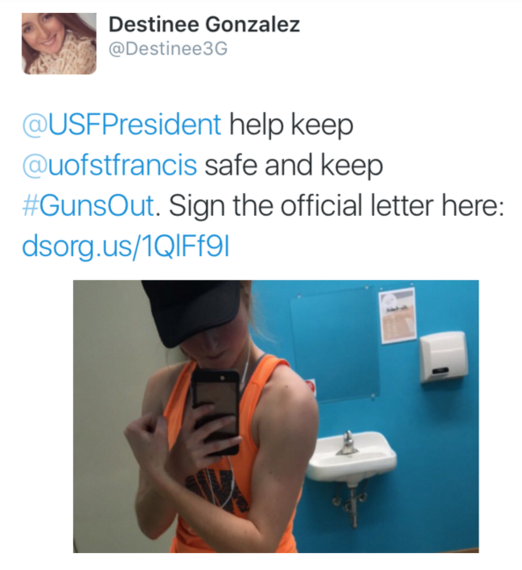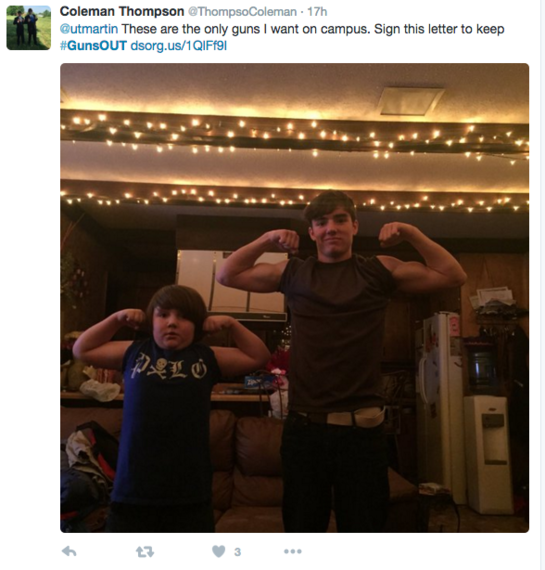 Students sign up for Guns Out and post photos saying that the only guns they want on campus are the ones they can flex. They tweet or Instagram the photos at their college president and encourage them to sign the official letter against guns on campus.
When students convince their college president to sign the letter, it makes a strong statement to lawmakers to vote down bills that would allow concealed carry on campus.
This campaign isn't radical. Or political. It's what students want. It's what administrators want. Guns simply don't belong at schools. The International Association of Campus Law Enforcement Administrators, a trade group for campus law enforcement, has come out publicly against allowing guns on campus, saying that they fear more guns would lead to more violence on campuses.
Today, DoSomething.org's 5.1 million members are backed by experts in the space, The Campaign to Keep Guns Off Campus and the Law Center to Prevent Gun Violence. We're giving students support. And a voice. And a way to make real change right now. And, you know, a reason to take selfies in tank tops (as if they needed an excuse).
Finally, someone is listening to students, the people who have the most to say  --  and the most at stake  --  on the issue. To support them, watch this video and share it with someone who wants to stand with you against gun violence. Together, we can keep #GunsOut off college campuses.
Aria Finger is the CEO of DoSomething.org.
REAL LIFE. REAL NEWS. REAL VOICES.
Help us tell more of the stories that matter from voices that too often remain unheard.