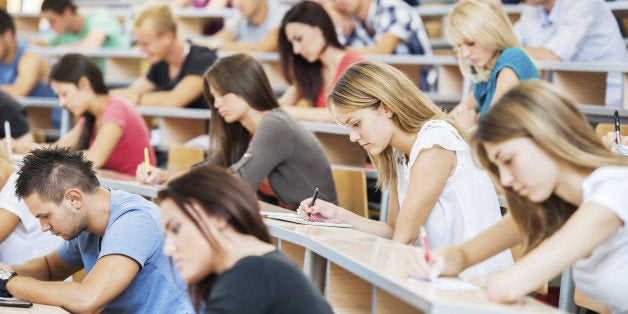 College is meant to be an extremely beneficial time in a student's life, and typically it is. Ideally, the college experience fosters learning, helps students to master skills, expand as individuals, and nurtures their areas of interest. These days, though, the cost of tuition, textbooks, and living expenses pose a debate -- is college worth it, or should students skip it and pursue full-time employment after high school?
The College Discrepancy
Across college campuses, professors assign papers, tests, presentations, all of which play a key role in learning, retention, and academic development. But are they teaching students how to identify and fine-tune their skills, providing them with meaningful information about industries and job functions? Are they teaching students how to explore and educate themselves on careers? Is anyone asking students what they envision their after-college lives to consist of? How they want to impact their communities? What type of work energizes them? Are professors providing information on what it takes to be an employee, or an entrepreneur? Are students being exposed to mentors to help them navigate the road ahead?
Sure, students can find a lot of career information and resources online. There are templates to make resumes, guides on what to wear to an interview, and tips on how to prepare, even quick assessments to uncover their top ten careers. But students struggle to identify their skills and are not clear on how their skills translate to jobs. They don't know how to figure out what they want to do. You can learn a lot online, but I believe that students are more invested when they have a one-on-one advisor who helps them to define their aspirations, pinpoint their strengths, target career goals, and create an action plan.
I believe that the goal of education is to instill a love of learning in students and to prepare and equip them with skills to help them to succeed. Middle school helps them to prepare for high school. And high school helps them to prepare for college. But then what? A one-semester freshman class on careers is not the answer. A career office which students visit a few times throughout their college experience is not enough. Students need to plot their career roadmaps throughout their four years of college -- it needs to be part of the daily conversation and part of every college course. Professors should be equipped to make a connection between what students learn in the classroom and its relevancy in the world outside of the classroom. Internships or work programs should be an integral part of the college experience. To study biomedicine for four years of college only to discover during a senior year internship that it's not for you, is years of wasted time and money. Internships early on in the college experience may help students to choose the right course of study. Professors need to look up from the textbooks and assignments and start a conversation about what comes after college. If we adhere to the data that students with college degrees get better jobs, we cannot ignore the world of work. If we ask students to pay exorbitant tuition, we should be equipping them for life beyond the college campus.
Simple Solutions
Integrating career discussions into the classroom doesn't have to involve grand schemes. It can be simple, thought-provoking classroom discussions. In my professional life, I've helped countless executives to navigate their career paths, and I've partnered with some great companies and organizations to help them hire leaders, too. I've also been an English and writing professor for the last decade. When I discovered the college to career disconnect in my own classrooms, career discussions became a part of my daily agenda. I continuously remind students that beyond their class papers, they will be stuck with writing for the rest of their careers: business plans, proposals, emails, grants, presentations. I advise them throughout the term that all that they put out into the world in terms of writing, is a reflection of them--that means social media, too. The last few weeks of each semester, I work with students on what I consider to be critical writing assignments: Linked In Profiles and resumes. Over the years, I've grown so passionate about the college to career disconnect that I founded EverythingSmart, which provides one-on-one career coaching to help students tackle the what comes next phase of their lives. My hunch was that if we start talking to students and educating them early on about careers, it will prove helpful to them in choosing their majors, motivate them to find internships, and immerse them in the right career route prior to graduation.
Looking Ahead
I believe that colleges need to create a robust curriculum that stretches beyond book learning, and it needs to happen within every classroom in an interactive format. College to career preparation shouldn't be reserved for elite colleges. It should be part of every college's core curriculum, and it needs to occur across all four years, on every campus, to include community colleges, because businesses are made up of all levels of employees with various educational backgrounds. We are failing our students and wasting their time and money if we are not helping them to grow as professionals. Career exploration and guidance is part of the education process, and a critical component at that. We need to be giving students career prep and helping them navigate the world of careers so that when they graduate, successful careers will be foreseeable.
Calling all HuffPost superfans!
Sign up for membership to become a founding member and help shape HuffPost's next chapter