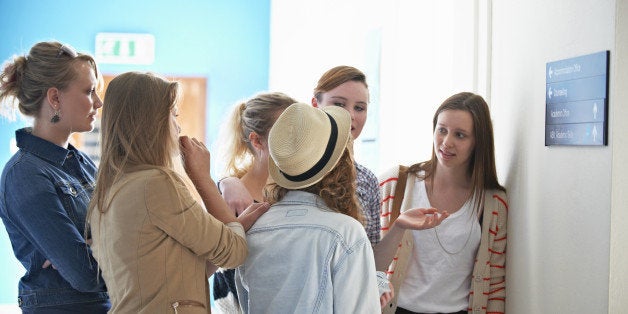 This article was written by teen reporters from The Mash, a weekly publication distributed to Chicagoland high schools.
By Breana Brill, Niles West High School and Devora Klionsky, Walter Payton High School
Choosing a college can feel like the scariest decision you've ever had to make. But visiting your top schools can ease some of that stress.
You might discover that the school you thought was perfect feels all wrong. Or you could find that a school you weren't too excited about is awesome. College visits can reveal a lot about a school, so it's important to take full advantage of every opportunity they offer.
We talked with five college freshmen and asked one question: If you could go back in time, what would you change about your campus visit experience?
"Everyone says this, but it really does help to ask questions. Any questions!" —Negatwa Tewodros, Northwestern University
It's better to ask lots of questions now—no matter how silly they may seem—than to find out the hard way when you're a freshman. Be sure to ask specific questions about the major you're considering and what it will take to earn your degree. Ask about the fun stuff too: student organizations, sports and campus gyms.
Remember to get contact information from someone at the university, such as an advisor or tour guide. Email that person if you think of a question after you leave.
2. Stay the night if you can.
"I didn't (stay overnight), but it is a helpful way to get a feel for the school. Also, the experience you have changes based on who you stay with." —Andrew Kelo, Ohio State University
Spending a night in the dorms is one of the best ways to get a feel for freshman year. Are there parties every night? No parties at all? Is having a random roommate awkward? Do the dorm rooms give you enough space?
If you're staying for more than one night, try to stay with a few different people. It will give you a more diverse experience. You'll also get a better idea of what dorm you like best.
3. Put yourself out there.
"Make sure you really get a feel for the school. Check out the nightlife, sit in on a few classes and meet some people." —Oliver Hirt, Brown University
Maybe you're going from a tiny high school to a huge college. Or perhaps you're going from an enormous high school to a small private college. Whatever the case is, campus life can be overwhelming at first.
Sit in on a lecture in a subject that interests you, check out the nightlife, ask about the school's Greek life and find the most popular study spots around campus.
And most importantly, make sure you'll be able to have the experience you want at a college you love.
4. Be selective with your visits.
"Make sure you visit the schools you are seriously considering, but don't visit every single one you apply to because you will just overwhelm yourself and make the elimination process way harder." —Ella Paratusic, Marquette University
Visiting the colleges you plan to apply to is never a bad idea, but try to limit your visits to schools you're seriously considering. After all, college visits can be expensive and time consuming.
Check out what the college has to offer online—do they have virtual tours you can check out? It's not always the best option, but it could give you a good feel for the campus.
5. Go in without judgment.
"Keep an open mind. Don't go in thinking you don't want to be there or have your heart set somewhere else. … You never know what a place will have to offer." —Eli Sherman, University of Minnesota
The idea of college is scary. You're making a decision about the next two to four years of your life, and then some. Remember to keep an open mind while you're visiting schools. Even if the brochures don't appeal to you, try checking out the campus to get the real feel for the school. You never know what each campus has in store for you.
Calling all HuffPost superfans!
Sign up for membership to become a founding member and help shape HuffPost's next chapter
BEFORE YOU GO
PHOTO GALLERY
Inspirational Quotes To Get You Through The Week