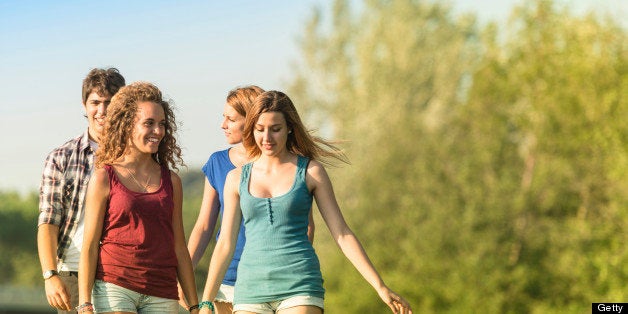 School's out for summer -- unless you are a rising high school junior or senior, in which case you likely have college on the brain. Although classes are not in session on most college campuses in July and August, many high school students find that the summer is the most convenient time for them to visit colleges. If you are in this boat, don't worry -- there is still much to learn from a summer campus visit. Here are some tips I share in my new book, B+ Grades, A+ College Application, for getting the most of your campus visits.

• Sign in at the front desk
Most colleges track students' interest in the school so you will get points in the admissions process for making the trip. Even if you miss a campus tour or information session, be sure that the admissions office has a record of your visit by signing in at the front desk.
• Pick up your pen
College campuses can look alike so it is important to record your observations in the moment (a smart phone voice recorder works as well as an old fashioned pencil and notebook). These notes will not only help you prioritize your college list down the line, it will also help you write those darn "what do you want to go to our college?" supplementary essays that many colleges require as part of their application. Demonstrating that you have not only visited campus but that you truly paid attention to the distinctive and interesting aspects of the school goes a long way in a successful application.
• Don't judge a college by the tour guide
While colleges strive to select tour guides that are well spoken, energetic and passionate about the school, anyone can have a bad day or say something off-putting. Remember: your tour guide is still only one of several thousand students on campus. Just because you don't like him or her, does not mean that you won't like the university,

• Use information sessions to learn about admissions and financial aid
A member of the admission committee typically gives information sessions, therefore he or she reads applications and knows what it takes to get admitted. Take detailed notes on the admission process, application requirements and how the admission committee evaluates high school coursework and standardized test scores. Also take note of any scholarship application deadlines and financial aid requirements. One of the surest ways to jeopardize your eligibility for financial aid is to get the forms in late or turn in an incomplete application.

• Find your regional admissions officer and introduce yourself, if possible
Applications in a college admissions office are divided by regions and different admissions officers are charged with traveling to and reading applications from their regions. Find out who your regional admissions officer is by inquiring at the front desk. This is the person who will be reading your application so it pays to introduce yourself! If your regional officer is unavailable, be sure to get his or her contact information and politely introduce yourself via email when you get home. In the email, tell your regional admissions officer that you enjoyed your visit to campus, what you liked specifically and take the opportunity to ask any questions you may have.
Related
Popular in the Community