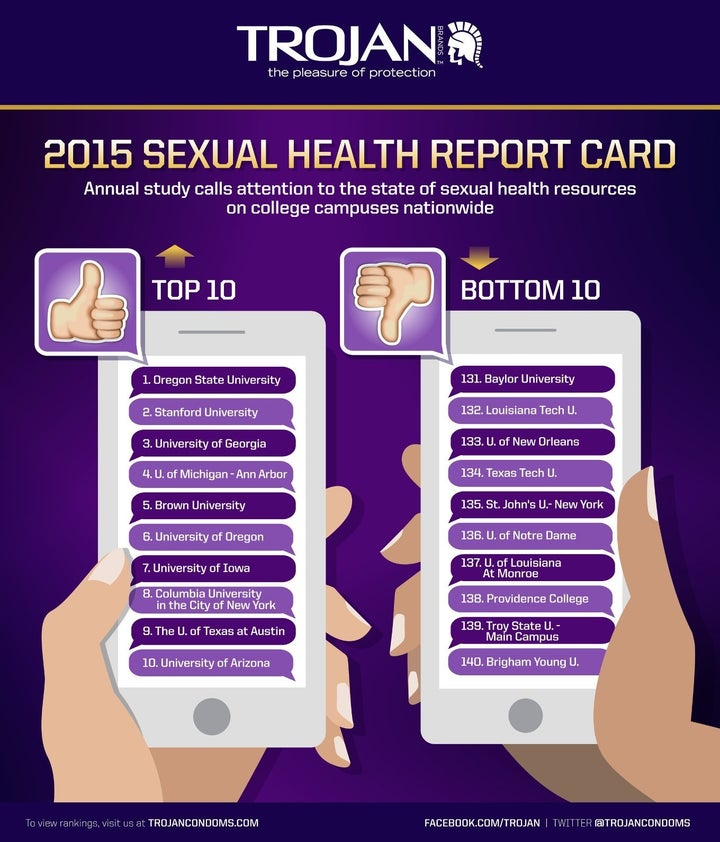 Colleges have vastly improved sexual health on their campuses over the past decade, according to a new report from Trojan Brand Condoms. 
Trojan has released an annual sexual health report card since 2006, ranking colleges on how well they provide sexual health information and resources on campus. This year, Trojan announced Wednesday that Oregon State University ranked No. 1 for the second year in a row.
But overall, the company notes all campuses have made big improvements. 
The annual report card has examined schools using a GPA-like score for sexual health, based on a 4.0 scale, Trojan says. In 2006, the first year, average score was just 1.9; this year, the average GPA is 3.0.
So while Columbia University has slipped from No. 2 in 2013 to eighth place this year, it may not be because the Ivy League school is doing worse, but the competition is getting stiffer.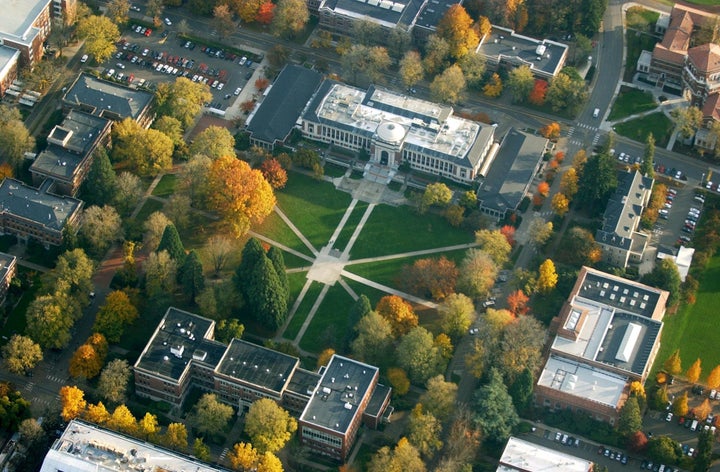 Stanford University, the University of Georgia, the University of Michigan and Brown University all followed Oregon State to round out the top five in the 2015 ranking.
Columbia, Brown and the University of Iowa have each appeared in the top 10 of the ranking at least seven times since Trojan created the report card. 
The ranking of 140 schools is done by the research firm, Sperling's BestPlaces, using data from student health center representatives and follow-up secondary research on those centers and services they provide. Availability of contraceptives for free or at cost, HIV and STI testing, outreach programs and hours of operation are all considered for the ranking. 
The Top 26 Colleges With The Best Sexual Health, Ranked By Trojan:
Oregon State University

Stanford University

University of Georgia

University of Michigan-Ann Arbor

Brown University

University of Oregon

University of Iowa

Columbia University

The University of Texas at Austin

University of Arizona

Michigan State University

Indiana University-Bloomington

Princeton University

University of Maryland-College Park

Colorado State University

Cornell University

University of Florida

University of Minnesota-Twin Cities

University of Connecticut

Northwestern University

University of Pennsylvania

University of North Carolina at Chapel Hill

University of Wisconsin-Madison

University at Buffalo

Rutgers University-New Brunswick

University of Nebraska at Lincoln
REAL LIFE. REAL NEWS. REAL VOICES.
Help us tell more of the stories that matter from voices that too often remain unheard.