The University of California, Santa Cruz took the top slot for the most campus disciplinary actions relating to drugs, according to a new analysis from Project Know, a website that provides information about drug addictions.
But having a high rate of disciplinary actions doesn't necessarily mean UC Santa Cruz is doling out more punishments than other schools for students caught with drugs.
Project Know found that UC Santa Cruz had a rate of 70.6 per 1,000 students facing disciplinary referrals for drugs on campus in 2013, the most recent year for which data was available. Yet the campus didn't crack the top 50 for the most drug-related arrests.
The report said a discrepancy between disciplinary actions and arrests shouldn't come as a surprise.
"Instead of being arrested, [an offending student] might be referred by the police officer to the student conduct office," the report explained. "A panel then decides what, if any, disciplinary action the student should face, which could include community service, probation, or a remediation program."
University spokesman Scott Hernandez-Jason told The Huffington Post that the outcomes for exclusively drug-related disciplinary actions in 2013 were unavailable. However, he said that the two most common disciplinary outcomes in the 2013-14 academic year were "admonishments," which indicated a student may have violated school rules, and "warnings," which confirm a student violated the rules. Warnings often come with a counseling program "so there is both a disciplinary action and an opportunity for learning," he noted.
"This approach gives [UC Santa Cruz] an opportunity to provide counseling, education and other interventions to make sure students adhere to our campus principles and continue their education with UC Santa Cruz," said Hernandez-Jason. He added, however, that "some students have complained that the campus is too strict when it comes to addressing drug use."
Nine of the 22 student suspensions during the 2013-14 year involved drugs, usually marijuana, Hernandez-Jason said.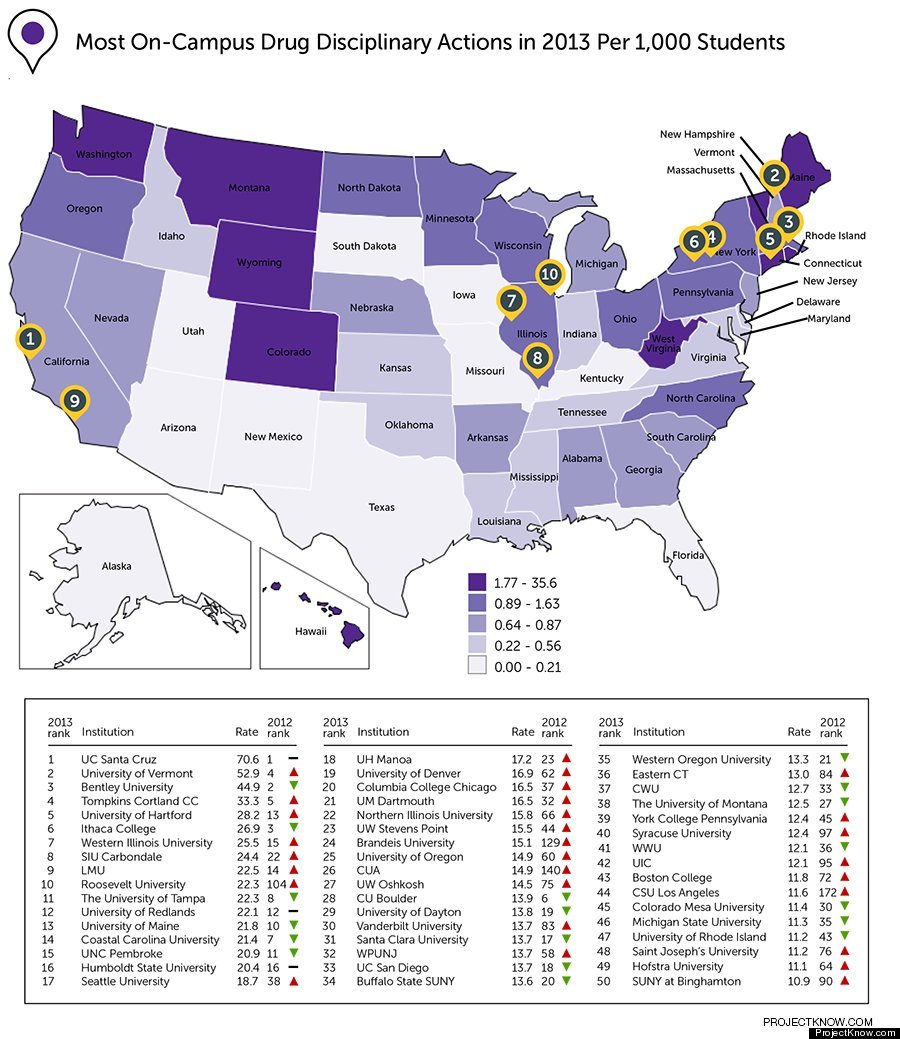 The University of Vermont had the second-highest rate of disciplinary actions for drugs in 2013 -- 52.9 per 1,000 students. However, university spokesman Jeff Wakefield said the 2013 data was "anomalous," because it "reflects the addition of several hundred students to on-campus housing, more strategic enforcement, and the effect of Vermont's decriminalization of marijuana." The decriminalization reduced possession of small amounts of pot from a criminal violation to a civil offense, Wakefield said, adding that the drug disciplinary referral numbers for 2014 show a decrease of 40 percent.
UVM did not have data to determine whether there was more marijuana on campus as a result of the change. But Vice Provost for Student Affairs Annie Stevens said the administration generally believes that "decriminalization may have signaled to some that they could use the drug more openly, thus leading to a higher visibility level and increased disciplinary cases."
Popular in the Community