With final exams in full swing, it's not an uncommon sight to see college students sprawled on library sofas and burning the midnight (and 3 a.m., and dawn) oil to finish out the semester. A 2015 report from the American College Health Association found that over 60 percent of college students felt "tired, dragged out, or sleepy during the day" on most days of the week, and 22 percent reported sleep difficulties.
Sleep deprivation is pretty much understood to be a part of college, but it doesn't have to be that way. Colleges around the country are experimenting with ways to make sleep more of a priority, from student initiatives to administration-sanctioned sleep programs. Here are some of their innovations.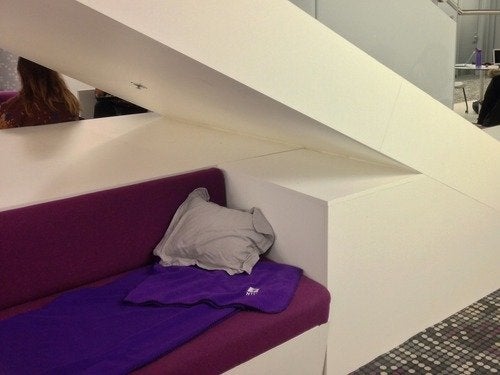 New York University's Ultimate Nap Guide, on the university's Tumblr, directs students to the campus's most nap-worthy couches, armchairs, and other quiet spaces. Because, as they put it, "From soft and sunny to dark and quiet, NYU has a napping spot for everyone." There are similar "nap maps" at the University of Richmond, the University of Miami, and the University of Texas, which shows student ratings of prime nap spots based on noise level and comfort. 
In 2013, the University of Iowa launched its Refresh initiative with an eight-week email program, followed by an app that assesses students sleep patterns and provides a Sleep Improvement Plan. If students need more guidance, they can set up an in-person appointment with a Refresh consultant. Users of the app reported "significant reductions in insomnia scores, difficulty falling asleep, effort to get to sleep, and sleep disturbances," and increased satisfaction with sleep quality.
The University of Missouri offers a non-academic four-week class called "Sleep Solutions," on the science of sleep, practical tips, and benefits of yoga and restorative breathing, that's covered by the university health fee for all students. They also keep three certified health coaches on hand to help students identify strategies to refine sleep habits and create the right environment for quality sleep. Since 2012, the University of Louisville has offered Flash Nap zones where students learn from an expert how to easily, efficiently and pleasantly restore vitality with flash naps.
In recent years the University of Georgia's Health Promotion department has added stress management and sleep education to its list of campus priorities, even handing out business card-size promos with ear plugs attached. They also developed a Wellness Workshop Series for freshmen on campus to offer support on stress, sleep and anxiety. Lessons include "shutting down" at night (turning off electronics one hour before bed), and information about the negative effects of alcohol on sleep -- all available in the "Let the Bulldawg Sleep" section of the health center website.
Wesleyan University has state-of-the-art nap pods courtesy of its alumni Christopher Lindholst '97 and Arshad Chowdhury '98, the co-founders of MetroNaps Energy Pods. The two pods are in Wesleyan's main library and science library. For its commuter students, the Savannah College of Art and Design has had two "EnergyPods" at each of its campuses in Savannah and Atlanta since 2006, and even added four to its Hong Kong campus in 2014. Glenn Wallace, SCAD's Senior Vice President for University Resources, says that having a separate room for napping students makes other campus buildings look more appealing, and told TIME, "No one wants to walk around and see people laying on the floor with their mouths open."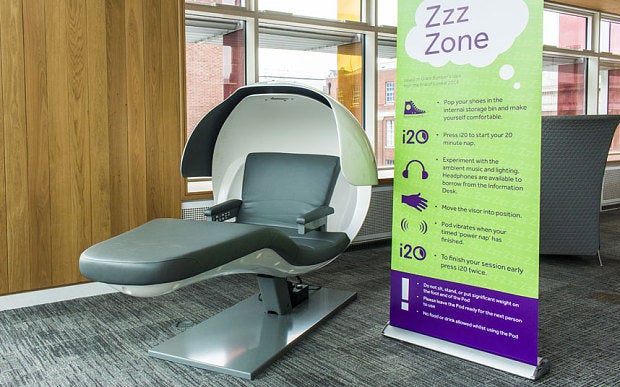 Across the pond, students at the University of Manchester can use nap pods near the library at the university's 24/7 public study space, Alan Gilbert Learning Commons, to snooze for 20 minutes, with the aid of ambient music. Grateful nappers can thank psychology student Grace Bamber, who came up with the idea in a campus-wide competition. Dr. Simon Kyle, a lecturer in Clinical and Health Psychology at the university, told The Telegraph, "daytime napping can reset the brain's learning potential, which may be particularly important during the examination period."
Calling all HuffPost superfans!
Sign up for membership to become a founding member and help shape HuffPost's next chapter