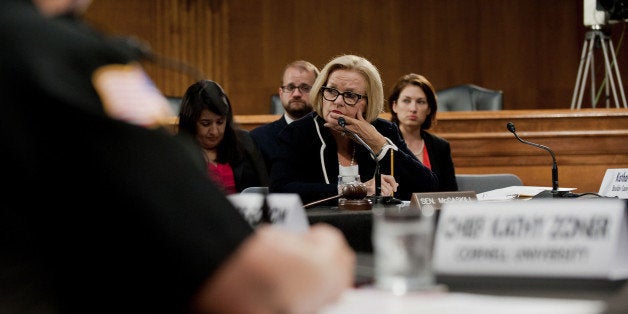 WASHINGTON -- Multiple senators made it clear this week they believe the U.S. Department of Education's Office for Civil Rights needs new ways to punish colleges that botch their handling of sexual assault cases on campus.
There are 64 colleges and universities currently under Title IX investigations for allegedly mishandling sexual assault cases, and the worst penalty they could face if found noncompliant with the law would be to get cut off from all federal funding. This would mean none of their students could receive Pell grants or federal student loans.
Senators this week frequently called it a "nuclear option," and one that has never been used against a higher education institution.
"It's a pretty good nuclear option," insisted Catherine Lhamon, assistant secretary for civil rights at the Education Department, during a Senate Health, Education, Labor and Pension committee hearing Thursday.
"I'm not certain that it is a very good nuclear option ... if you don't have any other options," shot back Sen. Tom Harkin (D-Iowa), chair of the Senate HELP committee.
Lhamon said there are many costly ways OCR can make schools pay for noncompliance, such as through mandated training, campus surveys, retaining staff to deal with the assault cases, and paying damages to complainants.
"It's not my view that we are lacking a tool that is needed for us," Lhamon said.
"That's amazing to me that you have all the tools you need, because obviously something's not working," Harkin replied.

Colleges are required under Title IX, a federal gender equity law, to address sexual violence on their campuses. Courts have held that not addressing sexual assault or harassment and leaving perpetrators in proximity to victims on campus constitutes a hostile environment, depriving them of equal educational opportunities. Currently, colleges in violation of Title IX are pressured into negotiating "voluntary" agreements with federal officials stipulating actions they must take to remedy their failures.
Under a separate law, the Clery Act, schools can be fined for underreporting crimes on campus or failing to issue emergency alerts.
The offices of Sens. Claire McCaskill (D-Mo.) and Kirsten Gillibrand (D-N.Y.) have already alluded to plans to use forthcoming legislation to address the government's inability to adequately punish colleges for mishandling rape cases.
During a roundtable discussion that McCaskill hosted Monday on campus sexual violence, the senator noted Education Department officials want to keep using voluntary agreements in their investigations. McCaskill said she is fine with that arrangement, but only up to a certain point.
"I think there's value to cooperating, but then there's also value to bringing the hammer down," McCaskill said. "And if no school ever thinks the hammer is going to come down then that's a problem. We've talked a lot about that."
McCaskill referred to the "nuclear option" as "totally unrealistic, never going to happen," and said there needs to be punishment for colleges that keep mishandling cases.
"The hammer has to be something that doesn't punish students who are, after all, potentially the victims," Sen. Richard Blumenthal (D-Conn.) said at the roundtable.
Alexandra Brodsky, a participant in Monday's roundtable, noted that at the conclusion of an investigation into her complaint against Yale University in 2012, OCR declined to find the Ivy League school noncompliant, despite having found violations of Title IX. Since then, Yale has continued to receive criticism for its handling of sexual violence.
"It's clear that this methodology of endless second chances doesn't work," Brodsky told The Huffington Post. "We're seeing the same schools under investigation again and again, little changed because of the OCR's first intervention. Voluntary resolution agreements devoid of sanctions for schools are the equivalent of the 'slap on the wrist' book report for student rapists."
But Brodsky said she doesn't want OCR to use the "nuclear option" at all, since it would harm nearly every student on campus by preventing them from receiving financial assistance to pay for college.
"That's why for the past year we've been pushing for intermediate sanctions, similar to Clery fines but proportional to a school's operating budget," Brodsky said.
McCaskill and Blumenthal told reporters they expect to unveil draft legislation on the issue in the next couple of months, and said that whatever they unveil could change after they receive more feedback.
Related
Popular in the Community