Dartmouth College's Vice Provost for Student Affairs Inge-Lise Ameer admitted something this week that few administrators do: She monitors what's posted on Yik Yak. And a recent survey shows the majority of school officials do the same.
Ameer was meeting with student protesters after the campus was divided over allegations that demonstrators shouted obscenities in the school library. In response, racist posts cropped up on Yik Yak, the social media app that lets users post anonymously to a geolocation-restricted feed.
Ameer told the demonstrators that the reaction to the protest "displays our society very clearly right now" and that "there's a whole conservative world out there that's not very nice." One student angrily challenged her to go further and say "they're racists." Ameer said she wouldn't go that far -- but then she mentioned something that not many administrators have.
"We're on Yik Yak all the time and we're constantly contacting them: 'Please take this down. Please do this. Stop doing this,'" Ameer said. 
Yik Yak has exploded in popularity on college campuses since 2013, and is frequently the focus of protests by students who say it captures racist sentiments among their peers.
Colleges have said they are unable to do much about Yik Yak because banning an app on smartphones is virtually impossible; the First Amendment blocks public schools from prohibiting merely offensive comments. But many school officials are monitoring these social media platforms.
Three in four college officials said in a recent survey by the consulting firm Margolis Healy that their administrators monitor publicly available social media networks, and 64 percent of campus safety staff said they do as well.  A little more than half say they keep an eye on Yik Yak, but the majority of them said they focus on Twitter and Facebook.
Most officials said they do monitoring manually, and just 4.4 percent said they rely on student reports, according to Steven Healy, the co-founder of Margolis Healy.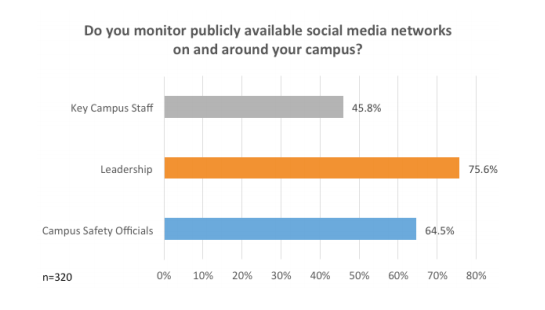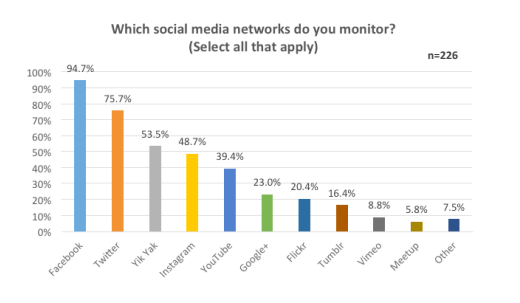 "I don't think institutions are sitting down and scouring every single posting --practically, that's impossible," Healy told The Huffington Post. "But they are paying attention to the conversations going on."
Healy cautioned that the results of their survey shouldn't suggest that colleges are watching for offensive posts; they're more interested in threats of violence.
Campus police in Florida have said they're paying attention to another new app called Yeti, where anonymous users can post photos and video to a geolocation-restricted feed. A spokesman for Yeti said that so far, there has only been one incident in which police contacted the app requesting information about a specific user, and that was in reference to a potential threat posted on their feed.
Colleges often can't do anything about offensive posts on these new social media apps, but they do cooperate with law enforcement. Representatives from Yik Yak and Yeti say they don't share user information unless police make a request due to what may be a legitimate threat -- something that's happened frequently this year.
Those are the posts that colleges are looking at social media for, not just an offensive remark or kids drinking underage, Healy explained.
"Having said that, folks need to be smart about their settings and social media," he said. If you don't want the world to know it was you who made the posting, Healy said, it might be better to not post at all. 
Calling all HuffPost superfans!
Sign up for membership to become a founding member and help shape HuffPost's next chapter