The University of Wisconsin-La Crosse has more on-campus alcohol arrests per capita than any other large university in the country, and the State University of New York at Oneonta nabbed the most drug busts, according to a new analysis released to The Huffington Post this week.
The report from Rehabs.com utilizes the latest data available from the U.S. Department of Education's Office of Postsecondary Education for all colleges receiving any federal financial aid. Colleges are required under the Clery Act to track, disclose and report certain statistics for on-campus crime. In its analysis, Rehabs.com included only institutions with at least 5,000 enrolled students and residential halls on their grounds.
Here are the colleges with the most on-campus alcohol arrests per capita in the 2012 reporting year: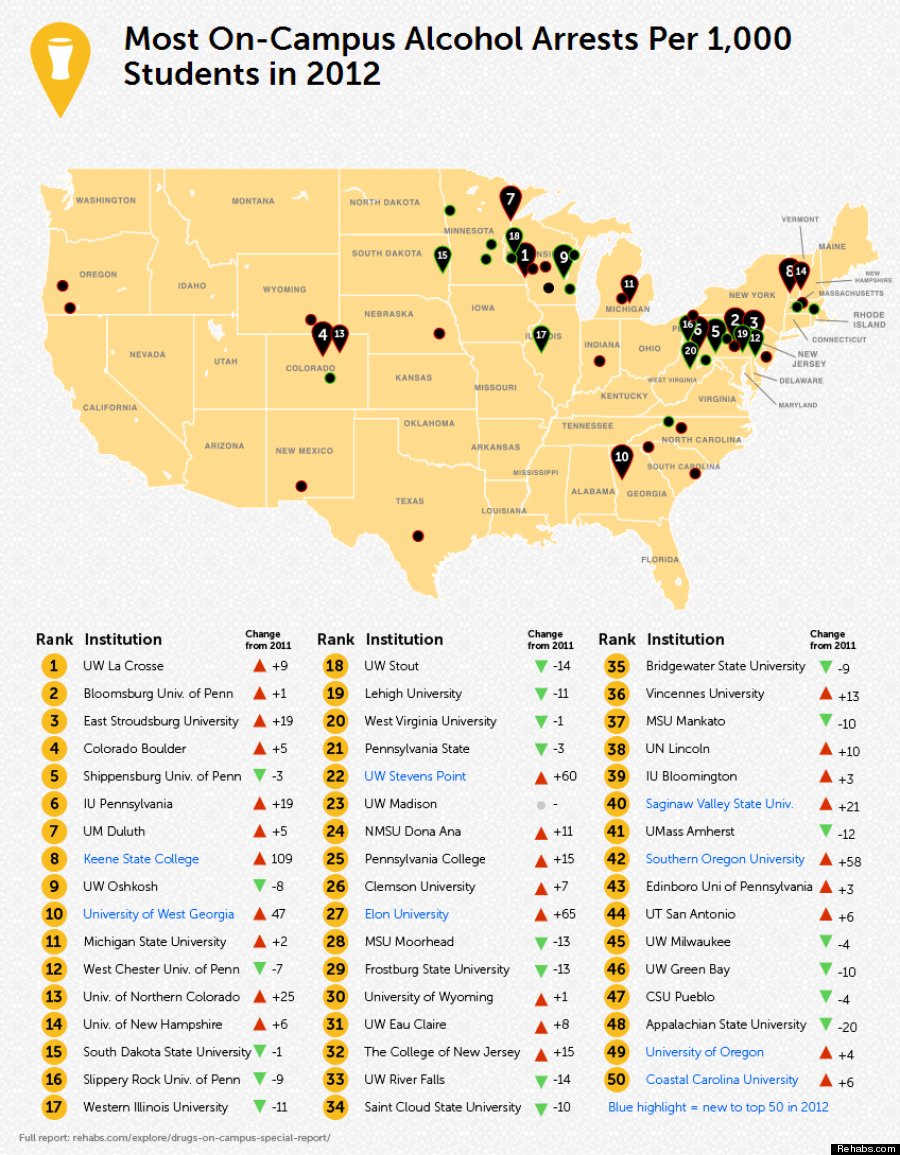 Rehabs.com notes the fact that a school had more arrests does not necessarily mean there were more arrest-worthy incidents on its campus. And Scott Rohde, chief of police at UW-La Crosse, agrees. Rohde believes there's a link between the kind of policing done at the University of Wisconsin and the presence of a number of UW schools on the list.
"Most University of Wisconsin campuses have fully commissioned police departments, so citations are issued when underage drinking is identified," Rohde said. "Nationally, private and public colleges may have security departments that may choose to issue a warning in lieu of a citation. Licensed police will ticket on the first offense."
After a student receives a drinking citation, Rohde said, he or she has the option of completing a two-hour educational program, writing a 750-word paper or meeting face-to-face with the dean of students. Ninety percent of those who receive one drinking citation do not receive another, he added.
Here are the colleges with the most on-campus drug arrests per capita in the 2012 reporting year: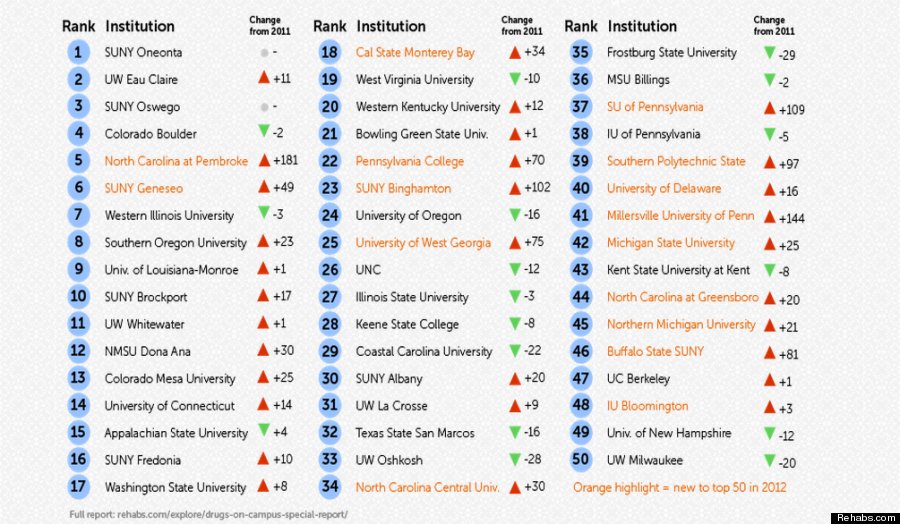 The State University of New York at Oneonta came in at number one. Rehabs.com also found that drug arrests at the school have been going up in recent years.
SUNY Oneonta spokesman Hal Legg had a similar response to Rohde's for his school's ranking at the top of the drug busts list.
"Our position, plain and clear, is that illegal drugs have no place at SUNY Oneonta," Legg said. "The information Rehabs.com shared demonstrates our commitment to that position, our effectiveness in policing, and the decisiveness of our response when we find illegal drugs here."
Legg also added that many SUNY schools have full police departments, so those bringing illegal drugs on campus are more likely to be caught. But he did criticize the report for omitting some 6,000 of the roughly 7,000 colleges nationwide by focusing on schools with enrollment of 5,000 or more.
Here are Rehabs.com's top 10 rankings for various crime categories included in the annual Clery reports.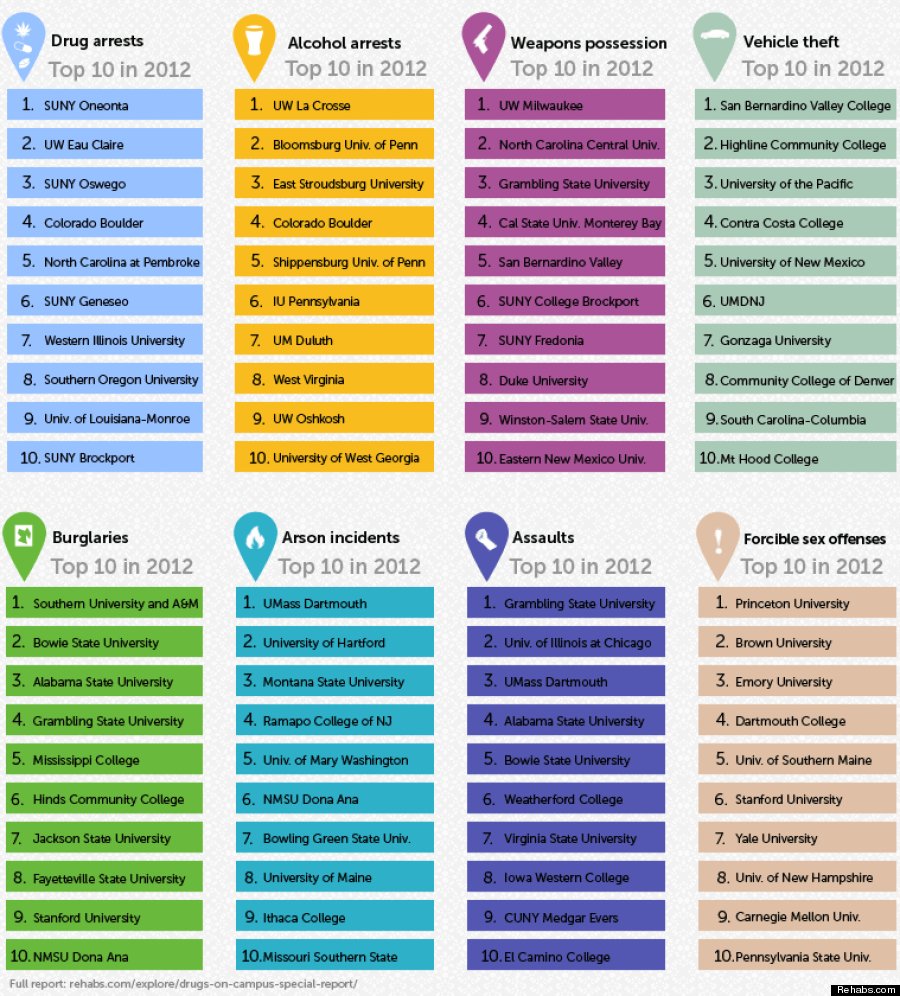 Support HuffPost
The Stakes Have Never Been Higher
Related
Popular in the Community