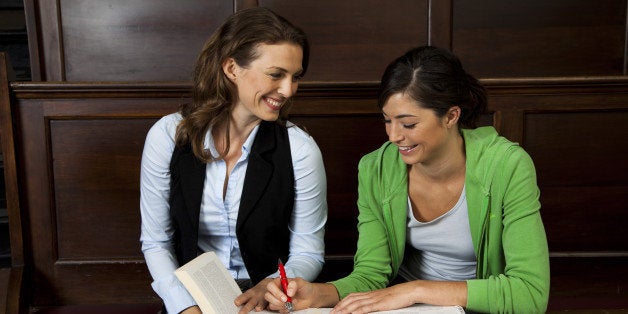 What is the value of higher education relative to jobs?
First, we need to get the question right. Graduates need jobs, but that's not all. They also need employment situations that pay decent wages, that enhance their skills, and that allow them to build the kinds of lives they want to lead.
Second, we need to remember that communities have a vested interest in the answer to this question. We need to prepare a generation of students to be the kinds of professionals who work in ways that drive society forward.
Higher education can get this right, but not without a whole-of-community approach. We need to understand how the various components and years of a collegiate experience fit together. Six principles matter:
Think in developmental terms. The initial years of college should be broad and inquisitive. Early on, students should be given opportunities to ask big questions about human history, the role of work, and the lives they want to lead. Small classes, faculty mentorship, and engaged learning environments are crucial. The linchpins are faculty mentorship and exposure to a wide range of courses.
Start early and explore often. By their second year in college, students should be involved in the career exploration process. It should start with a wide perspective and provide plentiful opportunities for students to interact with a range of people and hear stories about how they built careers and lives in different ways.
Take advantage of the entire year. Most colleges only occupy students about 60 percent of the year. We need to reimagine the college experience as 12 months and use the times between semesters for professionally oriented activities like financially supported internships, externships and short seminars focused on professional skills.
Ask parents and alumni to provide mentorship and expertise. Colleges have alumni who care deeply about their alma mater, and parents who often are very engaged. We need to enlist them in the process, connecting them with students as career mentors and coaches who can offer advice, networks and other forms of support.
Support graduates as they find their on-ramps. Building a career is a process that often has stumbling blocks. We need to provide career support for students during the first five years post-graduation, at least, as they seek to refine their goals and navigate the on-ramps into the professions.
Embrace technology. Nothing trumps face-to-face classrooms that are small and interactive, but technology is crucial to a great career exploration program. For example: We can connect students with alumni mentors using online platforms. Seminars can be offered between semesters and post-college, using blended learning tools to offer training in profession-specific skills and nomenclature.
So what is success? Five, 10 and 20 years out, students should self-report career success and life satisfaction. Using new data, from sources like LinkedIn, colleges should be able to measure career paths and success across different kinds of professions or geographies.
Running beneath this is an argument about relationships. Simply put, a great career exploration program should focus on exposing students to a wide range of good mentors and role models who offer advice, networks, experiences and skills development. A college is a community, and education happens as students interact with, learn and benefit from peers, faculty, staff, local community members, parents and alumni. If we get the relationships right, everything else will follow.
I also am making a more subtle argument: Work anchors our lives and our communities. In particular, I am intrigued by Harry Boyte's discussion on civic professionalism, which says we need to train a generation of students to reimagine professional practice in ways that allow them to pursue personal and civic passions through work, not outside of it. This generation does not want to bifurcate those roles. As a result, they will lead more meaningful lives, and our communities will be healthier.
A great college experience helps students decide the kind of life they want to lead, how work facilitates that life, and gives them the attributes, networks and experiences to get there.
Calling all HuffPost superfans!
Sign up for membership to become a founding member and help shape HuffPost's next chapter