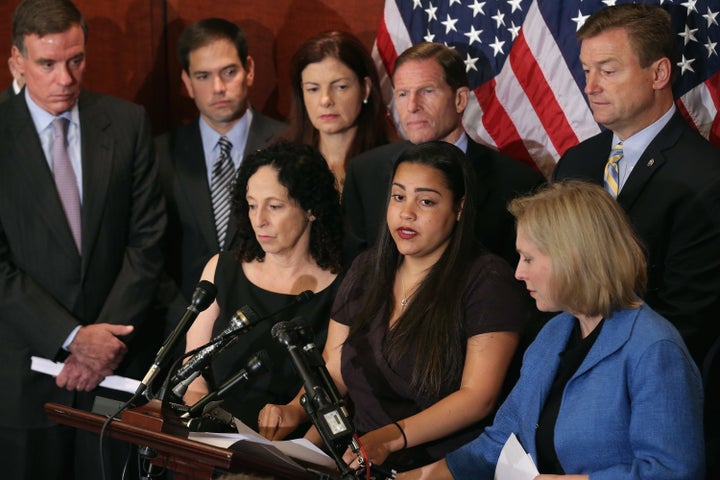 Since January, 57 private colleges and universities have administered a survey to more than 24,000 students nationwide to gauge their experience with sexual violence on campus. But the results of the survey, and even the schools participating, are all being kept hidden.
The decision to shield all of the data and the colleges involved is meant to allow schools to take action based on the results and to ensure the survey is ethical, according to the group coordinating it. However, that secrecy is raising concern among activists and researchers.
The survey, created by the Higher Education Data Sharing (HEDS) Consortium and the Center of Inquiry at Wabash College, asks students anonymously whether they've experienced sexual assault or harassment on campus, and how they feel about the school's handling of such incidents.
Last week, the Association of American Universities released the aggregate results from its own campus safety survey. The AAU survey included responses from 150,000 students at 27 elite universities, and its release garnered widespread media coverage. Each participating university also released its own individual results -- despite scholars worrying that some schools may withhold that information. Dozens of other schools have also conducted their own surveys and released the results publicly.
Around 130 private colleges and universities are members of HEDS, which regularly conducts surveys and shares data between member institutions. The cost for the survey is $500 if an institution is a member of HEDS, or $1,600 for any other interested college. Institutions within the HEDS consortium can see one another's survey results, but those results are not shared with the public.
"To facilitate this open sharing of data among HEDS institutions, we promised that we would neither publicize the results nor identify the participating institutions," Kirsten Skillrud, director of survey and institutional research at HEDS, told The Huffington Post.
"We have and will continue to sponsor workshops and send reports to participating institutions. But we won't release any data publicly," Skillrud said. "HEDS institutions are free to release their own data, but they cannot release data from other institutions. This stance brings less publicity, but we feel that it brings more action."
But researchers and activists disagree.
"One of the most important steps institutions can take in addressing sexual violence is to model and embrace transparency," said Jennifer Freyd, a University of Oregon professor and researcher. "This is crucial because sexual violence thrives in secrecy and wilts under the light. When institutions hide information about the rates of sexual violence -- no matter how reasonable is their rationale -- they may be nonetheless essentially covering up a problem."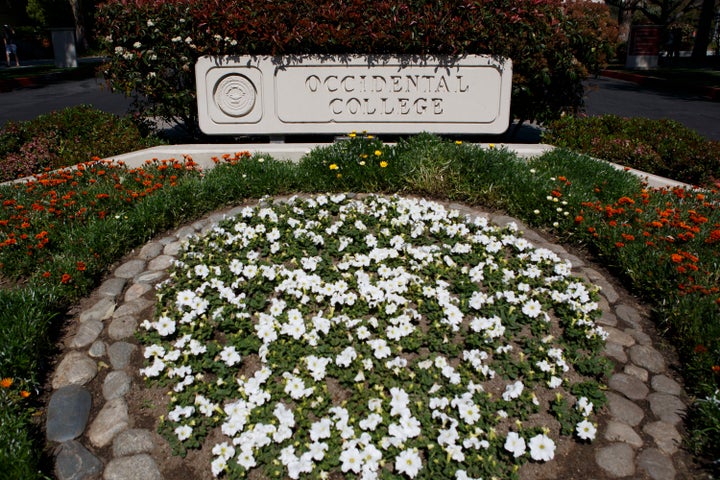 At a Senate hearing Wednesday, Sen. Claire McCaskill (D-Mo.) promoted her campus rape reform legislation, which would mandate colleges conduct climate surveys. This requirement, she said, "would allow apples-to-apples comparison." Kevin Carey, director of the education policy program at the New America Foundation, responded that he agreed with that idea.
The White House did not specifically prescribe whether colleges should release survey results to the public, except to say, "Sharing the findings shows that the school takes the issue seriously." Researchers who have promoted the surveys have often insisted schools should release the results publicly.
"One of the primary reasons we're in the situation we are today where schools are flagrantly violating the law [handling sexual assault cases] is because they have been allowed to do so without any transparency for decades," said Zoe Ridolfi-Starr, deputy director of Know Your IX, an advocacy group fighting sexual violence on campus.
Illinois Wesleyan University, Hobart & William Smith Colleges, Occidental College, the Claremont Colleges, Southwestern University, Hope College, Wagner College, Colgate University and Kenyon College all participated in the HEDS survey, HuffPost confirmed. Some, like Occidental and Kenyon, have released their results, while others, like Colgate, plan to do so in the coming weeks.
Hamilton College participated, but a spokesman said "we have not decided whether we will release the data." Carleton College similarly said it participated last year, and officials are "considering how we might share the survey results with our campus." Mount Holyoke did not participate but is considering doing so in the future, a spokesperson said.
Reports from Occidental and Kenyon reveal some of the data from 54 "small, peer institutions." The two schools cited aggregate data in their reports, noting that 7.5 percent of student respondents across all schools said they were sexually assaulted, and about 45 percent of these victims were assaulted two or more times. Half of the students at all 54 colleges who said they were sexually assaulted said it happened during their first year at the school
One in eight said they told no one, while just 3.2 percent said they reported it to police.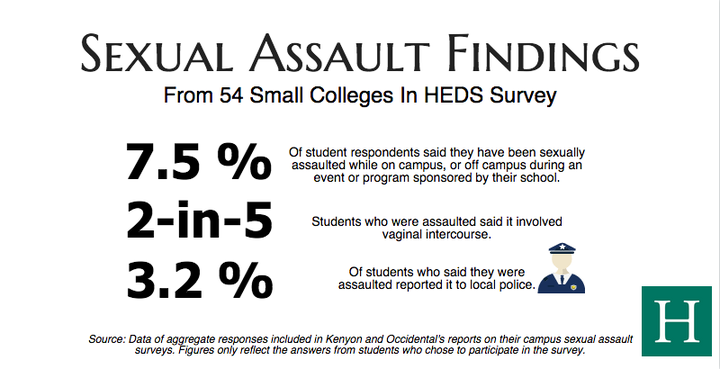 Information about the type of assault -- whether it was fondling or groping, or whether it was oral or penetrative sexual contact -- was not released.
HEDS is an organization that exists to help colleges "openly share sensitive institutional information outside of the normal competitive and ranking-focused environment in which many institutions normally operate," Skillrud said.
The public concern about sexual assault on college campuses "led us to develop the survey and work closely with our member institutions to make sense of and use data from the survey," Skillrud added. "Regardless of the data from the HEDS survey, it is already abundantly clear to us that sexual assault occurs too often on college campuses and that we need to find ways to dramatically reduce it."
Ridolfi-Starr hopes any college doing these surveys would release the results publicly.
"When you have schools that are deliberately trying to hide information from the public, it's usually an indicator those schools are trying to hide something, and is damaging and detrimental," Ridolfi-Starr said.
Read Skillrud's full comments on the HEDS survey below:
Calling all HuffPost superfans!
Sign up for membership to become a founding member and help shape HuffPost's next chapter