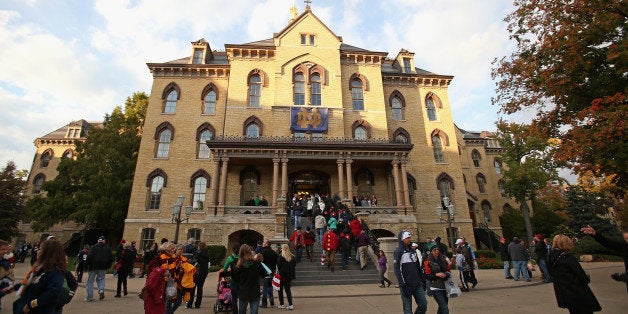 A little over a year ago, the U.S. Department of Education's Office for Civil Rights began disclosing which colleges and universities were under Title IX investigations for potentially mishandling sexual violence cases. When the Education Department first released the list, it said it was an inventory of "possible violations of federal law over the handling of sexual violence and harassment complaints." However, the department did not publicly explain that the list it released didn't include institutions being investigated for only sexual harassment complaints.
Through a Freedom of Information Act request, The Huffington Post obtained a list of all of the schools under Title IX reviews due to concerns with how they handle sexual harassment. There are 162 cases involving either sexual harassment or sexual assault and harassment under investigation at 143 postsecondary institutions, as of May 13. However, the version of the list the department releases to reporters without an open records request shows there are 121 cases involving sexual assault under investigation at 111 colleges, as of the same date.
When the government doesn't name colleges and universities solely under investigation for sexual harassment cases, these schools are able to essentially hide the scrutiny from the public. Virtually no college has come forward to state that they are under these Title IX reviews, absent probing by reporters, and even then they sometimes avoid the issue.
Colleges are obligated to address both sexual assault and harassment under Title IX, and experts say the behaviors are inextricably linked.
Colby Bruno, senior legal counsel at the Victim Rights Law Center, said it's important to address how colleges handle sexual harassment because perpetrators will often "test the waters" to see whether someone would make for a good target. "Perpetrators will not go straight in for the rape," she explained. "They will hedge their bets at some point and see how far they can get with someone by doing inappropriate things, but not quite rape."
Lisa Maatz, the top lobbyist for the American Association of University Women, referred to a "continuum of violence" that "starts with bullying and sexual harassment and moves up the scale."
Another law dealing with sexual violence on campus, the Clery Act, requires colleges to track and disclose reports of rape, burglary and other crimes. Recent amendments also stipulate certain rights for students involved in sexual assault cases, like access to attorneys. Violating the Clery Act can result in a $35,000 penalty per error for a college, but right now, the Education Department will not confirm or deny when a school is being investigated for breaking this law.
At an April lunch with reporters in Chicago, Education Secretary Arne Duncan noted how "proud" he was that OCR was releasing the list of colleges under Title IX investigations. When asked why the department was not publicly naming the schools under certain Title IX investigations or under Clery reviews, Duncan deflected.
"We're looking at that," Duncan replied. "There's a whole host of things we're looking at where we can upgrade our transparency."
Education Department spokeswoman Denise Horn suggested it might be more feasible for their staff to provide more disclosure if they had increased appropriations from Congress.
"The Department's Office for Civil Rights continues to look for ways to make its enforcement work more transparent –- from publishing lists of institutions under OCR investigation to consistently posting resolution agreements on its website since October 2013," Horn said in a statement. "But producing and maintaining public lists of investigations takes staff and resources that we don't have –- OCR is operating with less staff and receiving more complaints than any time in the agency's history."
Parents have a right to know if schools their children may attend are under investigation for such serious issues, Maatz said.
"We need to be talking harassment, we need to be talking about bullying, we need to be nipping this in the bud," she said.
The list of colleges under sexual harassment investigations includes several technical and community colleges, a for-profit college, several state universities and one flagship.

Below are the colleges under Title IX investigations for only sexual harassment:
Fortis College (Alabama)
University of Pikeville (Kentucky)
California State University-Bakersfield
San Diego City College (California)
Everest College (Colorado)
American Medical Academy (Florida)
Embry Riddel Aeronautical University (Florida)
Florida A&M University
Valencia College (Florida)
Atlanta Technical College
Columbus State University (Georgia)
College of Coastal Georgia
City Colleges of Chicago-Kennedy-King College
Western Illinois University
University of Notre Dame
Loyola University New Orleans - School of Law
Southeastern Louisiana University
University of Minnesota-Twin Cities
Central Piedmont Community College (North Carolina)
Coastal Carolina Community College (North Carolina)
Middlesex County College (New Jersey)
Hofstra University (New York)
State University of New York - Binghamton
State University of New York at Albany
Youngstown State University (Ohio)
Northeastern State University (Oklahoma)
San Jacinto College-Central Campus (Texas)
Texas Southern University
University of North Texas
Marquette University (Wisconsin)
New River Community & Technical College (West Virginia)
And below is the latest tally of colleges under Title IX investigations for sexual assault and harassment:
This article was updated to include additional comment from the U.S. Department of Education.
A previous version listed the Maryland Institute College of Art as one of the schools under a sexual harassment Title IX investigation. The Education Department later confirmed to MICA it placed the school on the list in error, and we subsequently removed the college from our list.
Popular in the Community