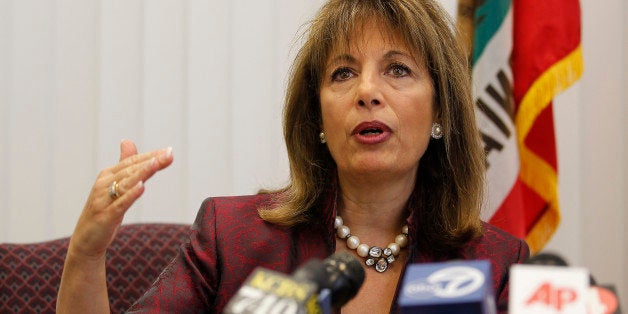 Colleges and universities could get sued for the first time under a new bill in Congress for violating the Clery Act, a federal campus safety law that's been on the books for more than two decades.
The Hold Accountable and Lend Transparency (HALT) Campus Sexual Violence Act, introduced Thursday by Reps. Jackie Speier (D-Calif.) and Patrick Meehan (R-Penn.), is the House companion to similar Senate legislation, but includes several differences. Twenty co-sponsors from both parties have already signed on to the HALT Act.
Both the Senate version, the Campus Accountability and Safety Act, and the HALT bill would require climate surveys, require the disclosure of investigations and findings, and increase penalties for violating federal laws pertaining to sexual violence at colleges. Clery fines, for example, would increase from $35,000 to $100,000 per violation.
"When we finally have a real cost, we'll actually see schools take the issue seriously," said Laura Dunn, attorney advocate and founder of SurvJustice.
Several higher education organizations declined to comment Thursday.
Notably, the HALT Act will for the first time create a private right of action under the Clery Act. Clery requires colleges accurately track and disclose the number of crimes reported on campus, and thanks to amendments made as part of the Campus SaVE Act, it also lays out several new rights for both accusers and accused students in sexual assault cases, including the right to have an attorney present in a hearing. Campus SaVE was passed as a portion of the latest Violence Against Women Act reauthorization in 2013.
Allowing litigation under Clery reduces the strain on the Education Department, which has repeatedly said it's understaffed, since grievances can be moved from federal complaints to courts, Dunn noted. Though the HALT Act would also dole out $5 million in extra funding for ED investigators.
Currently, the Education Department's Office of Federal Student Aid has jurisdiction to investigate a college for Clery violations. But ED declines to name or even acknowledge when a school is under investigation, instead, the public is left in the dark until a fine is announced, if one is imposed at all. Experts have endorsed this provision of Speier and Meehan's bill in her previous version last year.
"[The Clery Act] is only enforceable through the Department of Education can't be used for any sense in a lawsuit, so it's kind of a meaningless tool," Dunn said.
Under Campus SaVE Act provisions, Clery now requires colleges to allow both respondent and complainants to have an attorney present during the disciplinary process, gives them the right to appeal disciplinary proceeding decisions or changes to the final result, and they both get to receive the final results of a disciplinary proceeding in writing.
"There's this false portrayal of victims getting all these gains -- No, we're actually putting schools in positions of accountability for both parties," Dunn insisted.
Proponents of the HALT Act contend accused students would have more power because they could file an injunction if a school is failing to uphold its due process obligations.
However, Justin Dillon, a Washington, D.C.-based attorney who frequently represents students accused of sexual assault, isn't so sure the bill as written would allow accused students much room for litigation for not getting equitable treatment in a campus judicial process. Dillon also complained that neither "due process" nor the word "fair" appear in the legislation or fact-sheets distributed Thursday.
"It's entirely one-sided and only going to make things more unfair for the accused and give universities more reason to steamroll the accused," Dillon said.
Unlike CASA, the HALT Act would not require disclosure of Including disciplinary outcomes or mandate colleges enter into memorandums of understanding with law enforcement.
Another difference from CASA is that the campus climate surveys mandated under HALT Act would have to ask self-identified LGBT students about discrimination, assault and harassment related to their gender-identity and sexual orientation.
Related
Popular in the Community