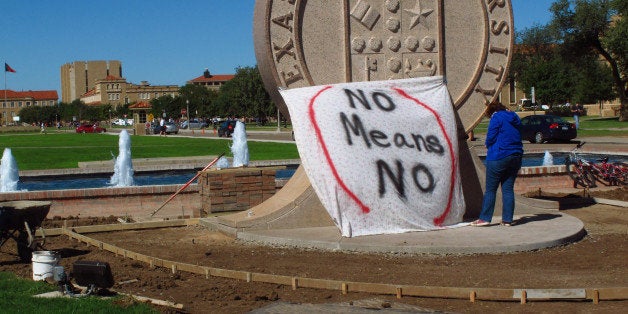 It's a new year, but not a new problem -- and one that's not likely to go away.
In 2015, colleges are unlikely to have alternatives to dealing with sexual assaults. Policy experts agree that a dramatic overhaul of Title IX of the Education Amendments of 1972 would be necessary to give schools the ability simply to hand off to cases to local police and wipe their hands of the issue. Title IX law prohibits discrimination "on the basis of sex in any federally funded education program or activity," which courts have determined extends to sexual harassment and rape.
"People get confused when we talk about campus sexual assault -- yes, it's a potentially criminal act, but it's also a civil rights infraction. That's where Title IX comes in," said Lisa Maatz, the top policy adviser at the American Association of University Women. "We're not asking universities to be detectives and judge and jury to deprive someone of their liberty and send them to jail. What they must do is ensure an equal and equitable learning environment for men and women."
So in the new year, what can colleges do to gain and hold the community's trust that they are working to do what's best (and required) where sexual assault is concerned?
"It starts with transparency," said Steven DiSalvo, president of Saint Anselm College in New Hampshire. "We have to be forthcoming about reporting information."
Mariko Silver, president of Bennington College, emphasized that her colleagues should invite students into the process, and solicit their feedback in drafting a school's consent or harassment policies.
"If they're protesting on your lawn, invite them into your house," Silver said.
Laura Dunn, an attorney advocate and founder of the nonprofit group SurvJustice, said she'd love to see universities more engaged with students.
The survivors on campus are there, Dunn said, "and they want to be involved and they want to be acknowledged by their school." If campuses fear negative press for talking about a difficult issue, Dunn continued, "it's only for lack of their own creativity."
Dunn assisted the students who filed a federal complaint in April 2014 against Johns Hopkins University over its handling of sexual assault cases, but she gives the university credit for admitting later in October that it failed in not disclosing a gang rape investigation at a fraternity.
"We looked back at what happened, we concluded we had made a mistake, we reported that to the campus community and we built a system to try to prevent such a mistake from recurring," said Dennis O'Shea, JHU spokesman. He added that schools have to do more than just put new policies in place, they also have to take action and follow through.
The university is also trying to rebuild trust with students by "talking with them about their concerns and how to address them," O'Shea said, including through formal channels like the Sexual Violence Advisory Committee, "and less formally, with administrators meeting with concerned students to learn more about what's on their minds."
Worcester Polytechnic Institute President Laurie Leshin agreed transparency and engagement are key for any college leader. Leshin cited one example early in her presidency at WPI in Worcester, Massachusetts, when a student died accidentally in September 2014.
"I was amazed by how much kudos I got for simply communicating with the campus about it, and how much trust that can really build with the community," Leshin said.
Michael Crow, president of Arizona State University, pointed out that competing legal constraints can make transparency a challenge at times. When a sexual assault is punished in the criminal justice system, the arrest, charges, trial and sentencing are typically a matter of public record. But the Family Educational Rights and Privacy Act limits what types of information colleges can disclose about how they punish rape on campus.
"Everything we do is classified," Crow said. Parents aren't even able to get information on their own child's case, since enrolled students are considered adults with their own autonomy and privacy rights.
"I have actually been in a public place, parents weeping in front of me about why their child was expelled from the university," Crow recalled. "I can't even tell them why their child was expelled from the university, I'm not allowed to."
Washington & Lee University President Kenneth P. Ruscio raised another horn of that dilemma, noting that schools have to ensure that students have their freedom on campus but also protect them from harm.
"What's really challenging to us is how do we protect the kids but at the same time treat them as adults," Ruscio said.
Popular in the Community