The number of sexual assaults reported by colleges and universities tends to increase by an average of 44 percent while they're under review by the U.S. Department of Education, according to new research by University of Kansas law professor Corey Rayburn Yung.
However, as soon as federal officials conclude their investigations, Yung found that reports of sexual assault in annual crime statistics tend to drop sharply to pre-audit levels. The same trend was not observed in the statistics for other types of serious crimes on campus.
Published by the American Psychological Association in its journal Psychology, Public Policy, and Law, Yung's study looked at 31 large universities and colleges that faced federal audits of reported crime statistics between 2001 and 2012. Yung only reviewed schools with at least 10,000 enrolled students. The Clery Act requires colleges to track and publicly disclose campus crime rates, and each violation can carry a fine of up to $35,000.
The study observed a significant decline in the number of sex offenses reported by schools after an investigation, regardless of whether the federal review was a random audit or the result of a complaint, and regardless of whether or not the Education Department found the school at fault.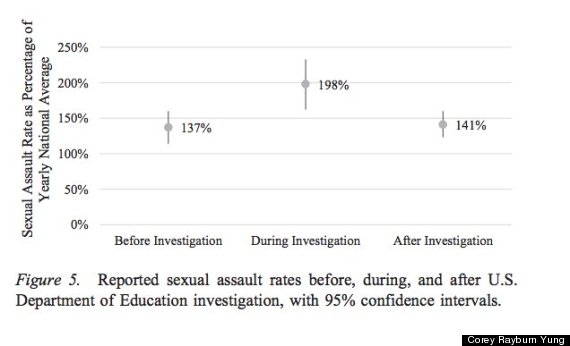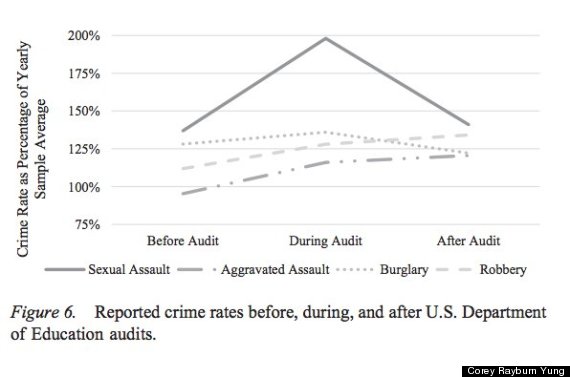 Yung told The Huffington Post that undercounting can sometimes be the result of a deliberate decision by an administration to keep numbers down, or can be attributed to a school official or campus police officer who tends to disbelieve a victim's allegations.
"These practices can become institutionalized, and then when there is scrutiny, everyone tries to do their job in a way that doesn't get them fired," Yung said.
The Education Department declined to comment on the study.
Since 2013 student activists have been pushing the Education Department to get tougher about enforcing laws related to sexual assault, and to identify all schools under investigation. Yung agreed that both tactics, especially an increased transparency, would be a smart approach.
"Keeping the information 'til the end is really in no one's interest," he said. Yung also suggested that schools might be more vigilant if the penalty for a Clery violation was increased to $150,000.
Nancy Cantalupo, an official with the higher education group NASPA, has suggested that, rather than tighter government enforcement, colleges should be required to conduct climate surveys to get a more accurate picture of the prevalence of sexual violence on campus.
"My view is: If you did a survey, that would shift the incentives for schools," Cantalupo said. "Schools would have the incentive now to shrink the gap between whatever the incident rate is on their campus, based on their survey, and their reporting rate."
Popular in the Community