Ever wonder where Presidents of the United States attended college?
If you pay attention to presidential politics, you likely already know many commanders-in-chief attended Harvard and Yale universities. But you may not know that the College of William & Mary in Virginia ranks higher than Princeton University when it comes to alma maters for leaders of the free world.
You might also be surprised to realize Georgetown University and the United States Naval Academy produced as many Presidents as Allegheny College in Pennsylvania and Eureka College in Illinois, and that Iowa State University and Dartmouth College are tied for how many of their alumni became Vice-President.
See which schools made the cut in the widget below, courtesy of FindTheBest.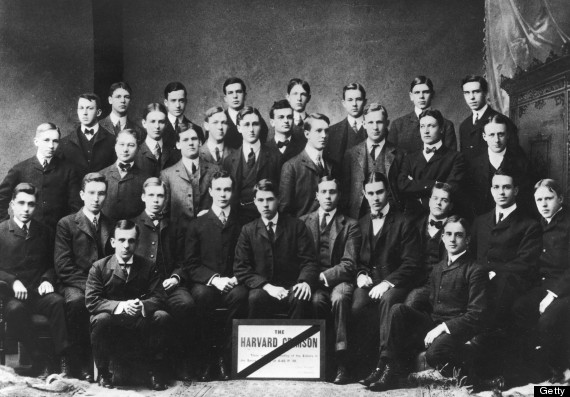 circa 1904: Group portrait of the all-male members of 'The Harvard Crimson,' on which Franklin D Roosevelt (1882 - 1945) served during his years as a college student, Cambridge, Massachusetts. Roosevelt is in the second row, fourth from left, standing. (Photo by Hulton Archive/Getty Images)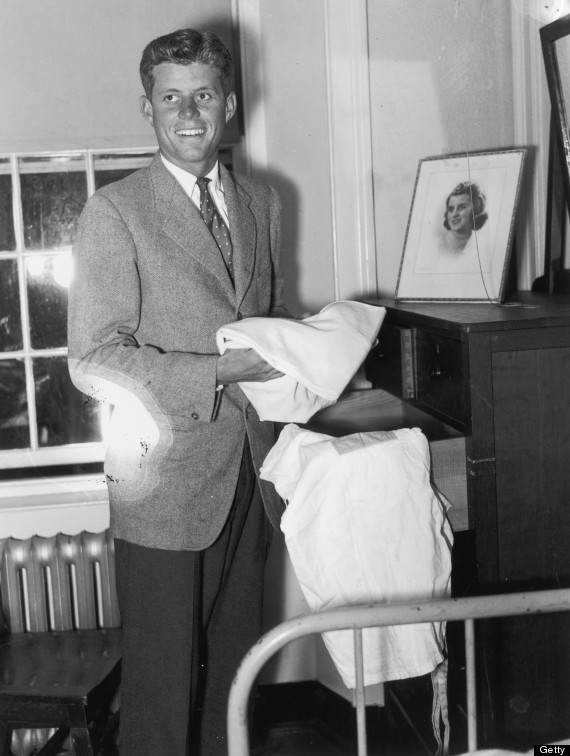 1938: Young John F. Kennedy puts away laundry in his dormitory room at Harvard University, Cambridge, Massachusetts. (Photo by Hulton Archive/Getty Images) Gerald Ford is shown as he played football for the University of Michigan in 1934. He won three varsity letters as a lineman and was voted most valuable player in 1934 at center for Michigan. He later took part in the Shrine Bowl and Pro-All Stars games. At Yale University Law School, he served as assistant varsity football coach to Ducky Pond and freshman boxing coach. (AP Photo/U. of Michigan Sports Publicity) Jimmy Carter gets his bars pinned on by his wife Rosalynn, left and his mother, Mrs. Lillian Carter at the U.S. Naval Academy in this undated photo. (AP Photo) George H. W. Bush poses in his baseball uniform as a student at Yale University in New Haven, Conn. Bush was the first baseman on the Yale team that lost to California in the first College World Series in Kalamazoo, Mich. in 1947. (AP Photo) George W. Bush is shown at Yale University, in this photo exact date not known. Bush attended Yale from 1964 to 1968. (AP Photo/George Bush Presidential Library) Ronald Reagan stands on the diving board in the Little 19 (Illinois private colleges) swim meet held at St. Viator, March 22, 1930. Reagan, Eureka College's top swimmer, was entered in the 220-, 100-, and 50-yard events. He placed fourth in the finals. (AP Photo/EUREKA COLLEGE YEARBOOK) A 1966 Georgetown University yearbook photo showing class officers. From left are: class president Bill Clinton, secretary Andy Poole, and vice president Terry Modglin. Clinton lost the race for senior class president to Modglin, but another classmate says it was known back then that Clinton would run for president some day. (AP Photo/ho) This undated photo provided by the presidential campaign of Sen. Barack Obama, D-Ill., shows the Democratic presidential hopeful, Obama, in New York City, while a student at Columbia University. Obama received his B.A. degree in political science in 1983 from Columbia. (AP Photo/Obama Presidential Campaign, File)
Calling all HuffPost superfans!
Sign up for membership to become a founding member and help shape HuffPost's next chapter