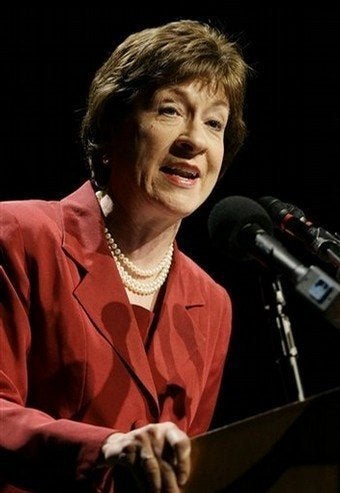 UPDATE - 3:05 p.m.: Senate Republicans, led by John McCain (R-Ariz.), have blocked the Senate from considering the defense authorization bill Tuesday afternoon. By blocking the bill from moving to the Senate floor, Republicans accomplish the objective of stalling the repeal of the military's "Don't Ask, Don't Tell" policy and blocking the Senate from considering the DREAM Act, which would give young, undocumented immigrants a pathway to citizenship if they enlist in the military or enroll in college.
Republicans objected that Senate Majority Leader Harry Reid (D-Nev.) was limiting the number of amendments that could be offered. But Reid had pledged to work with Republicans to allow amendments. Senate Majority Whip Dick Durbin (D-Ill.) took to the Senate floor following the defeat to condemn the GOP's "procedural ruse."
McCain, highest-ranking Republican on the Armed Services Committee, visited the Senate press gallery to celebrate blocking the bill's consideration, calling it a "blatant and cynical attempt to galvanize the Hispanic vote."
Sen. Scott Brown (R-Mass.), a prime target of Democrats, was whipped by Sens. Richard Shelby (R-Ala.) and John Thune (R-S.D.) on the Senate floor. Once they finished talking with him, Sen. Lamar Alexander (R-Tenn.), spent several minutes in an intense conversation with Brown. "Okay," Brown could be heard saying as the conversation ended and he walked to the Senate well to cast his vote against moving forward to consider the bill.
Democratic Sens. Blanche Lincoln and Mark Pryor joined every Republican -- save Lisa Murkowski, who is in Alaska running a write-in campaign -- in voting to continue the filibuster of the defense bill. Reid, for procedural reasons, was required to switch his vote to a no so that the motion could come back to the floor in the future.
The next opportunity to vote on the defense bill will come after the election, during the lame-duck session of Congress.
Sen. Dan Inouye (D-Hawaii), chairman of the Appropriations Committee, took the Senate floor after the vote to describe how he had to fight his way into the military during World War II because of discrimination against Japanese Americans, discrimination that continues against gays and lesbians today, as well as against undocumented immigrants. "Just a little step back in history, if I may say so? On December 7, 1941, something terrible happened in Hawaii," Inouye, who lost an arm in the war, recalled.
"Pearl Harbor was bombed by the Japanese. Three weeks later, the government of the United States declared that all Japanese Americans, citizens born in the United States of Japanese ancestry were to be considered enemy alien. As a result, like those undocumented people, they could not put on the uniform of this land. Well, I was 17 at that time, and naturally I resented this because I loved my country and I wanted to put on a uniform to show where my heart stood, but we were denied, so we petitioned the government and a year later, they said okay, if you wish to volunteer, go ahead. Well, to make a long story short, the regiment I served in, made up of Japanese Americans, had the highest casualties in Europe, but the most decorated in the history of the United States. And I think your beneficiaries will do the same," he said, gesturing to Durbin, who'd been arguing on behalf of the DREAM Act.
Susan Collins made an impassioned plea on behalf of repealing the military's "Don't Ask, Don't Tell" policy in a speech on the Senate floor Tuesday morning. But, said Collins, a Republican from Maine, she would filibuster the defense authorization bill that includes the repeal, dealing the cause a major blow. Collins has been the Democrats' primary target in their effort to persuade a Republican Senator to join them to break a GOP filibuster of the defense-spending bill.
Collins made an eloquent case that the DADT policy is unfair and morally indefensible, that it is a waste of taxpayer resources and that other nations that don't similarly discriminate have seen no adverse consequences. But equally as troubling to Collins as the policy, she said, is Senate Majority Leader Harry Reid's (D-Nev.) failure to allow unlimited amendments to the defense bill.
"I find myself on the horns of a dilemma," said Collins. "I was the sole Republican in the committee that voted [to repeal DADT]. I think it's the right thing to do. I think it's only fair."
But, she said, refusing to allow unlimited amendments is an equal affront to decency. "That too is not fair," said Collins of Reid's decision. "I cannot vote to proceed to this bill under a situation that is going to shut down debate.
Sen. Carl Levin (D-Mich.), chairman of the Armed Services Committee, took the Senate floor after Collins to say that he agreed that members should have the opportunity to amend it, but if Republicans were to filibuster the motion to proceed to the debate, there could be no amendments.
Reid spokesman Jim Manley said that he was "not sure how many more assurances that we can provide both privately and publicly to [Collins], but we need to get to the bill first of all."
Collins' retreat into an objection to procedure obscures the underlying politics of the unified Republican opposition to repealing DADT. Collins has been under tremendous pressure from her colleagues not to break ranks, while facing pressure from home to vote her conscience. Collins was the lone Republican to support repealing the policy in the Armed Services Committee. Collins, who is choosing her party over her principled opposition to DADT, criticized Democrats for putting politics ahead of policy. "Now is not the time to play politics simply because an election is looming in a few weeks," she said.
"Today's vote isn't about arcane Senate procedures. It's about [the] GOP's pattern of obstructing debate on policies important to the American people," said Manley.
On Monday, Lady Gaga held a rally in Maine to pressure Collins, Sen. Olympia Snowe (R-Maine) and Sen. Scott Brown (R-Mass.), organized by the Servicemembers Legal Defense Network.
Negotiations are ongoing between the two parties. A vote to break the GOP filibuster is scheduled for early Tuesday afternoon.
UPDATE - 12:05 p.m.: Sen. George Voinovich of Ohio, another Republican targeted by Democrats, who is retiring after this term, will also filibuster the motion to proceed to debate, he said in a statement.
Sen. George LeMieux (R-Fla.), a third targeted Republican, was appointed to complete the term of Mel Martinez, who left the Senate for K Street. Democrats held out hope he'd join them, but LeMieux is generally reluctant to be the lone Republican to break ranks. On Tuesday afternoon, he said on the Senate floor that he would filibuster the bill, preventing any amendments from being debated.
LeMieux cited the inability to propose amendments as the reason he was opposing the motion to move forward with debate. "We should have the ability to bring any amendment forward," he said, adding that extraneous amendments should not be allowed.
Voinovich struck a similar note:
I'm disappointed that Majority Leader Reid and Senate Democrats have chosen to turn the Defense authorization bill - crucial legislation for our troops in a time of war - into a messaging bill. Just as I said with my decision to support the small business bill, this is not a time for messaging from either side of the aisle. This is a time for action. If the Democrats are serious about passing this bill in a timely fashion, they wouldn't be attaching amendments that are not relevant to the common defense, in addition to making it impossible for Republicans to offer their own amendments to address concerns they have with the bill as voted out of the Armed Services Committee.

The DREAM Act deals with immigration and shouldn't be on this bill. 'Don't Ask, Don't Tell' is a controversial issue that needs to be debated on the Senate floor but I believe it would be logical to wait for the Department of Defense to issue its report on 'Don't Ask, Don't Tell.' At this point there is no reason to rush to judgment for political expediency until we hear from our military leaders as to whether they think it is a good idea to change this policy. I will carefully study this determination when it is completed.

If you look at history, we usually debate the Defense authorization bill for two weeks. If the Democrats are serious about getting this bill passed, Leader Reid should sit down with Minority Leader Mitch McConnell and work out the amendment process. Unless that is done, I will not support cloture on the motion to proceed to this bill.
Calling all HuffPost superfans!
Sign up for membership to become a founding member and help shape HuffPost's next chapter