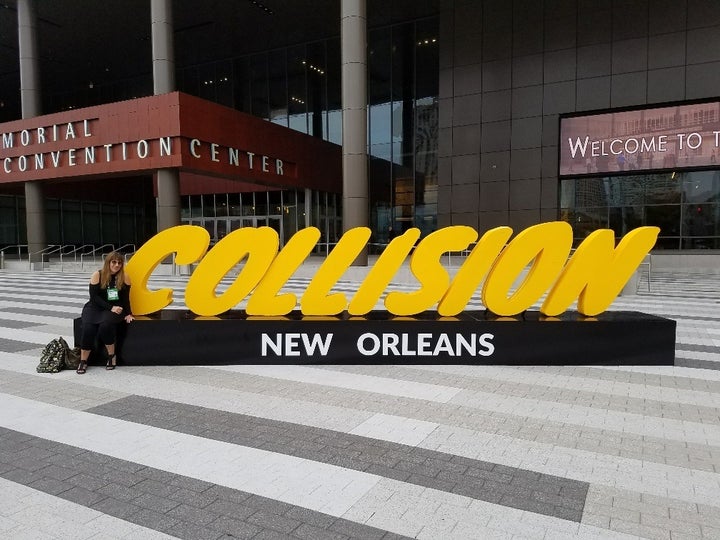 The Collision Conference buzzes with start-up electricity.
You can read my recap of the "pregame" events here
Starting on the first day, rows of new and early-stage companies await attendees, like eager teens at the prom. "I hope I get money...I hope I get media exposure...I hope people really like my invention," they are thinking. Some of them get an opportunity to pitch investors and others take advantage of Office Hours. Most of them seem open to feedback about marketing, branding, or strategic alliances. Others are very eager but very green. Sadly, some of them will end up back in day jobs or move on to other ventures. The exhibitors change each day of the show, so founders only get one shot to display their wares.
We all feed off the lofty stories from the main stage speakers — learning about what trends will impact all of our lives and breathing in the air of hope from those entrepreneurs who talk about failure and rebirth.
Chris Sacca was on the schedule for an hour, but went on for well over 90 minutes. He talked about everything from politics to Shark Tank, to the importance of family and the kids of the future. The interviewer (Laurie Segall of CNN) was truly amazing. She questioned him relentlessly (but professionally) about Uber and how women are treated in the tech world. He did a decent job of deflecting the tough questions and he said all the right things, but I bailed early because I had to sit on the (concrete) floor and I was starting to lose feeling in my legs. I guess comfort-keeping is more important to me than keynote-watching these days. I can always catch up on the parts I missed on various websites and web media reports.
Speaking of media, as mentioned yesterday, I also love speaking to fellow writers and media types — from both "established" media (like Forbes and Popular Mechanics — which still exists!) and newcomers like web TV channels, and business' content sites (like Help Scout).
Covering all the companies that are "showing and telling" would be totally impossible — especially because most of them change every day. The floor is organized by Alphas, more established companies, and well-capitalized "partners," who get actual booths on the show floor — as opposed to a section of a long counter. I divided the memorable ones into some basic categories.
Social Connection Apps and Other Potentially Useful People-Related Ideas
Although we certainly don't have a shortage of social sites, Blikkee, IceBr8kr, and ushouldcome have all created variations on the mousetrap, using technology to build communities and bring people together. Ideavize curates face-to-face business groups and connections.
Places that want to bring founders together included New Orleans, Albuquerque, and Oregon. Becoming the next Silicon Valley or Austin seems to be a goal of many cities and states these days.
Finding the perfect job, especially if you're an hourly worker, can be a challenge. FoodDrinkHire.com has joins the sites like JobPose and SnagaJob (who I recently met at food/beverage conferences) who seek to expedite and simplify job-hunting for the millions of people for whom LinkedIn and professional job sites simply doesn't work.
I also had the pleasure of chatting with the founders of Ultimatum, who have invented a way for even the busiest and laziest people to donate to causes they really care about. Wearing matching purple suits, they stood out in a sea of polo shirts. Speaking of which...
Founder Heather Pirowski proclaimed that women will "never wear a shitty polo again." Her fashion-forward line is called Mentor Apparel and it made me want to hire a guerrilla marketing team or open a retail store just so I could dress them in her brand-able duds.
What else do people care about besides fashion? How about sleep, booze, and their smartphones. Mattress-maker Matrix let me "test-sprawl" their very cool bed that monitors sleep patterns. Envies Flavor Shot adds fruity or spicy zip to beer, vodka, gin, tequila, or wine. Chrgr offers brand-sponsored battery packs. Power has become something of a commodity, but the company is focusing mostly on high-end brands. They've come a long way since I met them at the Nightclub & Bar Show a couple of years ago. I always like running into scaling start-ups!
Let's not forget food and narcissism. Selffee has managed to combine both — enabling guests at events to get their faces on a cookie or a latte. Like the Snap of treats, it's entertaining and fleeting.
Despite the surge in AI and machine-learning, people still lead and contribute to growth and productivity. HR Cloud gives HR professionals and management a better way to on-board, off-board, and facilitate communication as their companies scale. VIP Perks "creates happier employees" by simplifying employee discounts and rewards.
The number of companies offering to analyze, categorize, and slice and dice consumer and business information is truly overwhelming. I was drawn to the Crunchbase booth because they put a human face on data and did a great job of explaining what they do and how their offering is evolving.
And Of Course There Was a Robot!
Pepper danced for me, posed for a selfie, and invited me to compose music. Described as a "humanoid companion," he/she was fun and engaging. But Pepper is also designed to educate, deliver customer service, and capture valuable customer information. Remember, robots can do almost anything — they just need smart people to embrace them and view them as partners rather than foes.
Inspiration and Innovation
From saving our planet...to fraud prevention...to helping people live longer — speakers and start-ups alike also shared technologies and human systems for improving the quality of our lives. The event is a global gathering of provocative ideas, brilliance, and investment dollars. Close to 20,000 people collided this year.
I was thrilled to be one of them. Thank you to the Collision crew! See you in Lisbon at Web Summit.
To Come: The Women of Tech & 7 Cool New Conference-Attendance Tips
P.S. If I missed you at Collision and you have something cool to tell me, please get in touch!
IMPORTANT NOTE: I am not endorsing or recommending any of these products or apps. I just found them interesting. I discovered as I was writing that piece that some start-ups are exhibiting and talking to writers and other media before they have created fully-functioning websites and social media platforms. Advice to newbies: As tempting as it may be, do not go public until you're really ready. When people try to reach you, you need to be easily accessible! "Fake it until you make it" may not always be the best policy.
The Many Faces of Collision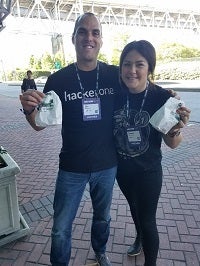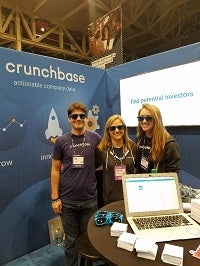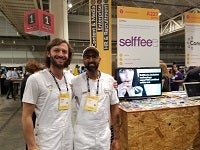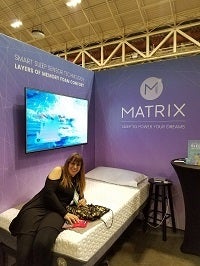 Support HuffPost
The Stakes Have Never Been Higher
Related
Popular in the Community