Sure, the just-ended Collision tech conference in downtown Las Vegas was a chance for startup entrepreneurs to hone their pitches, tap into investors, suss out the competition, seduce partners and poach employees.
But it was something a lot more. In a larger sense it was a celebration of the disrupters, the dreamers, the types who are so familiar to Silicon Valley, but not solely of Silicon Valley. Disrupters came from 88 countries to a city that is All-American in the way it embraces hustlers and exists in the middle of the desert by sheer will.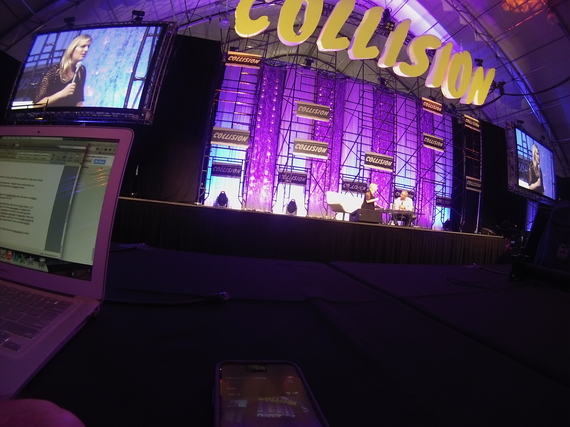 The bigger significance of Collision struck me from the first talk on the first day of the conference. Collision founder Paddy Cosgrave and Zappos CEO Tony Hsieh talked about how it was that a global conference could even be held in a neighborhood once known as seedy and dangerous.
The talk was meant as a welcome to Collision session, a dig-in-and-have-some-fun pep talk. But it got me thinking about the power of disruption. Not just the power of disruption to enable Uber and find us a better way home. Not even how the draw to disruption lead to the integrated circuit, which led to the personal computer, which facilitated the Internet and the World Wide Web and a host of companies that changed the world and made many people wealthy while making most of our lives better.
It got me thinking about how disruption means change and even change that we never thought was possible. On stage Hsieh talked about the way he came to embrace the idea of planting his online shoe juggernaut in a neighborhood that put him on edge.
He'd already moved Zappos once, from San Francisco to the Las Vegas suburbs. Back then, about 70 Zappos employees moved to Nevada, Hsieh said. Now the company, which is owned by Amazon, has about 1,500 workers. The suburban location wasn't working. As the company grew, it needed more space. Buildings were far apart. Co-workers weren't running into each other -- colliding -- and so those magical moments of inspiration weren't happening.
Hsieh wanted a unified campus. The Zappos team toured Google, Apple and Nike, he said, looking for that secret sauce that those renowned campus surely must have. And while employees of those companies are terribly fond of where they work, Hsieh concluded that building a headquarters that keeps employees in and the community out would be a mistake.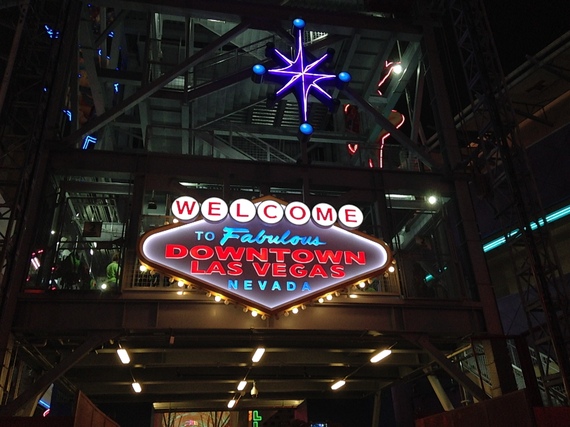 "We decided to kind of turn the concept inside out," he told Cosgrave. "How do we actually get employees to leave the campus and collide with the community? How do we get community to collide with the campus?"
His answer came in the form of a new headquarters in an old building -- Las Vegas' old city hall building -- and in encouraging employees to frequent neighborhood restaurants and nightspots.

But disruption isn't always cheap. And in order to encourage interesting restaurants and nightspots to set up shop, Hsieh became the main investor in the Downtown Project, which the Las Vegas Review-Journal describes as a $350 million project aimed at renewal.
I don't claim to be an expert on downtown Las Vegas, but I do recall taking a cab from the strip in 1990 for the express purpose of offering a contrast to the snazzy sports books in the big strip casinos. I was writing a story about Super Bowl betting and wanted to see how the other half bet. I was not disappointed, finding a sketchy off-track betting parlor that took sports bets from a cast of characters who were smokers, drinkers and somewhat taciturn. Paging Damon Runyon.
And yet last week, there was the downtown, still a little rough around the edges, but vibrant and filled with cafes, taverns, restaurants and anchored by a quirky park bustling with commerce and protected by a public sculpture of a praying mantis that spews great balls of fire.

And there it was hosting a global conference, a global conference that maybe wasn't quite ready for the Las Vegas strip. See, Collision was not big on creature comforts. Yes, some of tech's big names were in attendance -- Ron Johnson, of Apple store fame; Scott Cook of Intuit; Venture Capitalist Tim Draper; John Zimmer of Lyft; Sandra Kurtzig, who founded ASK Computer Systems; Max Levchin, of the PayPal mafia; Facebook's Gary Briggs; Michelle Dennedy of Intel; John Battelle, who started the Industry Standard and Hsieh, who's known for Zappos and for challenging convention. But despite their prominence, they were served by food trucks, porta-potties and lousy WiFi, which left many practically twitching from withdrawal.
And, in fact, maybe Collision will never be ready for the strip. Maybe it belongs on the wrong side of town in those two cavernous aluminum tents, where a certain chaos reigned and where a constant cacophony of conversations washed up and sometimes over presentations and keynotes held in ceilingless auditoriums.
Disruption is not neat and tidy. It's uncomfortable. Maybe Collison needs to be the unconvention convention, or the the anti-CES, as USA Today writer Jon Swartz called it, in contrast to the massive consumer electronics show held across town every January.
Maybe Collision's imperfections -- like those of the downtown where it was held -- are not bugs, but features.
Mike Cassidy is BloomReach's storyteller. Contact him at mike.cassidy@bloomreach.com; follow him on Twitter at @mikecassidy.

Calling all HuffPost superfans!
Sign up for membership to become a founding member and help shape HuffPost's next chapter