—Da Kine Lau Lau Witcher Borscht?
David Ige is governor of Hawaii. His Chief Policy Advisor, Brandon Asuka, called me Friday afternoon, July 7, in the final stretch on Senate Bill 1240, a bill to end aquarium collector permits in Hawaii.
SB 1240 would require the State of Hawaii to define "sustainable" in reef management policies and programs beyond rhetorical claims.
Tough talk peppered our dialogue in prior days and weeks. Brandon is 31, severely young compared to the grizzled machinists wrenching and oiling the Abercrombie engine room as Neil huffed and puffed and Chief Tony called below, "We need more steam!"
Neil Abercrombie was the last governor of Hawaii. The picture gains clarity.
Brandon Asuka set up audio-visual equipment as an Ige campaign volunteer. His parents were high school classmates of David's. The collective groan on hearing this CV may be cynical and predictable, but the question persists: What could go wrong? I found Brandon Asuka to be a quick study, bright, responsive, diligent, patient and keen on doing a good job with no mistakes. Usually composed, on that Friday call he advised, "We have some changes! We have a situation! Colleen Hanabusa is going to challenge, and we've been advised that if she runs, we're dead! This changes everything!" He seemed upset. "You've always spoken blunt to me, and I appreciate that. So many people just say what they think I want to hear."
"You can call me blunt, Brandon. I don't mind. I think of it as honest. Colleen Hanabusa has no conservation record. None. If she runs, you must take the gold ring so easily in reach. Why would you defer to Suzanne Case and The Nature Conservancy with your political future in the balance?" Suzanne Case was Executive Director of The Nature Conservancy in Hawaii for twenty years. David Ige made her Department of Land & Natural Resources Director. She never defined sustainability at either job and fought SB 1240 tooth and nail.
"No. Governor won't allow politics to factor into this."
"Brandon. You live at the political capital of Hawaii. Sign SB 1240 and you ride a huge wave cresting now. You pick up points instantly."
"I told you I had no political experience before this job, but I've learned quite a bit… I love my job. I want to keep my job. I hope you're happy with the outcome on this."
What good fortune, I thought: out of the blue Congresswoman Colleen Hanabusa called Governor Ige's office to share her plan to challenge. Ige is perceived as soft and vulnerable, with a 38% negative rating and 35% positive. David Ige could sign SB 1240 or make a bad situation much worse. The fortuitous phone call topped a week of dialogue between Ige staffers and leading scientists. Dr. Ruth Gates is Hawaii's leading expert on coral reef biology and supported SB 1240. Dr. Robert Richmond heads up the Kewalo Marine Lab, is an advisor to Ocean Marine Solutions and supported SB 1240. Dr. Teresa Telecky is Executive Director of the Humane Society International—she wrote the Wild Bird Conservation Act and calls the aquarium trade identical to rare bird trafficking for the pet trade. She supported SB 1240.
SB 1240 presented opportunity in real time. Supporting data, global climate change and Ige's rhapsody for the Paris Climate Accord, the Hokulea circumnavigation and the Precautionary Principle, by which rules shall err on the side of caution, bode well for SB 1240 becoming law. But he did not sign SB 1240. He vetoed, murmuring, "…the data doesn't really show…" and "…maybe better next year…"
Condemnation mounts on Ige, his DLNR Director Suzanne Case and her Nature Conservancy tactics. Ige's veto derailed years of effort to curb aquarium trade extraction devastating Hawaii reefs. The SB 1240 campaign had overwhelming support in Hawaii and the nation, after passing six tough hearings in the legislature plus Conference Committee.
Doubt follows David Ige, a quiet, ineffective man who became governor by default when Governor Neil Abercrombie imploded. Those doubts proliferate.
Later on that Friday, July 7, I called South Maui Representative Kaniela Ing to tell him that Colleen would challenge Ige, so Ige must come clean. Rep. Ing did the heavy lifting and legislative navigation on SB 1240, and he said, "No, she's not. We would have heard."
I called another colleague in Honolulu to share the news—the same person who joined me in a 2010 meeting with Hawaii State Senate President Colleen Hanabusa—to ask that she facilitate a hearing in the Water & Land Committee on a bill to ban the aquarium trade. State Senator Hanabusa said she had no time for this and, by way of dismissal, "Don't worry. You'll get your hearing." Senate Water & Land Chair that year, Clayton Hee, never granted the hearing. The bill could have died a dozen ways besides a refusal to the State Senate President. So I called Senator Hanabusa but to no avail, until her office manager asked, "What's this about?" I wanted a reason for the broken pledge. He put me on hold for a long time and came back with, "She never said that. She never made that pledge. Goodbye."
But we have corroboration.
Seven years later, on July 7 (at about 7 p.m.), that same colleague said, "I don't think she's running. We haven't heard a thing, and I think we would."
Hmm. So the clock ticked down to July 11 and David Ige's veto of SB 1240 in deference to Case and DLNR corruption, knowing the veto would lower odds on his re-election bid. How could he do that, his casual monotone blending into another hazy day?
The pieces finally fit into place three nights later in the wee hours, when the big picture came clear on a blazing light. Colleen Hanabusa did not call Ige to announce her candidacy; she called to threaten it. She must hate the tortuous commute from Honolulu to D.C., but such a call would be unethical at least, illegal at worst.
Colleen Hanabusa was political heir to Senator Daniel Inouye—a wounded combat veteran, a patriot beyond doubt who could not be faulted for remembering what befell so many Americans of Japanese ancestry. Inouye favored protégés of the AJA profile, and he fell out with one protégé outside that profile—Neil Abercrombie. Abercrombie quit Congress mid-term after serving 22 years, to run for governor. Variables are speculative, including the AJA factor, which is apparent but often unspoken in Hawaii. The standout event in their history is Inouye's dying wish that Governor Neil Abercrombie should appoint Colleen Hanabusa to fill his seat in the U.S. Senate. After a hero's bequeathal, Inouye died a few days later. Governor Abercrombie declined, appointing Lt. Governor Brian Schatz to Inouye's U.S. Senate seat. Schatz defended against Hanabusa in the next election—a knuckle buster.
This history is relevant insofar as WESPAC, the Western Pacific Regional Fisheries Council, was Daniel Inouye's baby. WESPAC is notorious in Hawaii conservation circles as a toxic outfit in chronic violation of federal law—guilty of meddling in State affairs, including legislation. DLNR recruited WESPAC to oppose SB 1240, and WESPAC complied with poor results. WESPAC then recruited Colleen Hanabusa to call David Ige.
Sometimes a few puzzle pieces need trimming, and WESPAC will pare Hawaii to the bone. The Hawaii Congressional Delegation now functions at 75% on the reef public trust. If Congresswoman Colleen Hanabusa or her agents called Governor David Ige on SB 1240, she is culpable of collusion with WESPAC on continuing violation of federal law. Some years ago Honolulu conservationist Keiko Bonk flew to Washington, D.C. to meet with Congressman Henry Waxman, aka "the Congressional pit bull." Waxman listened and his staff reviewed comprehensive documentation on WESPAC criminal violations. Waxman began the investigation through the Department of Commerce Investigator General.
The objective was to reveal WESPAC crimes and disband the agency. But within weeks the Commerce IG was indicted for corruption and conflict, and the investigation fizzled. By then Senator Inouye had intervened to ensure that WESPAC got a slap on the hand.
In these days of collusion, cover up, denial, loopholes, sleight of hand and corruption as a modus operandi, little hope for justice can endure. Investigating this intercession by a sitting Congresswoman on behalf of a federal agency will require congressional leadership. Will U.S. Senators Mazie Hirono or Brian Schatz take this on? Will Congresswoman Tulsi Gabbard suss it out? Well, they're all very busy with the next election coming and the rigors of fundraising. So we wriggle and squirm, gasping in the WESPAC net, as we shall until somebody steps in or forever, whichever comes first.
Twenty-eight million reef wildlife critters are in the aquarium pipeline at all times. 99% die within a year, demanding replacement; that's what the aquarium trade calls sustainable. Ending reef wildlife trafficking for the aquarium trade is what WESPAC and Hawaii DLNR call a slippery slope.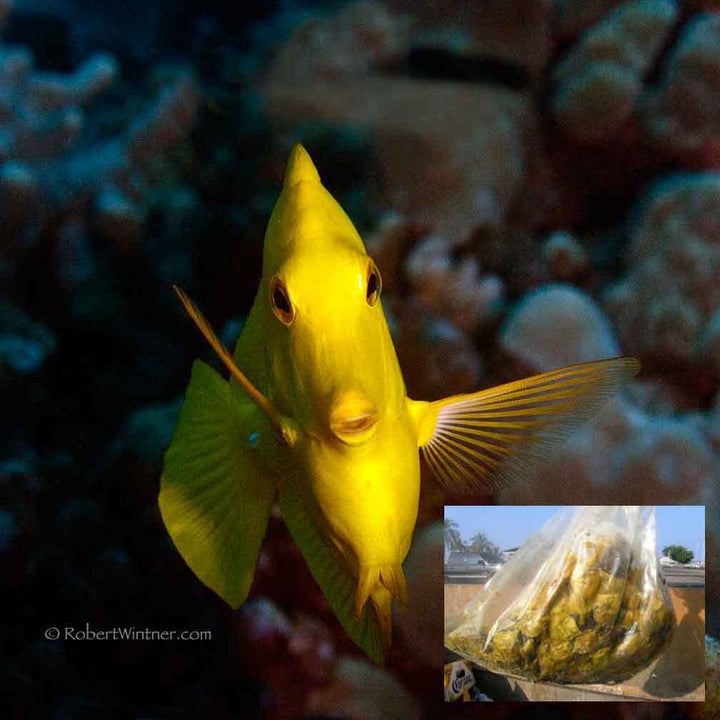 Related
Popular in the Community