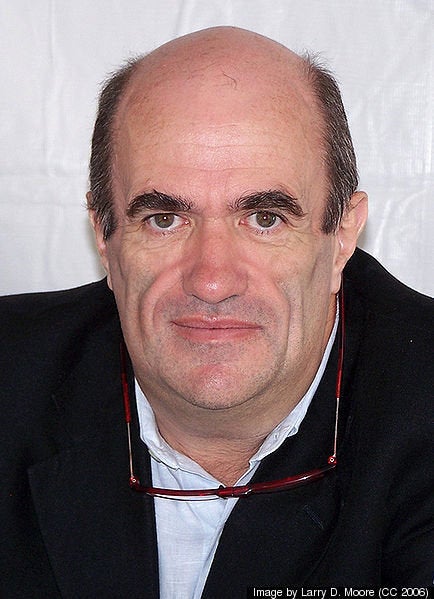 Colm Toibin surely ranks among the world's great writers today--a stylistic master, from whom the apprentice writer can learn a lot. He's already well-known for his novels--The Heather Blazing (1992), The Story of the Night (1996), The Blackwater Lightship (1999), and The Master (2004)--but now he has come out with his second short story collection, The Empty Family: Stories (Scribner, Jan. 4, 2011), following on the heels of his recent story collection, Mothers and Sons (2006). The Master, which dealt with the interior life of Henry James, won the International IMPAC Dublin Literary Award, and The Blackwater Lightship was shortlisted for the Booker Prize. The new story collection features emigrants and exiles, wanderers and searchers, people displaced by circumstance yet trying hard to forge connections across various divides.
Shivani: The stories in The Empty Family are focused on the theme of courage in the face of repression, both self-repression and repression imposed by public culture. Are you dealing with this theme differently in the new book than in The Master or Mothers and Sons?
Tóibín: I'm not sure about themes. They almost come despite me, and are never planned. Maybe this time I was thinking about exile and return--none of the characters lives where they were born. In "The Colour of Shadows" (which is the story I like best) and "The Pearl Fishers," the protagonist is a Wexford person in Dublin, which might seem a slight sort of exile, but in Ireland is a serious one. (At least it is for me; I have never really warmed to Dublin.) But within exile and return, there are characters (rather than illustrations of themes) and I am giving them autonomy and trying to tell a story, or offer a rhythm that might hit the reader's nervous system, so what comes can come despite me, and often I don't quite understand it.
Shivani: Are you farther than in the past from your preference for the lived life over the consolations of imagination, as suggested in the opening story, "Silence"? The story seems to be a prologue of sorts, setting up the dialectic between repression and expression very poignantly. Its placement at the beginning of the book seems significant to me. Would you agree?
Tóibín: I think fiction lends itself to messiness rather than the ideal, and plays well with the ironies surrounding what happens versus what should happen. And yes, I suppose I was interested in that story in the gap between memory itself, the real business of being alive, and the imagination.
Shivani: Would you say something about the function of some of the shorter stories, like "One Minus One" or "Barcelona, 1975"? These seem to me to tentatively broach the subjects you take up at greater length in "The Pearl Fishers," "The New Spain," and "The Street." They serve a noticeable rhythmic function. Did you select these particular shorter stories for inclusion from among others of similar vein?
Tóibín: "One Minus One'"and "Barcelona, 1975" are more or less autobiographical. They are there in the way you will find poems of pure autobiography in a collection which includes other poems--I am thinking about Sylvia Plath, Ted Hughes, Philip Larkin, Louise Gluck. They vary things. I mean them to vary things, tones. I don't have any more.
Shivani: Many of your characters are returning to the homeland, without much hope of reconciliation. In that sense, your vision of emigration seems very bleak. Ties once dissevered can't ever really be attached again. Would you speak about this with regard to Frances Rossiter in "The Two Women?"
Tóibín: She is so successful, so hardened, and yet haunted, someone deeply in pain, oddly unresolved. And the story works, if it does, because it captures the essence of that in a single short encounter placed towards the end. But nothing Chekhovian, more fierce than that.
Shivani: Do you share some of Frances's feelings toward the dreariness of Ireland in "The Two Women"? Are you glad to be able to spend time away from Ireland?
Tóibín: Yes, I do share those views, but never for very long.
Shivani: I found "The Pearl Fishers" one of the most exciting stories in the collection. The lifelong low-boil antagonism between the narrator and Gráinne Roche is something you seem to relish. You also seem to be suggesting a conflict between reliance on memory to recover wholeness, and abuse of memory to create unnecessary fissures--the latter being the way of the demagogue Gráinne.
Tóibín: Look, I am really not sure I agree. I wonder if the narrator is not a real creep. I mean a real creep. And I wonder if Gráinne is not a passionate and serious person. Her husband is in the middle. I don't want you to take the narrator as my image of goodness, or rectitude. Some of the excitement might come from his smugness versus Gráinne's smugness. In the middle is the reader. I hope the reader is uncertain, a bit afraid by the end.
Shivani: In "The New Spain," Carme Giralt, over the course of the story, is able to regain her footing in the country she'd been banished from for her political activities during Franco's regime. Was it very important to set the story in the early 1980s? My guess is that there would be more of a tone of nihilism if you were to set the story amidst postmodern globalization in the present time. Are there precedents for Carme in your previous fiction? Was it difficult to conceptualize her?
Tóibín: I was there then. I saw them coming back from exile in a rage. Or I saw people of my generation in Spain turn on their parents for tolerating the dictatorship, for making money while Franco ruled. That image belongs emphatically to the Spain of those years--between say 1975 and the early 1980s.
Shivani: "The New Spain" ends not in epiphany but in inevitability. This seems to be true of your other stories as well. Is epiphany generally too cheap a trick to end stories with?
Tóibín: I wonder--is Frances's encounter at the end of "Two Women" not a sort of epiphany; or Carme's watching the untidy tourist scene? In any case, it was something new for them.
Shivani: "The Street" seems to me the most challenging story in this collection. Were the characters Malik and Abdul always with you in the writing of this story? What is gained by placing the blooming of the affectionate homosexual relationship between two Pakistani workers in such a sordid setting?
Tóibín: The street is the Carrer Sant Pau in Barcelona. It began with the street. It is there. It is like that. I spend a lot of time close by. I worked on that story for years, on the characters, but they were always in that street. Malik likes the street. So do I.
Shivani: Spain is an important locale for you. Have you spent much time there, and what is the attraction of the place for your fiction?
Tóibín: I spend about three months each year there, and I lived there between the ages of 20 and 23, so I sort of grew up there. I have a house in the mountains now and keep a room in Barcelona. I like the weather and the people and the light, and it is a sort of home I made.
Shivani: This is your second story collection, following soon after Mothers and Sons. What do you gain and/or lose by writing short stories as opposed to novels?
Tóibín: Oh I think you can get a sort of intensity and an edginess offering nine stories in a book. Competing versions of things.
Shivani: Would you talk about the change in tone between Mothers and Sons and The Empty Family? Are there stylistic issues you consciously grappled with in the new book?
Tóibín: Yes, you are right about that. The tone is the first book is calmer, almost like Schubert's piano music. By the second book, Bartok has taken over. It's all edge and anger, or enough of it is to make a difference.
Shivani: Eilis Lacey's reticence in Brooklyn is in sharp contrast to Frances Rossiter's insurgency in "The Two Women" in your new book, and to a slightly lesser extent, that of Carme Giralt in "The New Spain." Guilt about the fact of emigration unites all three characters, however. Why is this theme so important in your fiction?
Tóibín: I left at 20 and have been leaving ever since. I miss things when I am away. I hate leaving sometimes. And then I get used to New York or Barcelona, and then I come home. I like the disturbed self as a subject in fiction.
Shivani: What recent novel of emigration to America has most attracted you and why?
Tóibín: Joseph O'Connor's Star of the Sea and Richard Rodriguez's Days of Obligation (not a novel, but a truthful book.)
Shivani: Would you talk about the connection between your collection of essays, Love in a Dark Time, and your novel, The Master? Why is human nature revealed so poignantly in minority sexuality, in minority culture, in minority faith?
Tóibín: Yes, we have taken over--the Irish, the Indians, the South Americans, the gay people. I suppose there is more urgency in our voices, and this seems natural.
Shivani: Have you ever been seriously tempted by stylistic experimentalism? Does realism satisfy you?
Tóibín: Hey, I'm a failed poet!
Shivani: Do you have any thoughts on Gabriel Josipovici's recent claim that major British writers today have betrayed the legacy of modernism?
Tóibín: I'm not sure I know anything about this. The sentences I write have their roots in song and poetry, and take their bearings from music and painting, as much as from the need to impart mere information, or mirror anything. I am not a realist writer, even if I seem like one. I do admire Josipovici. We should all be better than we are.
Popular in the Community