Netflix marked the 60th anniversary of the March on Washington by unveiling the trailer for "Rustin," a new biopic that examines the life of the civil rights pioneer who organized the historic event.
Due out Nov. 17, "Rustin" tells the story of Bayard Rustin (played by Colman Domingo), who orchestrated the 1963 march meant to advocate for the rights of Black Americans. In addition to Domingo, the film also stars Audra McDonald and Chris Rock as activists Ella Baker and Roy Wilkins, respectively.
Rustin was a confidant of Martin Luther King Jr. (played by Aml Ameen) and New York Rep. Adam Clayton Powell Jr. (Jeffrey Wright), as seen in the movie. However, his story is often relegated to the background, perhaps in part because of his association with much higher profile figures.
"He challenged authority, never apologized for who he was, what he believed, or who he desired," Netflix's official synopsis for the film reads. "And he did not back down. He made history, and in turn, he was forgotten."
Watch the teaser for "Rustin" below.
From the looks of it, "Rustin" won't shy away from depicting its subject's true self.
"On the day that I was born Black, I was also born a homosexual," Domingo's Rustin proclaims in the trailer.
Still, Rustin's sexuality presented its fair share of challenges during his early life. A decade before the March on Washington, he was arrested and sentenced to 60 days in jail after being caught having sex with two men in a parked car in Los Angeles.
That sentence remained on his record until his death in 1987 at age 75. In 2020, however, California Gov. Gavin Newsom (D) granted the activist a posthumous pardon.
"Rustin" is executive produced by Higher Ground, the production company founded by former President Barack Obama and former first lady Michelle Obama. In an interview with Deadline published earlier this month, director George C. Wolfe agreed with those who have said Rustin has gone "criminally unrecognized" by historians, and is hopeful his film will change that.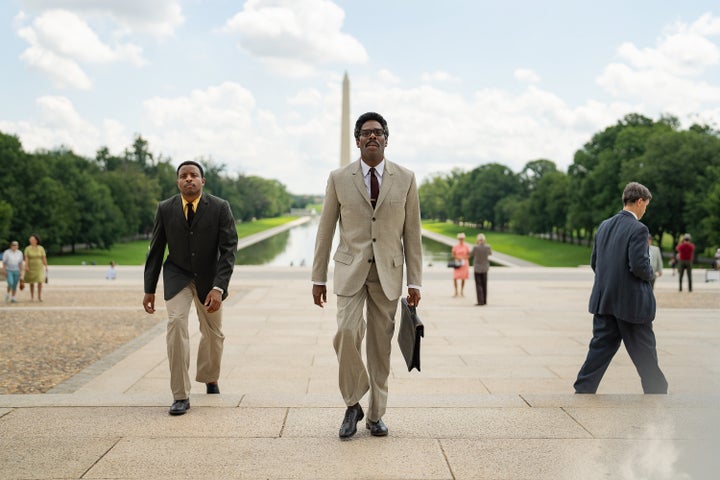 "That is what history does," said Wolfe, whose last feature, "Ma Rainey's Black Bottom," received five Oscar nominations. "History goes, 'I'm going to notice you. I'm not going to notice you. I'm going to reward you.' History can be very, very brutal. And so therefore, if we find the stories that need to be told, then it's our responsibility to make sure they get told."
Domingo, a 2022 Emmy winner for his guest appearance on "Euphoria," sees "Rustin" as a step up in his acting career, as it marks his first time in a titular role.
"I knew it was my charge to empower every single person on that set," he told Vanity Fair in a July interview conducted before the SAG-AFTRA strike. "I'm the center of this production, and the way you succeed or fall apart is because of me."
Support HuffPost
The Stakes Have Never Been Higher
Popular in the Community