Rep. Marsha Looper's (R-El Paso) campaign manager Lana Fore-Warkocz was so pleased with her boss's voting against Colorado's civil unions bill last month that she sent out an e-mail praising Looper for her vote even though she has a gay son -- unfortunately holding Looper's son up for public scrutiny in the process, according to The Denver Post.
"God is truly to be praised for Marsha Looper because she also has a homosexual son," Fore-Warkcoz e-mail to El Paso's voters read, the Advocate reports. "Praise God!" Fore-Warkcoz goes on to write in the e-mail, celebrating Looper for amending Senate Bill 2 to "protect" religious organizations "from harm."
But Looper wasn't pleased with the e-mail saying to The Denver Post, "I'm very, very disappointed. I am disappointed that my campaign manager forwarded an e-mail that would include any member of my family in policy discussions." Looper went on to say that the personal lives of her family members should not be part of the discussion of her campaign or any other campaign.
Looper added that she had never kept her son's sexuality a secret, but had not wanted it to become widely public.
After the votes were cast and Colorado's civil unions bill died again at the hands of Republicans, Dee Coram told The Denver Post about his disappointment in his father's vote, "I was told by my grandfather, there's always a time to lead and there's always a time to follow. He was given a time to lead, and he didn't do it. He could have and should have been the deciding vote."
Looper and Coram are two of at least four House Republicans that have a gay child, but The Denver Post reports that in the past it has always been an unwritten rule that the lawmaker themselves should be the one to reveal that information to the public.
Don Coram brought up his own gay son during the proceedings himself, to which Dee commented on in Westword saying, "I've always stayed out of the issues, but once it was brought up in the session by my father, he kind of thrust me into the limelight."
However, Looper did not bring up her own gay son during the civil unions vote and he was not covered by local media during the special session either, so it very likely came as a surprise to Looper's constituents who received her campaign manager's e-mail.
Looper criticized the special session in May, but praised the bill's death, the Colorado Statesman reported, "I am disappointed that we had to have a special session in the first place. I think it's a complete lack of leadership that the bill made it through three committees and then on the last day — and I oppose civil unions — but if the leadership was intent on killing the bill in the first place, it should have gone to State Affairs weeks ago instead of dragging it out like this. I agree with the decision to kill the bill, but I am disappointed in the process."
Clarification: Language has been added to indicate that Looper's son had not been in the closet prior to the distribution of the email.
Before You Go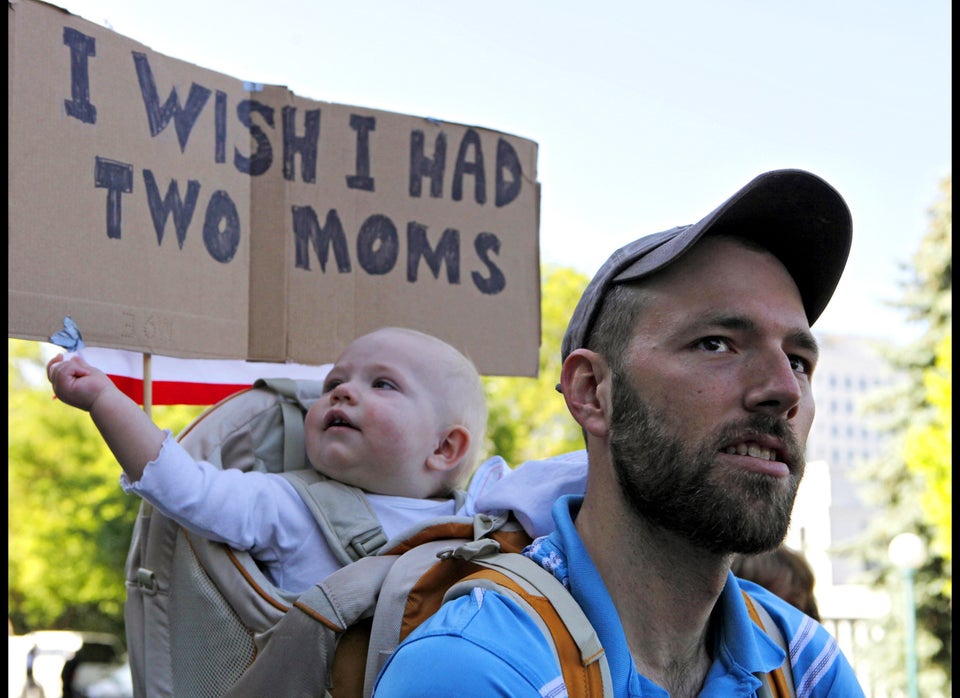 Colorado Civil Unions Bill
Popular in the Community