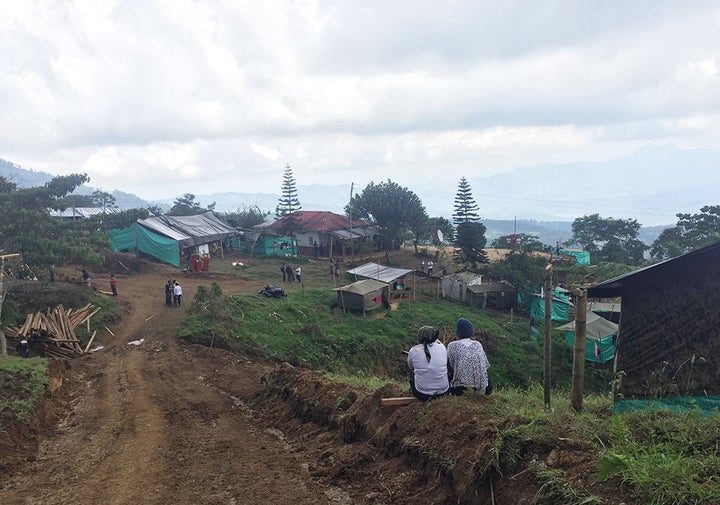 ICONONZO, Colombia ― Last November, at a solemn ceremony in the capital city of Bogota, the Colombian government signed a historic peace accord with the Revolutionary Armed Forces of Colombia, or FARC, ending 52 years of civil war. Four months later, the work of implementing that accord is underway at a farm high in the mountains outside the town of Icononzo.
Icononzo is one of 26 transition zones established in rural regions the FARC had historically controlled. The peace deal ― which came after years of negotiations and a failed national referendum ― began a six-month process in which nearly 7,000 FARC guerrillas have been relocating to these zones to demobilize and begin reintegrating into civil society.
That process includes taking classes, as many of the rebels never finished elementary school, and learning about life outside the FARC, where many of them have spent more than half their lives. Eventually, the guerrillas are supposed to turn over their weapons to United Nations representatives and surrender money and land holdings, which will be used to compensate victims of the war. In exchange, they will be allowed to form a sanctioned political party.
FARC members started arriving at Icononzo in early January. The camp currently houses 280 guerrillas, both men and women, as well as seven children. On a recent Friday morning, a pair of congressmen from Bogota and a group of reporters visited the zone.
The new residents were busy sawing wood, digging trenches for water pipes and carving out a village high on this mountainside. The old farm they are occupying had only a handful of established buildings. So the guerrillas were building tent houses out of green and black tarp. Throughout the zone, their guns were stored on wooden racks under more tarps ― still accessible, at least for now.
Rutti Terran, 26, has been with the FARC for 11 years. She had just returned to her tent from helping construct a large building to be used as a classroom higher up the mountain. Her hands were still muddy from the work. The classroom, she said, would initially be a place to study the peace agreement, "so we can all be clear on what we can do at the moment."
"For the future, what I want, at least first of all, is an education," said Terran. "And from there, to pick a project that will nourish my life and to look over the less fortunate people of Colombia, be of help to them. That's what we have always dreamt of."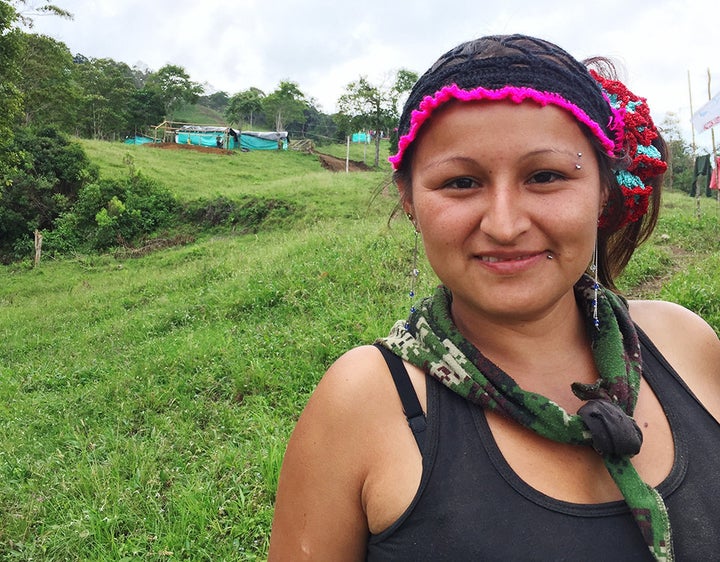 But many in this zone said that while they're living up to their promise to disarm, the Colombian government's sluggish pace in delivering infrastructure for the camps has complicated the demobilization. In late February, the government faced widespread criticism after reporting revealed that the contractors hired did not appear capable of completing the zones' construction, which could be one reason it's behind pace.
"The deal we had with the government is that upon our arrival to these regions, there should have been a basic infrastructure in place ― potable water, sanitation, internal roads, dining halls, kitchens and other conditions that would allow people to live with dignity here, to initiate the process of building accommodations and housing for the combatants," said Carlos Antonio Lozada, one of the FARC's main commanders and a lead negotiator in the peace process. "Unfortunately, the Colombian government has not fulfilled that commitment. And as you can see from walking around the area, we're living in conditions that are not the best."
"We're putting up with it as a demonstration of our unequivocal willingness for peace," Lozada said.
Benur Hernandez, 26, was helping a woman hang a tarp over her tent. It had rained hard the night before, and the clouds looked like they might open up again soon.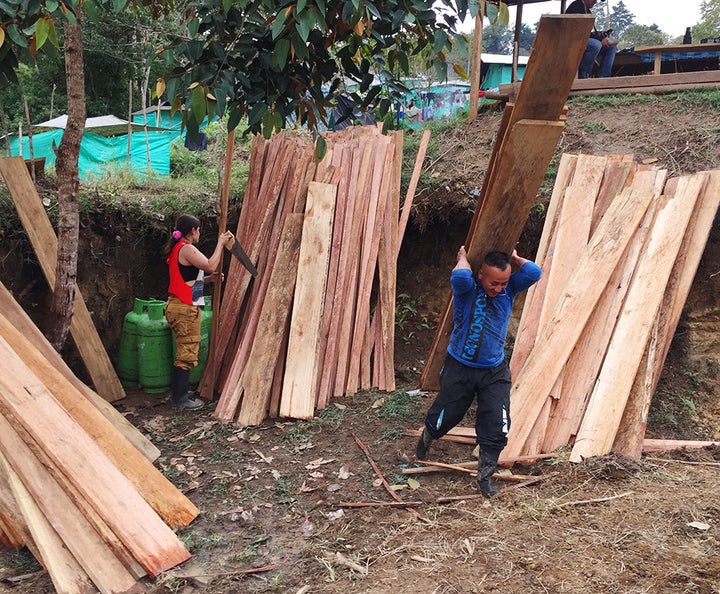 "If they don't put in their part, then we won't either," said Hernandez, who has been with the FARC since he was 12. "We too won't put in our part. This is not a way for peace to continue forward in a process as it should be."
"If one dedicated so much time in that fight, the fight is for something just. Not for something minimal, but for something just," he continued. "It's been four months. There's two months left because it's a total of six months. And by the looks of it, there's a long way to go."
Others were more forgiving. Geronimo Gutierrez, 41, has been a guerrilla for 28 years. He and his wife, Carolina Santana, have a 6-month-old daughter, Alix Beatriz. "They've been delivering on what has been promised, but it's a bit slow," he said. "Little by little."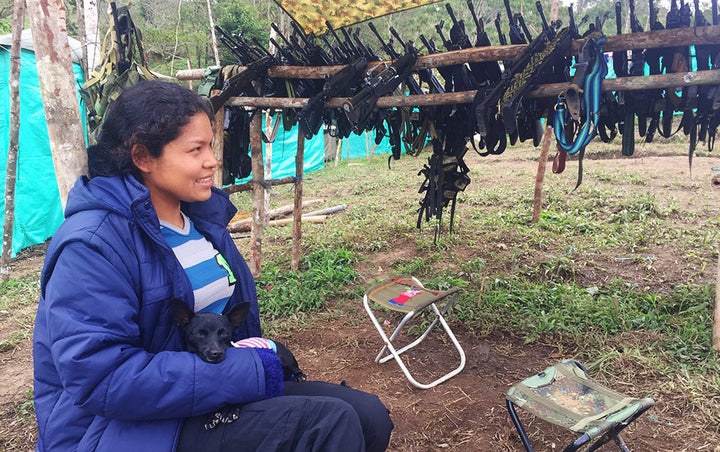 "We're in the process, hoping everything moves forward, that it doesn't double back," said Vanessa Hurtado, who entered the FARC at age 13. She was standing watch at one of the camp's gun depots, cradling a tiny black chihuahua named Guinness dressed in a T-shirt. She looked younger than her 26 years. "We're all working here and hoping things move forward. But we're optimistic about the agreement."
Hurtado wants to get an education, learn English and French, and maybe work as a translator. She also wants to see her family again, including her parents who are in Venezuela.
Beyond the concerns about how contracts were awarded, construction in the zones seems to be a logistical challenge. The camps ― essentially 26 entirely new villages ― are being built miles up twisting mountain roads and far from towns, in places where there was almost no existing infrastructure. Meanwhile, the delays are heightening fears that the FARC, or at least splinter groups, might remobilize, as The Christian Science Monitor reported last week.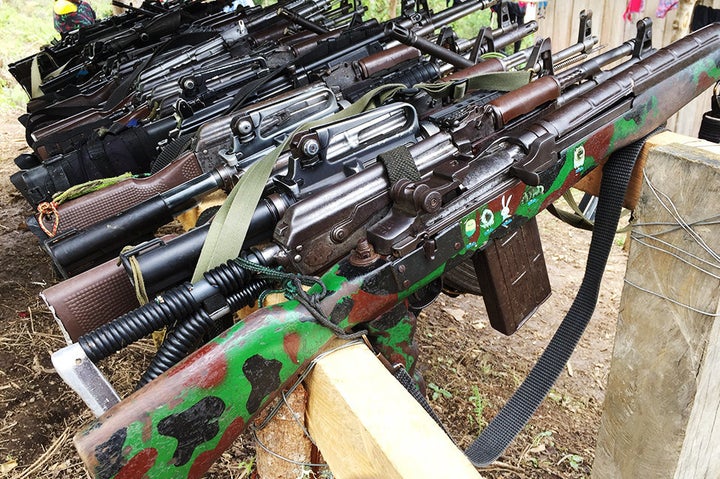 Ivan Cepeda, a senator from Colombia's liberal Polo Democratic Alternative Party and a human rights activist, said it was "disheartening" to see how little government-provided infrastructure was in place.
"There is nothing, barely the beginning of what should have already been established," said Cepeda. "But on the other hand, we are seeing that the guerrillas are committed to what they are doing. This is a fundamental ingredient, essential to the peace."
Cepeda emphasized the need to provide health and educational resources, especially in the regions most affected by the war. The FARC was often criticized for enlisting young people ― pre-teenagers, in some cases ― and its recruitment practices mean that many of the rebels have little formal education. While one can access decent health care in the country's larger cities, it is severely lacking in the vast, remote rural areas ― the regions hit hardest by the war. "In these zones, there should be the minimal living conditions so that the people in the countryside can live with dignity and their rights," said Cepeda.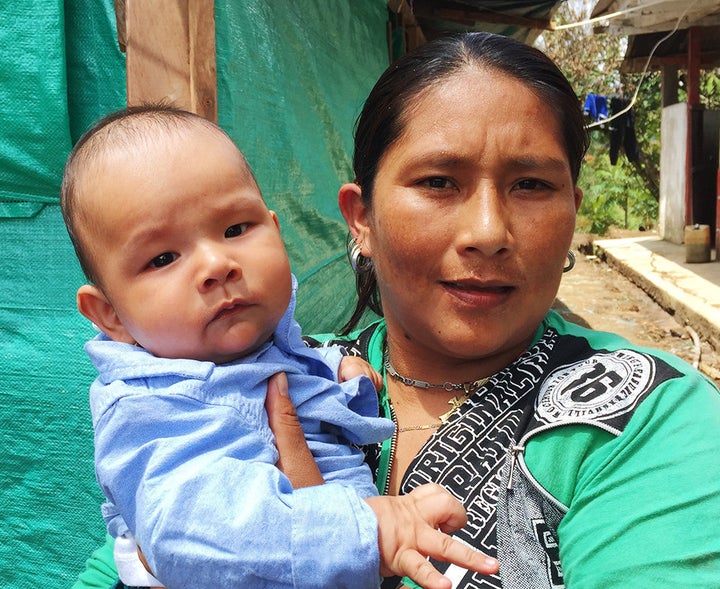 Former FARC guerrillas are also experiencing a baby boom, after their leaders barred them from having children during the war. In Icononzo, there were seven babies and toddlers, and several more women were pregnant ― "the generation of the peace," as several people called them. One of the buildings under construction was a maternity house; men were pouring cement that very day.
Lisnea Guzman, 30, has been with the FARC since she was 15. Now that there's peace, she said, she hopes to get an education, maybe study computer systems. She was sitting outside one of the gun depots with her 1-year-old daughter, Arit Dayana. "I just hope that things will change for the children," she said.
"We are here waiting to see how things go," said Patricia Gomez, 32, who has also spent half her live in the FARC. She carried her son, 5-month-old Carlos Andres. "Well, for my future, I want to study and better myself," she said.
For now, the infrastructure problems raise fundamental concerns about the peace process as a whole, said Zoraida Hernández, secretary general of the Committee for Solidarity with Political Prisoners, a human rights group.
"If this is how it is now, for example, how will they fulfill the implementation of the truth commission?" she asked. "For example, how will they fulfill the implementation of the recovering of the disappeared? How will they implement the rest of the accord, the fight against paramilitarism?"
"Ultimately," said Hernández, "it is society as a whole who must mobilize and go out and demand that the accords be fulfilled."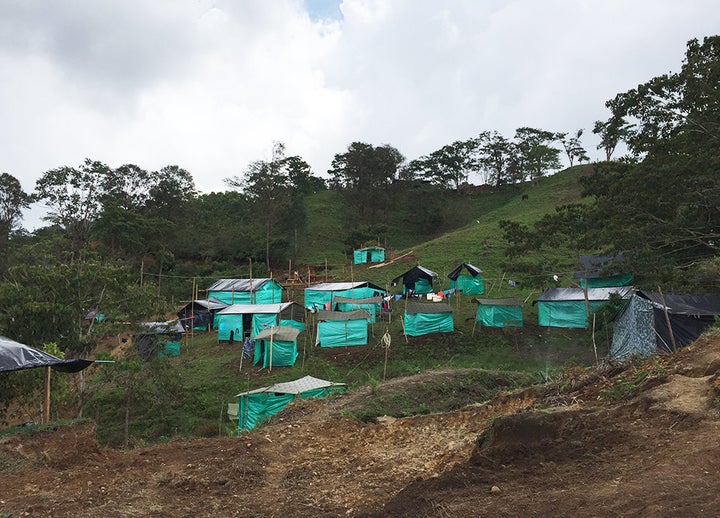 Sign up for the HuffPost Must Reads newsletter. Each Sunday, we will bring you the best original reporting, long form writing and breaking news from The Huffington Post and around the web, plus behind-the-scenes looks at how it's all made. Click here to sign up!
Support HuffPost
The Stakes Have Never Been Higher
Related
Popular in the Community