NEW YORK -- Donning ponchos and striking pots, dozens of Colombians and supporters gathered in Washington Square Park on Saturday to show solidarity for the recent Colombian farmers' protests, known as the "Rebellion of the Ponchos" in the South American country.
"Colombia has become, and pardon the expression, a prostitute," Diana Rodriguez Gomez, 31, told The Huffington Post at the Washington Square protest. "We have our legs completely spread open with free trade agreements with the E.U., Canada, the U.S., and Israel. So there is no protectionism that is currently protecting the Colombian economy right now."
Gomez, who is a Ph.D candidate in International Educational Development, said that in an ideal world, Colombian farmers would receive the same generous government subsidies that U.S. farmers do. But because the Colombian government doesn't have the capacity to offer that, she said, the country should instead use tariffs on foreign imports to safeguard the local economy.
"We'd like to sit down and re-negotiate the U.S. free trade agreement, but that's not going to happen," Gomez said. "What I think we can do is buy less junk and buy more Colombian products. That way, we can all contribute to the cause."
"You can't compete under those terms," Colombian activist and U.S. citizen Carlos Salamanca, 61, told HuffPost at the protest. "These free trade agreements and political policies from North America are going to cause national production to go bankrupt. The people took to the streets to fight because they are suffering."
Salamanca has lived in New York City for 28 years and came to the event as a member of the Alternative Democratic Pole, a left-wing Colombian political party that has long been critical of conservative President Juan Manuel Santos' administration.
The national protest reached the country's capital on Thursday, prompting some 300,000 students, activists, and farmers to take to the streets in support of the agrarian strike. What started out as a peaceful protest took a violent turn, however, with clashes between some youth and riot police resulting in hundreds of injuries and at least two deaths.
Laura Vargas, 26, posted a Facebook event Monday for a New York "cacerolazo" -- pot banging protests common in Latin America -- after being inspired by images and videos of the protests in Colombia.
"It's great that people are becoming aware of the impacts of a treaty signed with the United States," Vargas, who was born in Bogotá and is currently working on a master's degree in Latin American Studies at NYU, told HuffPost. "And what we need to do, in fact, is renegotiate the treaty. Well, in my opinion get rid of that treaty, but let's say that becoming conscientious of the problem is a big step."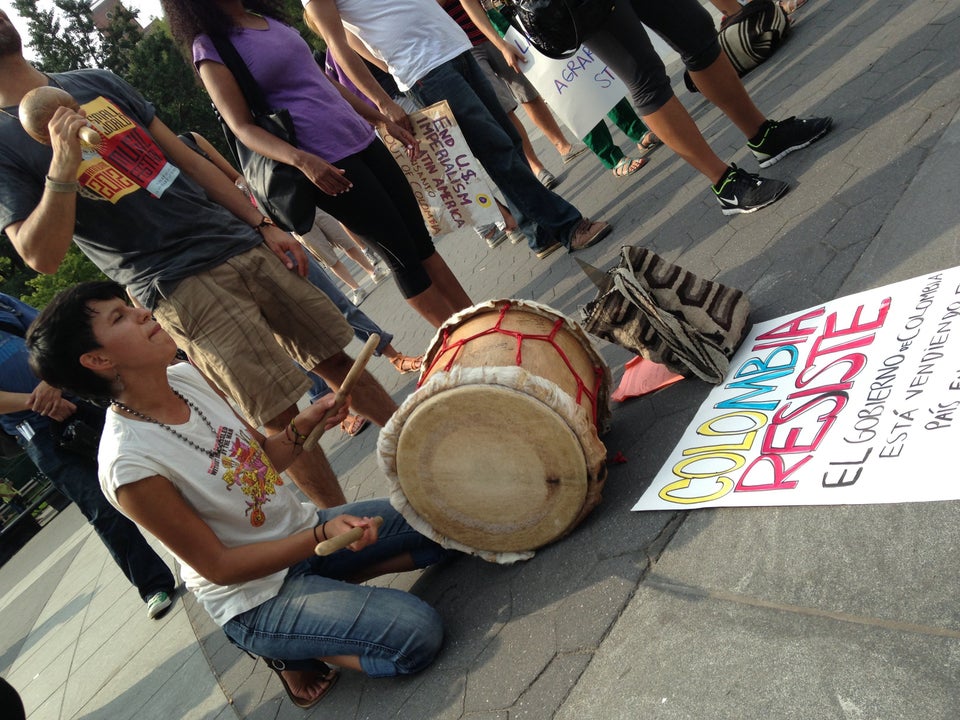 NYC Protest Supports Colombian Farmers