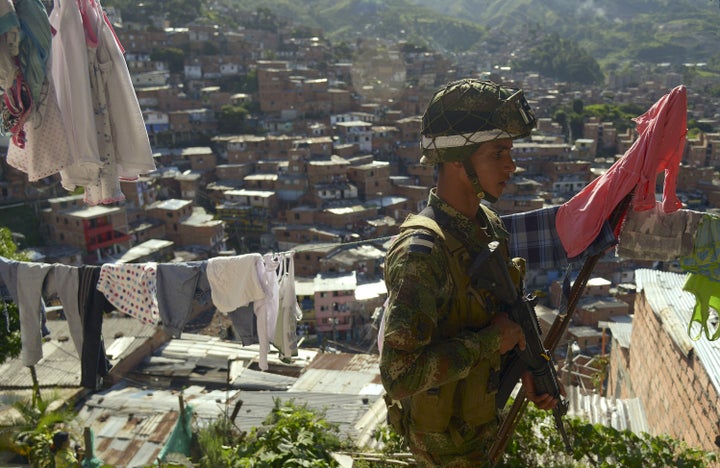 MEDELLIN, Colombia, July 17 (Thomson Reuters Foundation) - For the past seven years, Luz Elena Galeano has been searching for her husband who was last seen being forced off a bus by armed men in the Colombian city of Medellin.
Her quest to find her husband, and father of her two children, could soon be over.
Colombian authorities have announced work will begin on July 27 to unearth what they say is the world's largest urban mass grave, located in a garbage tip in a sprawling mountainside slum known as Comuna 13 in western Medellin.
"For the size of the area, for the number of people who could be buried in this zone ... it has been said that this is the largest urban mass grave in the world," Jorge Mejia, an adviser in Medellin mayor's office, told the Thomson Reuters Foundation.
Galeano blames her husband's disappearance on right-wing paramilitary fighters, who she believes killed him and dumped his body in the landfill, along with scores of other victims of Colombia's civil war over the past two decades.
"The truth is buried there. We haven't had any help from the state until now. We've been fighting to get justice and find out the truth," said Galeano, a spokeswoman for the relatives of the disappeared.
"It's a drop of hope in a sea of impunity," she said, bearing a photo of her missing husband around her neck.
Several former paramilitary warlords, who demobilized and are now in prison, have told state prosecutors during criminal trials that they buried bodies in Comuna 13's mass grave.
Rights groups say around 300 civilians were tossed into the mass grave, victims of five decades of war between state security forces, paramilitary groups and leftist guerrillas.
The government, though, estimates up to 90 people are buried in the mass grave in the slum's upper reaches, surrounded by rows of tin-roofed brick and wood shacks.
Of those victims, some could have been killed by government troops and during military operations carried out against guerrillas to regain control of the Comuna 13 slum in 2002.
"Urban guerrillas, paramilitaries, and some sectors from government institutions - it is possible that they are responsible for what happened in Comuna 13," Mejia said.
Thirty government officials, including forensic teams, will excavate and exhume the mass grave over the next five months using their hands and heavy machinery, Mejia said.
"We will be there every day watching the whole process," Galeano said. "If no bodies are found, we will demand that the search continues in other areas of the city."
Across Colombia, more than 30,000 people have been "disappeared" by warring factions during Colombia's 51-year-old war, according to government estimates.
So far, Colombian authorities have unearthed around 6,000 bodies from mass graves. (Reporting By Anastasia Moloney, Editing by Ros Russell)
Popular in the Community