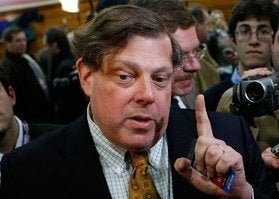 The Colombian government severed ties with Clinton strategist Mark Penn and his public relations firm Saturday, unhappy Penn referred to a recent meeting with the Colombian ambassador as an "error in judgment."
"Mr. Mark Penn, President and CEO of Burson Marsteller, responded to claims by Union representatives who questioned his relationship with the Colombian Government by declaring that it was an 'error in judgment' to meet with his client the Colombian Ambassador on March 31. The Colombian government considers this a lack of respect to Colombians, and finds this response unacceptable," a statement from the Colombian embassy said.http://politicalticker.blogs.cnn.com/2008/04/05/colombia-cuts-ties-with-clinton-strategist/
Calling all HuffPost superfans!
Sign up for membership to become a founding member and help shape HuffPost's next chapter