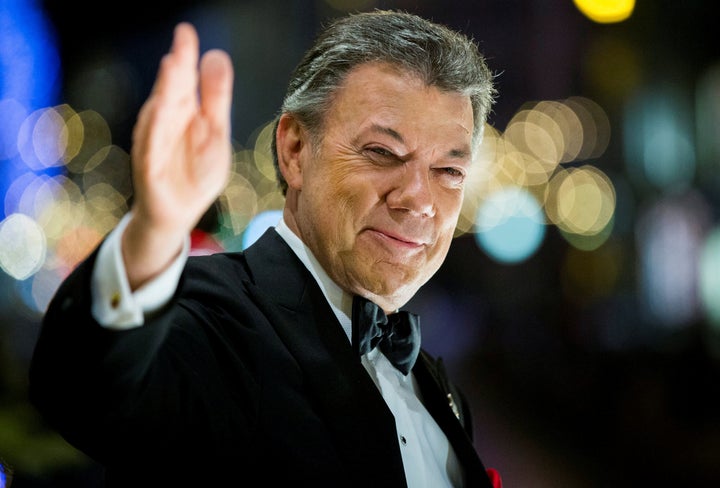 Colombian President Juan Manuel Santos used his Nobel Peace Prize acceptance speech to urge a rethinking of the war on drugs, calling it more dangerous than all world armed conflicts combined.  
Santos' pointed rejection of the drug war echoed a chorus of criticism from Latin American leaders in recent years rejecting the strategy of ordering militaries to fight an endless and seemingly unwinnable battle against drug trafficking.
But Santos' comments, delivered in Oslo on Saturday, went further than most other sitting Latin American heads of state ― particularly for a U.S. ally. His criticisms carry the weight of a Nobel Peace Prize winner and a former defense minister who has helped aggressively fight the drug war using billions in U.S. foreign aid in the world's leading coca-producing country.
"The way in which the war against drugs is being waged is equally or even more harmful than all of the wars being fought in the entire world today, combined," Santos said, drawing applause from the crowd. "And it's time to change our strategy."
Santos spent most of his speech discussing his administration's four-year negotiation to end its war with the left-wing FARC rebels, his signature achievement as president.
Watch Santos' speech in Spanish below.  
He recognized victims of the half-century internal war in the crowd, asking them to stand up "and receive the homage they deserve." He heaped praise on the Colombian military and foreign governments from Norway to Cuba, which helped facilitate the peace process that brought the guerrilla insurgency to an end. And he urged the audience to imagine a world without war, saying the peace deal with the FARC ― which nearly collapsed after a surprise referendum rejecting the original deal in October ― shows that the "impossible can be possible." 
But Santos also said he felt compelled to criticize a global drug war that has increasingly drawn his skepticism.
As he has in the past, the Colombian president asked why his country should be expected to jail peasants who grow marijuana, when Americans can freely buy and sell the drug in some U.S. states. He cited his country's own long experience of internal conflict and organized crime as evidence that punitive policies do little to stop drug trafficking.
"We have the moral authority to affirm that after decades of struggle against drug trafficking, the world hasn't controlled this scourge that feeds violence and corruption in our global community," Santos said.
Several prominent Latin American leaders have banded together in recent years to press world governments to abandon the drug war in favor of policies centered on decriminalization that leave drug abuse to public health authorities rather than police and prosecutors. They've questioned why foreign governments should bear the brunt of the violence that kills tens of thousands of people annually from Mexico to Brazil in a futile attempt to keep drugs off the streets in the United States, the world's largest illegal drug market.
Most other well known critics of the U.S.-led drug war in recent years ― including former Mexican Presidents Ernesto Zedillo and Vicente Fox, and former Brazilian President Henrique Cardoso ― waited until they left office to level their most clear-throated challenges to drug war policies.
A few prominent critics of the U.S. drug war policy have carried out major reforms in recent years, despite hostile or dismissive reaction from the U.S. government.
Uruguay's former president, José "Pepe" Mujica, signed a law creating the region's first legalized marijuana market for recreational use, contending that criminalization was a failed policy. The State Department responded with muted criticism, even as several U.S. states expanded legalized weed.
Bolivia's left-wing president, Evo Morales, faced criticism from the Obama administration for expelling the U.S. Drug Enforcement Agency, but has carried out a seemingly successful program to tamp down illegal coca crops by simultaneously protecting a small legal market of coca leaves, while attempting to find alternative crops for farmers who grow illicit crops destined for the drug market. In the Andes, indigenous people have long chewed coca leaves or brewed tea with them as a mild and legal, coffee-like stimulant.
REAL LIFE. REAL NEWS. REAL VOICES.
Help us tell more of the stories that matter from voices that too often remain unheard.
BEFORE YOU GO
PHOTO GALLERY
Why Latin Americans Really Come To The U.S.