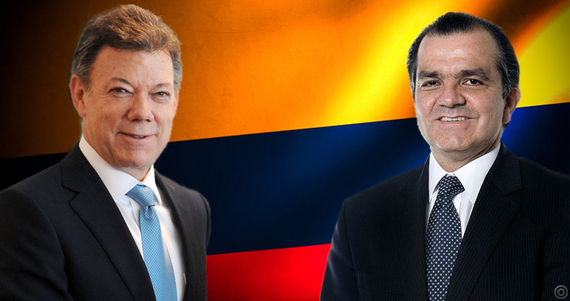 The Colombian presidential election campaign appears to hinge on a significant controversy; Colombians want the war to end with rebel groups. However, "how" each candidate proposes to solve this problem is what will make the difference in the voting booth next Sunday. What method will be favored to end the violence that has existed for over five decades in the country? The new president will be dealing with the Revolutionary Armed Forces of Colombia; the extremist rebel group better known as FARC.
Candidates, Juan Manuel Santos & Oscar Ivan Zuluaga, purport similar policies but diverge dramatically and considerably when it comes to dealing with the FARC. In the last three months, the candidates have been increasingly accused for using dirty propaganda against each other and social media has been used as a strategic platform in the matter.
Former President Alvaro Uribe has been accused of influencing Oscar Ivan Zuluaga's campaign behind the scenes and President Juan Manuel Santos who is working on a peace talks and a process with the FARC in Havana Cuba, has been accused of negotiating peace without appropriate conditions.
This Sunday, June 15, 2014, Colombia will have a new president or a re-elected president and the central driver for voters is how each candidate will deal with the last 50 years of violence.
Journalist, Anand Naidoo, host of CCTV's America in Washington, revealed many interesting points about the Colombian presidential campaign. During a recent show, Anand was joined by Natalie Alhonte, an associate director at the Atlantic Council's Latin America Center. Natalie said that the two candidates have deep differences and divergences about FARC negotiations. She added that President Santos has very strong liberal values, is progressive in terms of gay rights, and stands strong on social issues which are a huge divergence between the two candidates.
Alberto Bernal, partner at Bulltick capital markets said that he spoke recently with the presidential candidate Oscar Ivan Zuluaga, and from that conversation he highlight that Zuluaga is going to speak with the FARC, but with conditions, "the terrorist group has to stop violence, bombing, attacks on pipelines, kidnapping, and stop engaging children in war", said Bernal in his interview with Anand Naidoo.
Eric Farnsworth, Vice President of the Council of the Americas and Americas Society, said "from a macro level point of view, both candidates are quite similar in some ways; they both have a background in government finance, shared views on growing the economy, support foreign investment, encourage continued good relations with the United States and both want to continue the discussion in terms of the peace negotiations... now they may do that differently in detail, but at the macro level there are subtle differences that are being amplified in campaigns everywhere you go."
It seems apparent and obvious that most Colombians want to end the war with FARC, but reaching a consensus among the people on "what to do with rebels" when they surrender and re-enter society raises the big and important questions; Will they have impunity? Will they be integrated into the political system without punishment? Or, is there a price to be paid? Many citizens say let's deal with FARC in negotiations, let's establish peace, let them drop their arms and integrate with society, but perhaps the most challenging issue for Colombians is how to "trust" that this time there can be a balance in the structure of a deal and how to effectively make this work in a country that has endured this problem for over half a century. This is the most compelling question driving voter decisions in the voting booths this Sunday... when they elect the new president.
Just six days before presidential election, the government of President Juan Manuel Santos announces that they're starting another peace process with Colombia's number two rebel group known as National Liberation Army 'ELN'. The statement published on the Colombian presidency's website says exploratory talks began in January and that the two sides have agreed on an agenda. The six-paragraph statement does not mention a timeline for formal talks between the National Liberation Army 'ELN' and the government, or say when they might begin.
Interestingly, research and statistics show that there are 560,000 potential Colombian voters abroad, but only a small number, around 8 percent, actively vote in presidential elections. For the remaining 92 percent, it appears they are indifferent on the results of the presidential elections.
Despite the low expectation for voter turnout abroad, the Colombian government is making a big effort in this election this week alone with more than an estimated 15 million dollars per day being spent in 64 countries, in an attempt to attract those 560,000 Colombians to take this opportunity and participate in their country's democracy.
Elections end Sunday. All around the world, Colombians have this moment, and this important opportunity, to reelect Juan Manuel Santos or newly elect Oscar Ivan Zuluaga.
Calling all HuffPost superfans!
Sign up for membership to become a founding member and help shape HuffPost's next chapter