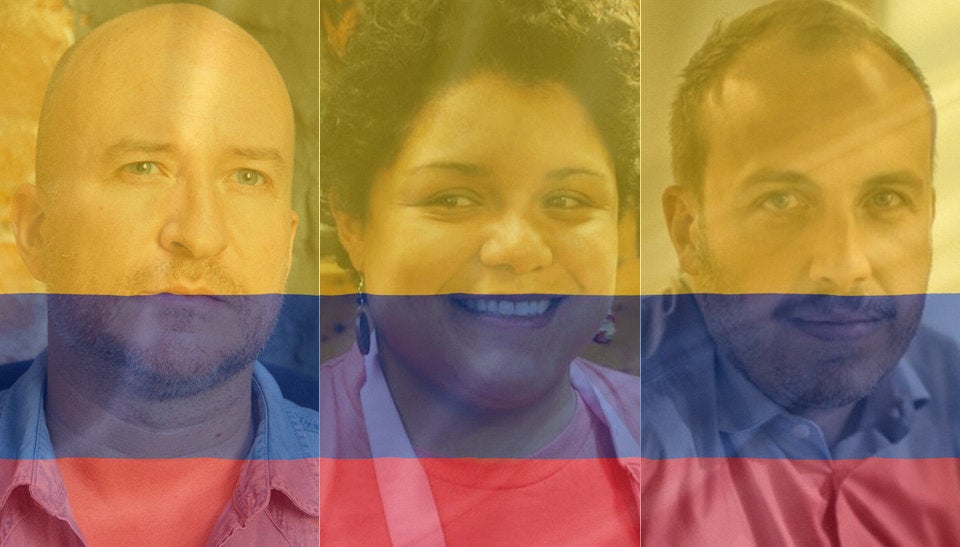 The armed conflict in Colombia has lasted more than 50 years, killed hundreds of thousands of people and displaced millions more. But President Juan Manuel Santos and Rodrigo Londoño Echeverri, the leader of the insurgent group Revolutionary Armed Forces of Colombia (FARC), came together in Cartagena to sign a peace treaty on Sept. 26 ― a historic agreement that would end the world's longest continuous war.
The Colombian people will vote on the peace deal, which was four years in the making, in a referendum scheduled for Oct. 2. The deal would allow FARC members to form a political party and participate in Colombia's democratic process once they've abandoned armed struggle. The guerrillas have also committed to cutting all links to the drug trade and working with the government to eradicate coca production, as well as fostering development in neglected rural areas.
The deal is not without controversy. The idea that former FARC rebels would be allowed to take part in Colombian politics without serving jail time has galvanized opposition, most notably from former President Alvaro Uribe, who launched tenacious offensives against the guerrillas during his time as president from 2002 to 2010.
I want the agreement to prompt a reflection on what the country truly needs to achieve peace.

Alejandro Bahamón
Colombia's largest rebel group emerged in 1964 as the armed wing of the Communist Party in the country. FARC's key founders were farmers and workers who came together to fight inequality in Colombia, and the group has operated for decades as a largely rural guerrilla organization with thousands of fighters. While FARC's attacks have focused on police stations and military posts, they have also caused many civilian casualties. Colombian security forces have violently confronted the rebels in recent decades, with financial support and training from the U.S. government. Many of the group's top leaders have been killed in the last 10 years, and the number of FARC fighters shrank from 20,000 in its peak in the late '90s to 7,000 today.
If Colombia rejects the peace deal now, the country's future is less certain. "If 'no' wins, we will return to what we had at the beginning of this government, six years ago," Santos said in an interview in early September. "We return to armed conflict. That would be a catastrophe for the country."
The violent conflict has forced millions of Colombians to relocate, both within the country and abroad. Colombians living overseas will be allowed to vote at embassies and consulates in 64 countries on Oct. 2, the country's foreign ministry announced in early September.  
A team of editors from HuffPost's international editions reached out to Colombians living in the U.S., Mexico, Canada and Spain to talk about the peace deal and the future of their native country.
U.S.
FREDDY CASTIBLANCO
Interviewed by Roque Planas, HuffPost
Freddy Castiblanco experienced the violence of the country's civil war on a daily basis in his work as a doctor in rural Colombia. After medical school, he moved to San Calixto, a small town in the northern Catatumbo region locked in the middle of a three-way dispute between the FARC, the right-wing United Self Defense Forces of Colombia paramilitaries and the remnants of a left-wing Popular Liberation Army guerrilla group.
Castiblanco would accompany police to recover the bodies of people who had died in combat, and would sometimes find corpses with as many as 18 gunshot wounds to the head.
Castiblanco moved to New York almost two decades ago, where he gave up his medical career to open a bar and musical hall, Terrazza 7, in the largely Latino neighborhood of Jackson Heights, Queens. The small business gave him the financial stability he lacked in Colombia.
"Many of the reasons people migrate aren't necessarily humanitarian ones," he told HuffPost. "I'd say most Colombians who live abroad left for principally economic reasons."
He learned to weld by watching YouTube videos, and built a small stage for his music hall. Some of his home country's most prominent left-wing politicians and activists have addressed gatherings of Colombian immigrants and expats from that stage.
The peace deal is "the best news that we've been able to hear for as long as I can remember," Castiblanco said.
"It's particularly moving because many of us know how much people have suffered in the countryside, in the rural areas, from this conflict," he added. "For all of the ethnic minorities ― indigenous people, Afro-Colombians, farmers ― who have suffered the war, this is absolutely moving, full of happiness and emotion."
Castiblanco said that beyond just ending the war, many Colombians hope the agreement will bring about changes in the country's social and economic structures ― addressing problems such as inequality, the educational system, and health care that have "pushed Colombians to emigrate."
CANADA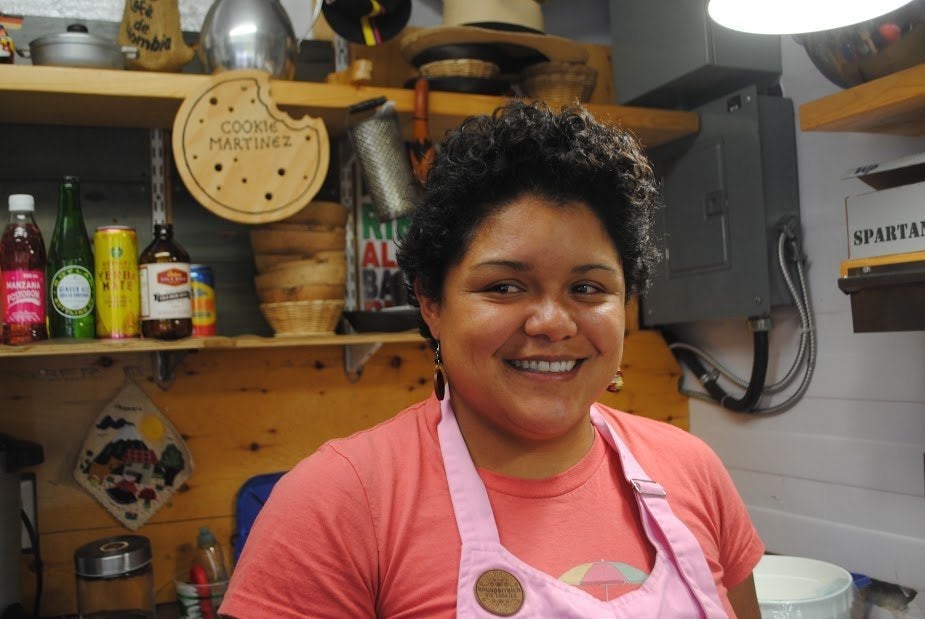 COOKIE MARTINEZ
Interviewed by Zi-Ann Lum, HuffPost Canada
Cookie Martinez was 14 when she saw her first dead body. The dead man was her grandmother's boyfriend, and there were four other dead bodies strewn across her small town in the Colombian countryside that morning in 1995.
Martinez and others in her town had learned to live with the violence. "You would just keep carrying on with your lives," she told HuffPost Canada. "And the police, they couldn't do anything about it."
Martinez left Colombia in 2003 and moved to Canada, which is home to nearly 77,000 Colombian immigrants. She now sells homemade Colombian arepas and empanadas out of a brightly painted food stand in Toronto.
Martinez talked about the peace deal referendum as she pressed arepas in her small kitchen. "I'm going to vote 'no,'" she said.
The idea of a peace deal that would put an end to the violence initially excited Martinez, but skepticism soon got the better of her. She echoed concerns many Colombians have expressed about whether the guerrillas will honor the commitment to put down their guns.  
Martinez expects the public will approve the peace deal, despite her own apprehension. "People in Colombia want to forgive," she said. "Because we're tired. We just want to get it over with."
SPAIN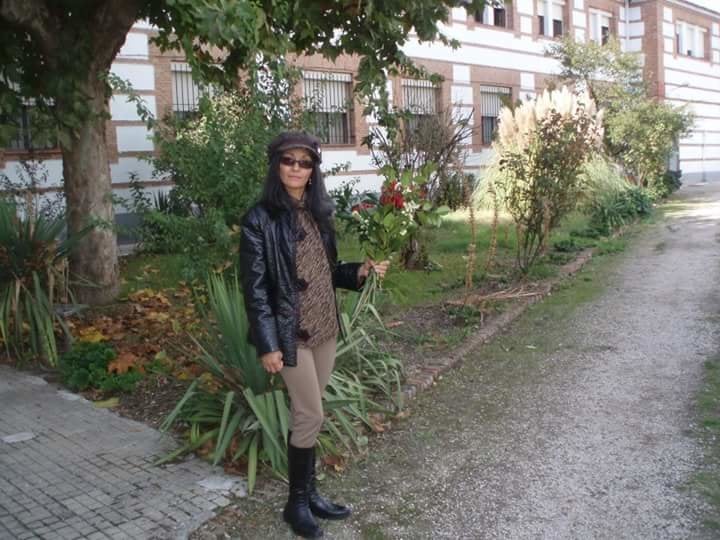 LUZ ALBA
Interviewed by Laura Riestra, HuffPost Spain
Luz Alba decided to leave Colombia on the day FARC rebels killed one of her brothers: May 22, 1999.  
Alba's 7-year-old son found her sitting at their kitchen table in at their home in Anserma, tears streaming down her face. "Why are you crying, mom?" her son asked.
She didn't bother disguising the truth. "Because FARC has murdered your uncle," she said.
The child's response was coldly pragmatic. "Don't cry over that, mom," he said. "It's normal. FARC kills people every day."
It was then she decided to leave. "I felt that if my son saw this as something normal, he would one day join their ranks and fight with them, an idea that simply terrified me," Alba told HuffPost Spain.
"All of my memories from when I was younger are of fear," she said. FARC guerillas killed four of her brothers and her mother. She said that experience makes it difficult for her to hang much hope on the peace deal.
She plans to vote in the referendum, but hasn't decided if she'll vote "yes" or "no." Alba fears that either decision will come with its own set of challenges. For one, she finds it difficult to believe that the deal could truly end the "corruption that exists in the highest ranks" of the government.
For as far back as she can remember, Colombian leaders have neglected the people, she said. "The leaders have not looked after us, or the state, but rather their own interests," Alba said.
She's skeptical of how much the deal will actually change.
"I am very angry with the politics of my country," she said. "I don't know who we can and cannot trust."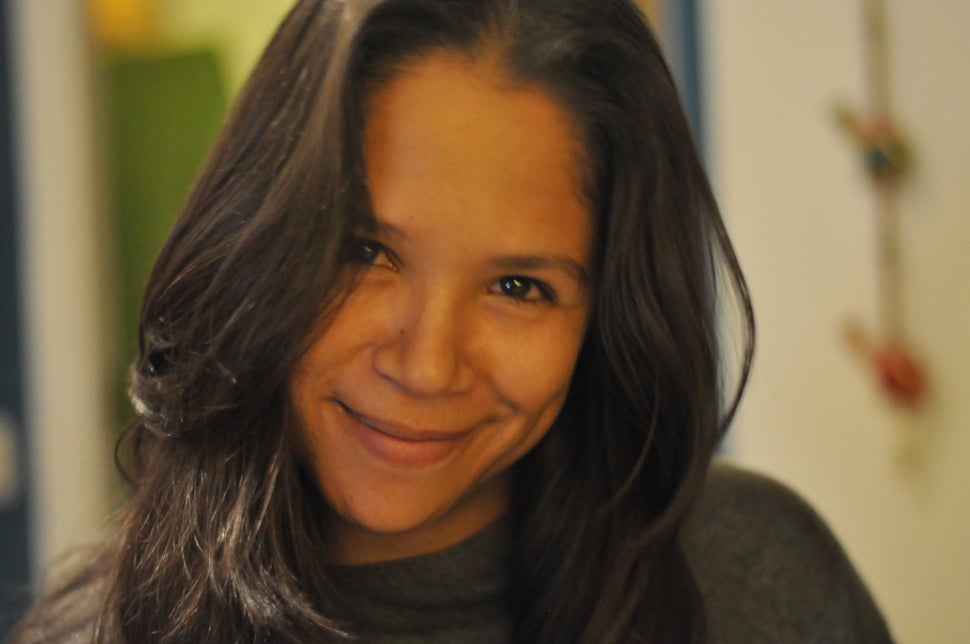 ERIKA ANTEQUERA
Interviewed by Laura Riestra, HuffPost Spain
Erika Antequera's father was killed when she was 10 ― an incident that radically changed the course of her childhood.
Her father was the director of the left-wing Patriotic Union, a party formed in 1985 during an earlier attempt at a peace process between FARC and then-President Belisario Betancur.
The peace talks that Betancur initiated with FARC and other rebels in 1982 failed miserably, and a dramatic escalation of violence followed the attempt. President Andrés Pastrana tried again in 1998, but backtracked four years later after FARC showed no commitment to the talks.  
"The memories that I have of my childhood are of seeing my parents' friends having dinner in our house one day, and hearing that they were dead the next day," she told HuffPost Spain.
Antequera moved to Spain at 23 to study journalism. Now 38, she has not returned.
"The truth is that I have lost the desire to return to Colombia," Antequera said. Spain is home now, she said, but she will be eagerly following the referendum on the peace deal. "At the end of the day, peace was my father's dream," she said.
She intends to vote yes, "without a doubt." But she's nervous about what will come next.
"It would be necessary to reform the armed forces, empower women, guarantee basic rights, and to re-educate our children" for the agreement to be meaningful, she said.
"In Colombia, the roots of the conflict lie in corruption and in impunity," she said. "For this reason, I welcome the agreement with happiness, but also with caution."
MEXICO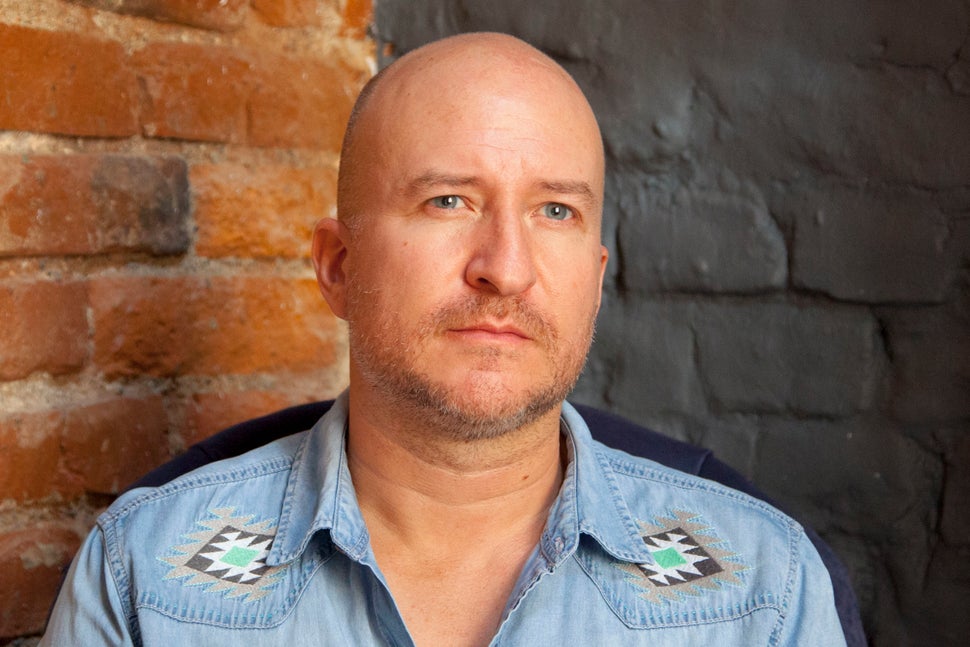 CAMILO OLARTE
Interviewed by Teresa Villa, HuffPost Mexico
Camilo Olarte was struggling to make a living as an industrial engineer when he decided to move from Colombia to Mexico 17 years ago. Now 44, Olarte has reinvented himself as a journalist in Mexico City.
Olarte said he plans to vote "yes" at the Colombian consulate on Oct. 2. If Colombians adopt the peace deal, he said, it will achieve more than just stopping the decades of conflict in his home country.
"We would also be voting against the root causes of the conflict: the agrarian problem, the abandonment of many regions, the stigmatization of political currents and social movements, inequality," he said.
But Olarte is concerned about the safety of human rights defenders and activists in the country. "More than 3,000 activists affiliated with the Union Patriótica, the leftist political party founded in the '80s by demobilized guerrillas, were massacred [following incessant waves of violence by right-wing paramilitaries]," he said. "That can't happen again."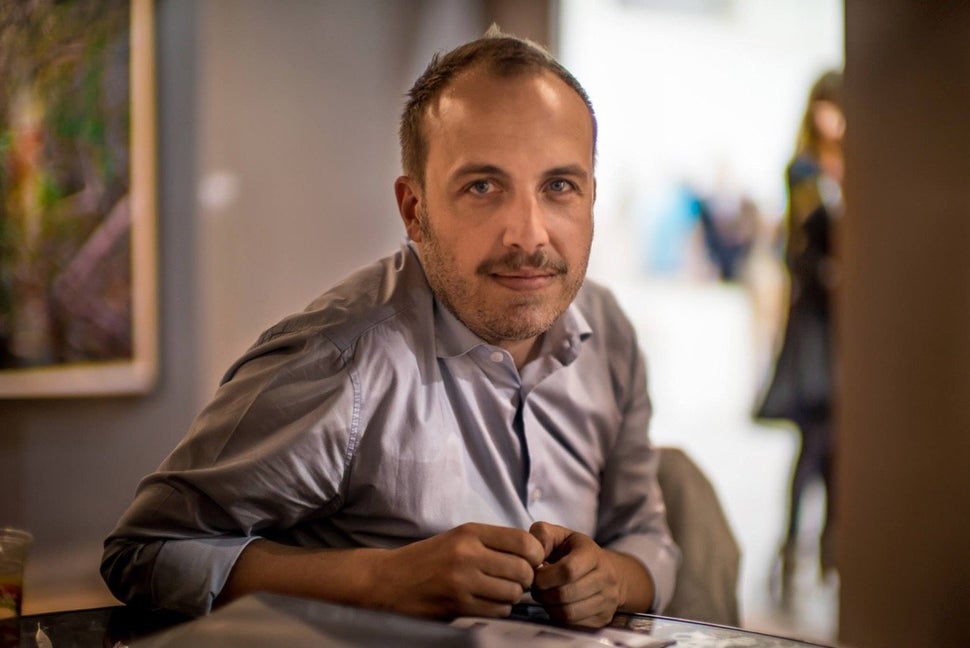 ALEJANDRO BAHAMON
Interviewed by Eythel Aracil, HuffPost Mexico
Alejandro Bahamón grew up moving between Colombia, Guatemala and San Andrés, a Colombian island located in the middle of the Caribbean. He studied architecture in Bogota before leaving for Barcelona in 1996, and spent 18 years there. He relocated to Mexico five years ago and now works as an architect and editor.
While Bahamón plans to vote "yes" in the upcoming referendum, he believes that it will take much more than a signed agreement to achieve peace in Colombia.
"I want the agreement to prompt a reflection on what the country truly needs to achieve peace," he said.
One form of violence that he doesn't see the deal addressing is economic segregation. "Segregation is so severe in Colombia that it doesn't allow you to forge connections with persons from different social strata," he said. "The barriers are so large, and I think that's much more violent than anything else."
He said the country needs to invest in its mass transit system, because it would allow Colombians to move and work between the countryside and the cities. "There is no peace without transportation," he said."Peace will come when funds are actually used to provide infrastructure and education in the country ― this is what I believe will actually generate a lasting peace."
UPDATE: Oct. 3 — Colombian voters have rejected the peace deal between the government of President Juan Manuel Santos and the FARC guerrillas, leaving the country in a state of shock and uncertainty. 
Calling all HuffPost superfans!
Sign up for membership to become a founding member and help shape HuffPost's next chapter