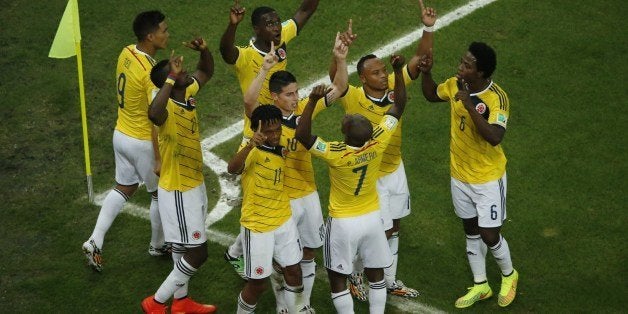 "Goal-scoring salsa" is the new dance move created by the Colombian national soccer team. It starts by moving forward, dribbling down the field, tricking the opposition, scoring a goal, finding your teammates/dance partners, and letting the adrenaline sweep your feet into a line of perfectly synchronized salsa.
The team has had reason to celebrate: a stellar winning streak with breakout star, James Rodríguez, who's already scored 5 goals in his first World Cup.
But there's more to this post-goal ritual: It's about their identity as Colombians. It's about paying homage to their country and its culture. After all, salsa dancing is the Colombia's second-favorite sport. In fact, there is even the equivalent of the World Cup for salsa dancing called the World Latin Dance Cup.
That is what 12-year-old Santiago Ayala from Cali, Colombia, daydreams of. While many kids drag their feet in the morning, every morning Santiago wakes up... salsa dancing. "I am like a zombie. I wake up, dance and when I shower I start dancing. My life is like, dance while doing something else," Santiago said.
Both soccer and salsa signify one common thing to Colombians: happiness. While surely both require rigorous training, practice and precision, the moment the soccer player steps onto the field and the moment the dancer hits the dance floor, any ripple of fear is taken over by a swift, surmounting wave of freestyle rhythm. You can learn technique for both soccer and dance, but rhythm cannot be taught.
Not even a teenager, Santiago has a full doze of rhythm:
Santiago started dancing shortly after he learned how to walk. Santiago's schoolteachers noticed his rhythm in class, his mother Dora Lucy Montoya recounts: "The preschool teacher would tell me: 'Santiago is going to be a star. Look at how he dances!'" But salsa dancing isn't just this pre-teen's hobby -- it's has turned into his livelihood. "I don't know what would be of my life if it weren't for salsa. When you choose a path of art, you avoid the path of drugs... of problems," Santiago explained.
Before these young "salseros" hit their teenage years, they are met with adverse chances of leaving the slums -- the "barrios." Over 70 percent of the children who attend youth salsa schools are from either poor or low-income families (Source: Lechter Americas). Many of those children, like Santiago, also attend regular school -- but less than 20 percent will go on to higher education (Source: Secretary of Education, Cali). The bleak outcome: The average salary in Cali is less than $15 a day. Some 15 years ago, the phenomenon of youth salsa schools emerged in Cali, now there are over 50 in the region, which has changed Santiago's life and the lives of thousands of children, one salsa step at a time.
Though many children in Colombia and other Latin American countries dream of becoming the next Pelé or Valderrama -- the chances of that are extremely slim. Salsa dancing; however, has become an innovative and viable path for the country's youth. Thanks to the wide-spread popularity and demand of salsa presentations, Santiago and many other kids are able to make money with many of their salsa presentations. Though Santiago is not old enough to drive, he already earns enough money to pay for his own clothing and his private school tuition. Even though he has dance practices at least 20 hours a week, he is #1 in his eighth-grade class at his school, Presentación Sede el Paraíso.
"Santiago is able to buy things and do things that we are parents, can't provide," his mother said. He was able to buy himself his cell phone and of course, a music collection more sophisticated than that of many grown adults.
And while European Football League teams bid for Latin American soccer players, European salsa organizations in Europe are also recruiting Latin American salsa-dancing stars, namely Colombians. While many first think Puerto Rico or Cuba when they think 'salsa dancing,' ever since the 1970s, Cali has been World-renowned for their own unique style. Whereas the Caribbean counterparts are known for movement above the waist, Cali's steles are its rapid footwork. "In the last decade, Cali has started to export our talent. First to the US, then to major cities in Europe and in the last 3 years the boom arrived in Asia, thanks in part to the salsa competitions that take place there. Some have moved to Japan, Korea, Mongolia," explains Isabella Bernardi Prieto, Communications Director of the salsa show Delirio.
You don't need to even open your eyes to know where to find salseros -- salsa music can be heard from outside Santiago's home at any hour. In fact, according to Bernardi, "If you go to a barrio at midnight in Cali, what you are going to hear is salsa. Salsa is in the DNA of the people in Cali. We carry it. We feel it. Some in our ears and others in our feet."
And for uniquely gifted phenoms like Santiago -- they feel it in both. For Colombians, dancing is how they celebrate life's joys -- and for the Colombian soccer team, that means turning the soccer field into a dance floor.
Support HuffPost
The Stakes Have Never Been Higher
Related
Popular in the Community