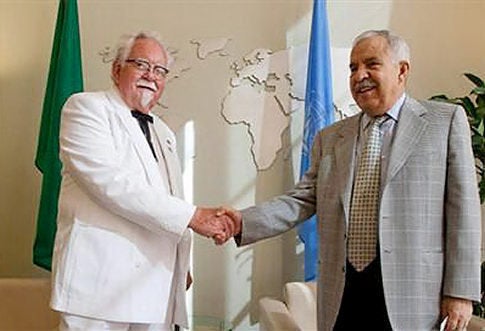 We always knew Colonel Sanders was good at keeping secrets, but who figured he was an expert in espionage too?
An actor dressed as KFC's iconic spokesman breached several layers of security at the United Nations in New York Tuesday, eventually meeting with Ali Treki, the new president of the General Assembly.
The "Colonel" showed up at the UN wearing his trademark white suit and black string bow tie and, after being ushered through security by guards, posed for photos in different parts of the headquarters, including one of him shaking hands with Treki.
The incident was just the latest stunt in KFC's campaign to promote their new line of grilled chicken dishes. The company has been "lobbying" the UN to recognize their fictional "Grilled Nation" as a member country.
Soon after meeting with Treki, security officials got wise to the ruse and kicked the impostor out. An investigation has been launched into how the chicken spokesman got into the building.
Popular in the Community