ANCHORAGE, Alaska (Reuters) - An Alaska glacier is exposing remains from a military air tragedy six decades later.
Relics from an Air Force cargo plane that slammed into a mountain in November 1952, killing all 52 servicemen on board, first emerged last summer on Colony Glacier, about 50 miles east of Anchorage.
That discovery, by Alaska National Guard crews flying training missions out of Anchorage, put into motion a sophisticated recovery program carried out by the Hawaii-based Joint POW/MIA Accounting Command.
After last year's initial work - when nearly everything that rose to the glacier's surface was picked up - the JPAC team came back this summer to collect additional relics pushed out of the ice since then.
"As the glacier melts and the glacier moves, more material comes up to the surface," Dr. Gregory Berg, the forensic anthropologist who leads the team of specialists examining the crevasse-ridden ice field, told reporters at a news briefing last week.
Among the personal items collected so far: A tiny fishing kit, a compass, a survival kit, a survival suit, a hockey puck, and a mini-box of Camel cigarettes. Those and other items are being saved for a future memorial, said Doug Beckstead, a historian at Anchorage's Joint Base Elmendorf-Richardson.
Also collected were some human remains, which Berg declined to describe in detail. But he said the material, encapsulated for decades in ice, is well-preserved and includes "things we believe to be tissue" - a contrast with conditions in Southeast Asia or other hot climates where the team travels to retrieve military remains long ago decomposed.
The remains will be sent to a laboratory in Hawaii for analysis, including possible DNA matches with surviving relatives, officials said.
No positive identifications have yet been announced. It usually takes several months to complete laboratory work, said Lee Tucker, a JPAC spokesman who traveled to Alaska. Identifications are expected to be announced "in the near future," Berg said.
Berg and his team must tread carefully, skirting deadly crevasses and deep water-filled holes while trying to collect as many items and remains as possible.
They want the grinding glacier, as it moves over time, to reveal more relics over what is expected to be a years-long project, but they do not want it to carry the items all the way into the terminus lake, where they would likely be lost forever.
So far, only the lightest pieces have been pushed to the glacier's surface, and only a small portion of the 154-foot aircraft has emerged. "We don't have all 52 guys lined up neatly, ready to be located," Berg said.
The wrecked cargo plane, a C-124 Globemaster II, slammed into Mount Gannett in midwinter, an accident blamed on bad weather. Although officials knew the site of the crash, remoteness and winter weather made recovery impossible at the time. The wreckage was soon buried under snow and gone from sight.
When finally spotted last year, the debris was 12 miles from the crash site, having been shifted by the glacier. The ice has flowed another 275 meters (902 feet) downslope since last year, Berg said.
For Alaska-based military members supporting the JPAC effort, there is another mission: removing the crash debris that is not useful to the investigation.
As of early July, local military personnel had removed about 1,800 pounds of aircraft debris, said Lieutenant Colonel Adrian Crowley of the Alaskan Command. "That is the plan, to remove as much of the debris as possible from the site, to be good environmental stewards," he said.
(Reporting by Yereth Rosen; Editing by Arlene Getz and Phil Berlowitz)

Related
Before You Go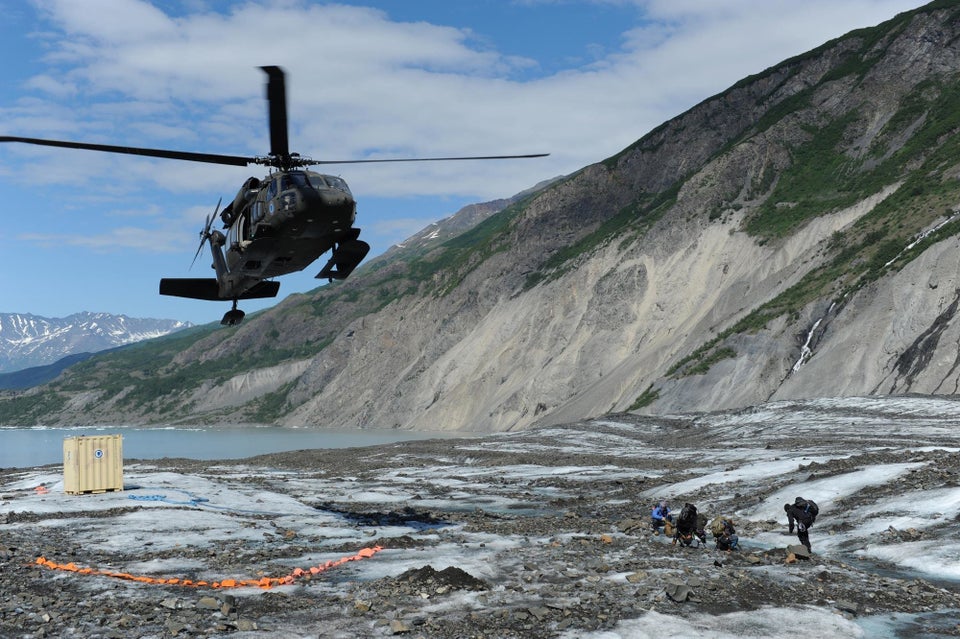 As Glacier Melts, Secrets Of Lost Military Plane Revealed
Popular in the Community