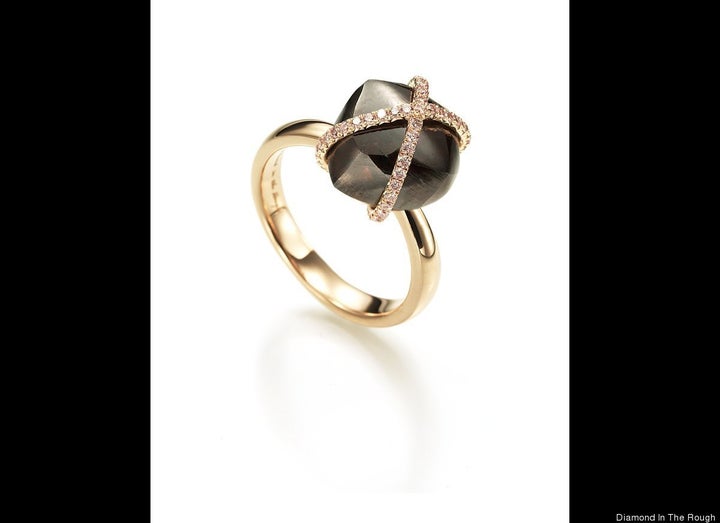 Let's be honest. When it comes to relationships and marriage, celebrities may not be our finest choice in role models. But if there's one thing they seem to get right, it's their selection in spectacular engagement rings. Celebrity engagement rings have inspired plenty of jewelry trends and there's one in particular that may not be new but has recently re-caught our eye: Color diamond engagement rings. We all remember Jennifer Lopez's infamous six carat pink diamond ring and since then, Anna Kournikova, Mariah Carey and Carrie Underwood, to name a few, have all popularized the color diamond engagement ring trend. Now, we're seeing more and more of these once inaccessible stones making their way onto the ring fingers of the masses.
Color diamonds are the obvious choice for the discerning bride looking for something alternative and beautiful. But there's an even more unique and spectacular option that even the Hollywood set hasn't yet exhausted -- color diamonds in their natural, rough form. Forget those images of grey, dull and pointy stones. Rough diamonds exist in a wild spectrum of shapes and appearances, out-dazzling even the most perfect round-cut stone.
Rarity aside, color rough diamonds are the perfect marriage (pun entirely intended) between the color diamond trend and fashion's recent desire to return to something more natural and organic. The most intriguing feature about rough diamonds, however, is that no two are ever alike, fulfilling another engagement ring trend of more unique, one-of-a-kind pieces. Even the radiance of color rough diamonds is different from their polished counterparts -- their unique hue and brilliance is more like a natural glow that radiates from within the diamond, as opposed to the in-your-face sparkle of some cut stones. Ranging in a color spectrum that spans the rainbow after a billion years of varying factors, color diamonds each inherit their own fascinating and distinct hue.
There's also an art to finding the right setting and metal to complement the shape and color of a color diamond. Platinum may be the new engagement ring standard, but remember that keeping the metal in the same color family as the stone does an excellent job of enhancing the vibrancy of the diamond's natural color. Yellow gold and a canary yellow diamond, for example, naturally harmonize perfectly together. A rich chocolate diamond in a yellow gold setting creates a warm, luxe feeling in your engagement ring. And if you recall your color wheel, complementary colors at times can bring out the best in each other as well- - a green diamond in a pink gold setting would create a startlingly beautiful and unique effect.
After centuries of traditional white wedding gowns and white diamond rings, it's incredibly refreshing to see color finally make its way into the bridal market (red wedding gowns, anyone?) Like all things "en vogue", this may not be for everyone but for those looking to stand out from the crowd, this is the perfect way to reach that fine balance between tradition and trend. And if you're still not sure whether a color diamond is right for you, at least you can rest assured that unlike some trends (and relationships!) in Hollywood, your diamond will undoubtedly endure the test of time.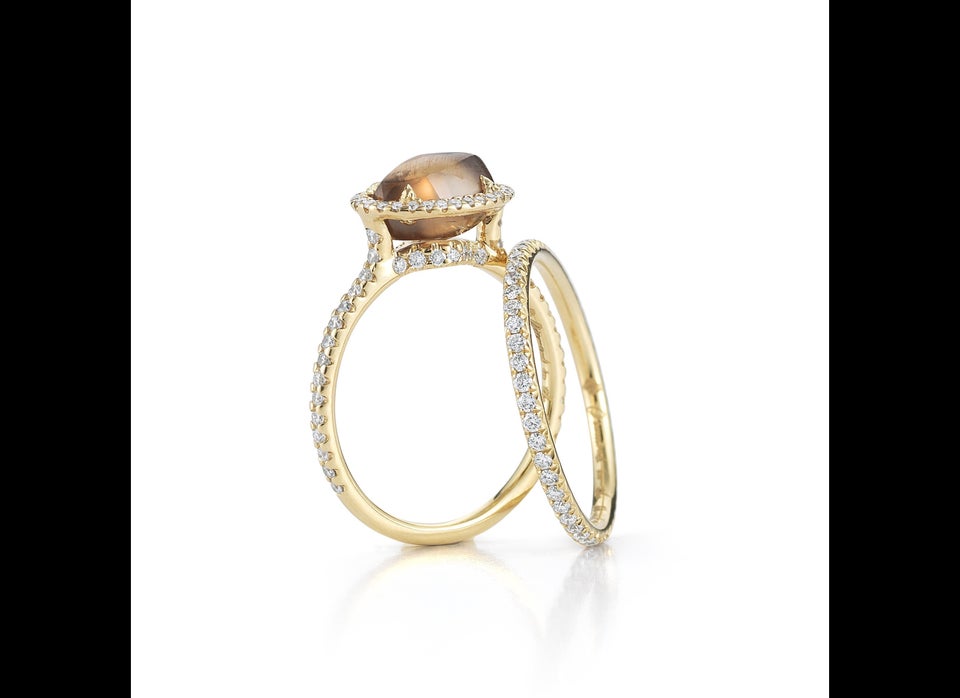 Color Diamond Engagement Rings