Not long ago leading interior designer Gillian Rose received a unique request from a friend--a separated gay man and leading New York City stylist--for an apartment that he was repainting. When she asked what type of a feeling he wanted to evoke in his new pad, his answer was simple and direct: "I want men to walk in and rip their clothes off!"
Creating an environment that will produce such an unconscious yet instinctual response isn't easy, to say the least. While texture, shape and even scent come into play, the key element is ultimately color. There is historic precedent for the effect of color on men throughout history. In perhaps one of the most famous examples of female wiles, none other than Cleopatra wrapped herself inside a rolled rug which was smuggled into Alexandria and delivered to Caesar. When the rug was opened, Cleopatra stepped out, immediately charmed the Emperor and eventually gave birth to his son Ptolemy XV, also known as Caesarion or Little Caesar. The story goes that Cleopatra's charm was somehow organic or magical--and perhaps it was. But what historians sometimes leave out is the importance of color. The rug that she so ceremoniously rolled out of is said to have been of deep crimson. And Cleopatra herself used color in the form of makeup to positive effect: she wore bright green malachite paste on her lower eyelids and a deep blue eye shadow with gold-colored pyrite flecks, made from ground lapis lazuli that matched her supposedly light blue eyes--the combination was dizziying and most certainly helped to stoke Caesar's libido.

As everyone knows, color creates emotional effects. "For years," Rose says: "I used my intuitive color sense, coupled with my experience as a designer, to leverage the power of color; but I never knew exactly how it worked. That was until 2006 when I immersed myself in the science of color through a two-year course taught by Frank Mahnke, founder of IACC/NA a consortium of 50 architects, interior designers, neuro scientists & artists. I emphasize the presence of neuroscientists in this group as color has a direct effect on one's neuronal structure." To get back to Rose's hapless single friend--how could she use this knowledge to design a "rip your clothes off" apartment?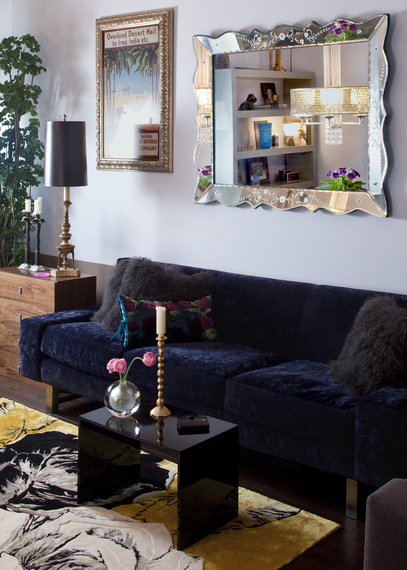 First off, she had to address the imbalance of the space itself, as the ceiling was taller than the apartment was wide, giving it a closed-in feel: "My solution was to cut the wall and divide the room horizontally by using two separate paint colors: I chose an elephant-like gray/brown/red tone (Elephant Walk) for the bottom one-third of the wall and a pale icy lavender (I Do) for the upper top two-thirds."

The deep, warm Elephant Walk enhances the dark wood floor and keeps the eye focused, creating a greater sense of intimacy. It contains warm red tones which activate feelings of love and lustful desire, as evidenced in popular entertainment and science. "I Do" is a pale shade that helps brighten up the room, which has limited natural light;"Finally for the powder room I used a pale Robin's egg blue color as a calming/clearing color-- like a sorbet for the psyche."
Red is also a predominant color component of 'I Do'. "Combining the two red tones," Rose adds "is like catnip to the male libido: when the parallel horizon line of these two colors meet, they literally reverberate! This causes wave interference, and amplifies the color's vibrations and the amorous feelings it evokes." In a final touch, to soften the space up, Rose employed a color called Wet Porcelain: "The whole creates a harmonious color response, a perfect alchemy of light source, tone, temperature and balance."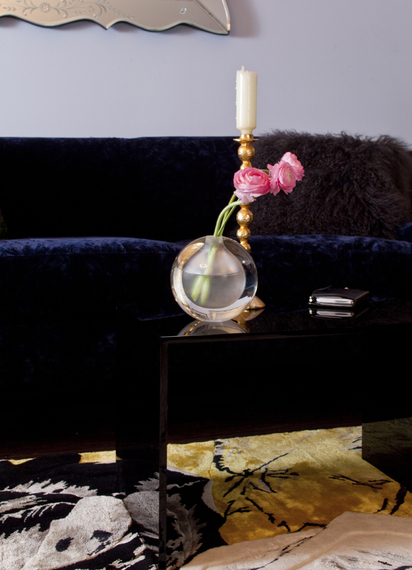 Getting Naked at Ben's: To test her color wiles, Rose then hired a male photographer, stylist, as well as various male moving men. As each one entered the room, she watched their reactions. Each one became flushed and fidgety. Unprompted, they each praised the space. As she shared the design intent with them, they each admitted to instantaneously feeling stimulated. And while she can't name names or tell tales out of school, Rose's friend reports that his sex life took off and that he was literally turning men away at the entrance to his newly sexy apartment as they tried, as quickly as they could, to rip their clothes off!