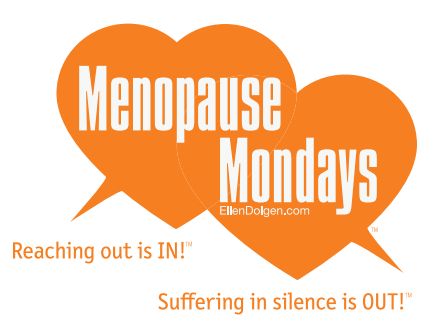 September is all about fashion--fall collections, catwalks, and the September issue of Vogue (902 glossy pages thick!) so heavy you could bench-press it!
Whatever trends come and go with the passing seasons, my style of choice will always hinge on one simple thing: what makes me feel good about myself. It's all too common to gain weight during perimenopause and menopause, but with regular exercise and eating Weight Watcher's style, I've not only been able to keep off the weight -- I feel better about myself and my health than ever before! (Here are some more tips on how to fight menopausal weight gain).
The lengths go up and down, the pants change from skinny to wide, but no matter what the experts say, I dress in what lifts my spirit and helps me feel confident, sexy, and self-expressive! Fashion lifts my mood and nourishes my soul. I love it! Fashion, style, and beauty add joy and wellbeing to my life. I think this TED series on beauty is perfectly on point.
Want to show off your true you this (and every!) season? These colors will reflect every part of you!
When I'm in a super-sexy mood (thanks, hormone replacement therapy!), I love to play it up with a red, Jessica Rabbit number. Science says I'm not alone. A brand-spanking new study published in Psychological Science shows that women are 3.5 times more likely to don red during the most fertile days of their cycle. Why? Because when women are ovulating (aka: more likely to get preggers), they crave sex. Goodness knows, I'm definitely not getting pregnant any time soon, but that doesn't mean the ruby hue won't get me some extra loving. Research from University of Rochester has found that men are more attracted to a woman when she is wearing red. Guess what I'm wearing to date night with my husband!
To me, there's nothing more calming than the beach. The sand, the sunsets, and most importantly, the bright blue waves! So when I'm feeling ultra-cool and calm--or am just trying to take my anxiety down a notch, blue is the hue for me. Whether it is a blue dress or my favorite stretch blue jeans, the sky is the limit! Experts at the Utah Valley University even claim that just seeing the color slashes stress. I'd have to say, it works for me!
Sunny clothes = sunny personality! My mood just loves a healthy dose of yellow. Don't be shy; try it out! I promise you won't look like a walking, talking, banana. The key: keeping the color on top. It draws attention up to your gorgeous face! Try pairing a yellow shirt, jacket, or necklace with some equally fabulous blue jeans.
As far as I'm concerned, the brighter the better! Which is why fuchsia is my favorite shade of pink. Flirty, feminine, and full of fun, seeing myself in this color just makes me happy! Plus, it perfectly transitions from day to night. Switch your oh-so casual sandals with some saucy heels and you're guaranteed to stand out in any cocktail party's sea of black dresses!
A true statement color, orange is the new black. But all jokes aside, doesn't wearing orange just make you feel peppy? It does me - that is why I chose this orange jacket when I spoke at the Naval Base San Diego. Energized, creative, and open, that's what I want to be! No wonder I am surrounded in a sea of orange! If going all in orange is a little brighter than what you are used to, then try adding a pop of orange to your accessories. After all, what's better than an orange patent-leather purse? (If you find one, can I borrow it?)
We are beautiful on the inside and out--so let's show it off this and every season! Our wardrobes provide the perfect vehicle to show the world everything we love about our personalities --and trust me, there should be a whole slew of things on your self-love list! So go out there and strut your stuff!
Remember: Reaching out is IN! Suffering in silence is OUT!
Let's hang out! Monday, September 16th at 5:30pm PST/8:30pm EST.  Ellen is hosting her Menopause Mondays Google Hangouts: Where the Sisterhood helps the Sisterhood. Start sending your questions in here!  Get ready to talk menopause with Ellen at this free online event! Stay tuned for more details.
For more by Ellen Dolgen, click here.
For more on women's health, click here.
Ellen Dolgen is an outspoken women's health and wellness advocate, menopause awareness expert, author, and speaker.
After struggling through the silence that surrounds menopause, Ellen resolved to help women reach out and end the confusion, embarrassment, and less-than-lovely symptoms that come with "the change." Her passion to be a "sister" to all women fueled Ellen's book, Shmirshky: the pursuit of hormone happiness. As a result of her women's wellness journey, and in response to the overwhelming thirst of her ever-expanding audience for empowering information, Ellen's weekly blog, Menopause MondaysTM was born.
Menopause MondaysTM allows Ellen an expansive platform from which she broadens her discussion of menopause, women's health, and life as a menopausal (and fabulous!) woman. Her weekly Menopause News Flash provides a one-stop shop for the latest menopause and women's health news and research, allowing women the access and know-how needed to take charge of their health and happiness. In addition to Ellen's ever-growing social media presence, EllenDolgen.com has fast become "the place" on the web for informative and entertaining women's menopause and wellness engagement. In 2012 and 2013 EllenDolgen.com was named first on the list of the "Best Menopause Blogs" by Healthline. Ellen is also a regular contributor to over a dozen leading women's health blogs. Her motto is: Reaching out is IN! Suffering in silence is OUT!
Ellen has appeared on the "TODAY Show," "NBC Nightly News", the "Rachael Ray Show," "The Doctors," Oprah Radio, Playboy Radio, NPR's "Tell Me More," Doctor Radio, and dozens of regional and national media outlets. Ellen is also one of the first regular contributors to debut on The Huffington Post's recently added site, Huff/Post50, which targets 116 million Americans over the age of 50.
PHOTO GALLERY
Alzheimer's Prevention Recipes
Calling all HuffPost superfans!
Sign up for membership to become a founding member and help shape HuffPost's next chapter