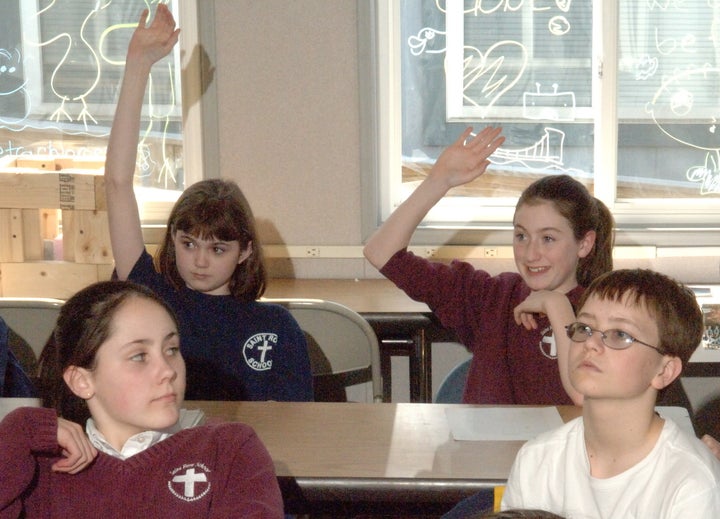 Three civil liberties unions plus some Douglas County parents filed a lawsuit this morning against the authorization of funds by the state treasurer to a lottery program created to subsidize scholarships to private schools--many of which are religious schools.
The national Americans Civil Liberties Union (ACLU) and ACLU of Colorado, Americans United for the Separation of Church and State filed the lawsuit in Denver District Court on behalf of plaintiffs who allege that the Douglas County Pilot Voucher Program disrupts the separation between church and state.
The Douglas County school board-approved Pilot Voucher Program is a scholarship lottery for 500 students to attend one of 19 private schools, but 14 of those schools are religious. In charge of implementing the state's first ever voucher program is Dr. Christian Cutter, assistant superintendent for the Douglas County School District.
UPDATE:
Douglas County School District released the following statement in response to the lawsuit:
The Douglas County School District is aware of the ACLU's lawsuit regarding the Choice Scholarship Program. This program is just one of many Choice programs available to Douglas County students. We continue to believe every student should be empowered to find their best educational fit, whether it is at one of our neighborhood schools, charter schools, or at one of our private-partner schools. We intentionally built this plan to include rigorous accountability measures that ensure a quality education for all students. Our District has a tradition of innovation and excellence – we will always provide opportunities that are in the best interests of our students.
EARLIER
"Vouchers are nothing more than a backdoor way of forcing people to support religious schools," Executive Director of Americans United, Barry Lynn said in a press release quoted in the Denver Post. "Douglas County's reckless plan threatens church-state separation and public education and should be struck down."
A call to Dr. Cutter's office was not immediately returned. However Michelle Tripp, a communications specialist for Douglas County School District told HuffPost a statement would be released during a press conference at 3 p.m. today.
In Education News Colorado, Litigation counsel for Americans United for Separation of Church and State Gregory M. Lipper said:
What we're arguing is that the Colorado constitution and the Colorado statutes are very clear that taxpayer money can't be used to fund religious schools or religious education.

We're arguing the law is very clear as it is and, because we're going to prevail at the end, we're entitled to preliminary relief now. If we don't get the relief now, the very harm we're trying to prevent – the transfer of taxpayer money to religious schools – will happen.
In the Potential Partner Schools FAQ section of the Douglas County School District, there is a question that asks "Can students opt out of religion classes?" The answer provided is that parents need to be aware of the potential for religious instruction before applying for the voucher, and the school can decide if it will let students opt out or not.
Students who qualify for the voucher program must have lived in the Douglas County School District for at least a year, plan to stay in the district and provide their own means of transportation should they win a voucher. The vouchers are worth $4,575 per student, or over $2.28 million in total. Douglas County plans on retaining 25 percent of that student's tax money to keep track of the program.
However most of the private partner schools that are participating in the voucher program cost well above the $4,575 voucher limit. Mullen High School for example, has a tuition of $10,300 for the 2011-2012 school year, and students would be required to pay the rest, Tripp says.
"I think we're meeting a need," Dr. Cutter told 7News in May. "We feel like 500 students is a great pilot to manage, to observe and then to make whatever necessary adjustments."
The lottery to determine scholarship recipients is scheduled to be held June 22.