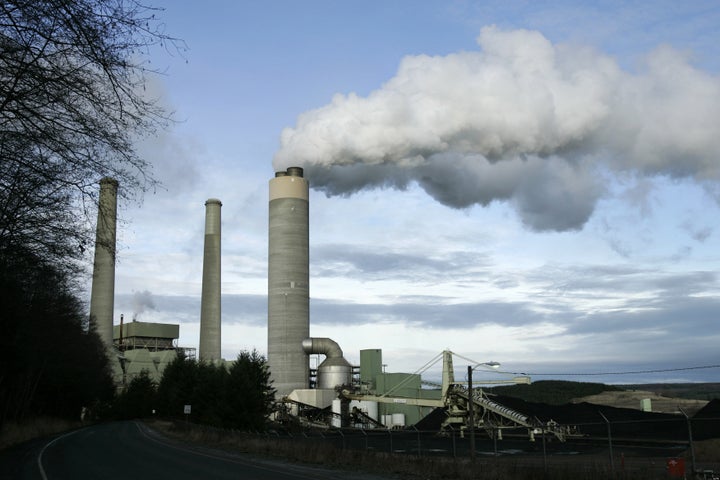 The people of Boulder won. The final vote tallies for 2B and 2C -- the two measures empowering the city of Boulder to delve further and perhaps finally into buying the electric delivery system from Xcel Energy and setting up a utility -- are in, and their slim winning margins were strengthened slightly.
Gone are the mind-numbing ads; gone are the phone calls and door knocking. On is the city's go-ahead to proceed.
Two campaign forces drove this election and they each have skin in the game. On one side is Xcel with its oft-stated conviction that the Boulder distribution system is not for sale. We can sniff out from their campaign efforts and the reports on their profits that the system is some kind of a money press.
The other force is not the self-muzzled city government nor its many seasoned, and reportedly hearing-aid assisted, activists. No, these ones don't have so much skin in the game in that these will be dead by the time the earth approaches or even surpasses two degrees celsius of warming, as darkly predicted two weeks ago by the International Energy Agency if nations do not curb emissions sharply in five years.
No, the powerhouse that won the election was the one with the most real skin in the game -- real, feeling skin. They are the ones who will outlive those of us who are bequeathing them this dangerous climate. They're the ones who will outlive the retirees who buy the bulk of stocks from investor owned utilities for their dividends, as emphasized by Andy Walters of JP Morgan to a utility conference in Denver this June: "Don't forget you've got a lot of retirement funds riding on your decisions."
The group that won the election is the one that's taking the big hit in the generational war and is fighting back. It's the group that put a funky puce-colored ad online blaring, "DUMP XCEL" with a heart message for clean energy and some curlicue script beckoning, "Vote!" The group is the gifted throng of twenty-somethings in a youth oriented political engagement group called New Era Colorado.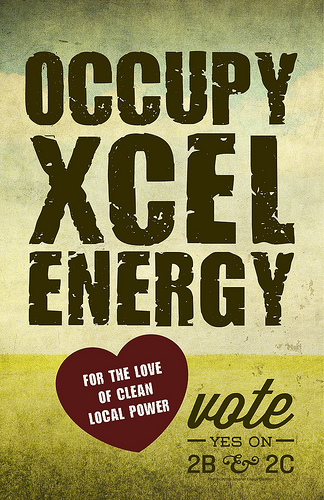 Leading up to the election, New Era reportedly made 25,000 voter contacts to sort out supportive voters, then in the "get out the vote" phase made another 15,000 contacts. Election day saw 65 people making calls from their office. The group has four paid staff members while everyone else on the campaign was a volunteer, hailed from New Era's quarry of hundreds of volunteers and interns plus others from multiple groups. Sporting about in New Era's emblazoned Trailways-style bus, those volunteers moved as a swarm of green and yellow shirts and on Halloween night tromped around in costume to scare out the vote. They have been hailed as the reason 2B and 2C won.
Started a few years ago by two "student government nerds" Steve Fenberg and Joe Neguse (who went on to be a CU regent), New Era was born on a big grant won with only 12 hours to spare on the application deadline, with money doled out in segments as goals were reached. Having both 501c3 and 501c4 status, the group has three priorities: voter registration, issue work for current elections and policy for legislation. The group trains up to 100 interns per year and has won new policy through the CU Regents allowing students to register to vote online when signing up for class.
So don't let the groovy campaign bus fool you; this outfit is about results.

"We want to get to these youth voters before they get feeling disenfranchised because it feels like government is too big and removed for a vote to make a difference," Steve Fenberg texted from Moscow, where he's been invited to confer with youth democracy groups. "The whole point of New Era is to get people engaged in a hands-on democracy, with the tools to impact the process before they're pissed about an issue and feel like their opinion doesn't matter."
New Era has an office in Denver, where they will need to resume efforts to address an increasingly endangered future. Their next effort could perhaps be to remind Denver City Council and Xcel ratepayers that its franchise with Xcel Energy is coming up for renewal soon. Xcel Energy has just issued its "2011 Resource Plan" indicating it intends to refurbish two coal plants and it has no firm commitment to install more renewables until 2028.
So if you're reading this with a toddler rolling around the floor, Xcel might add no more renewables to its coal and gas dominated system until your babe is in college. This as the IEA has declared our children's climate is being pushed over a cliff. This is the time to pay even more attention to Xcel's emissions, and New Era Colorado is up to the task.

Related
Popular in the Community