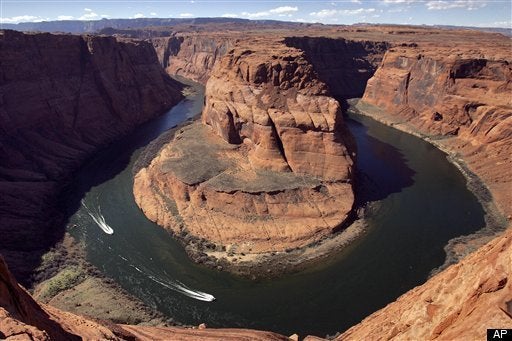 A bipartisan survey of voters in the Rocky Mountain West shows support for laws that limit carbon emissions, protect local resources, and foster renewable energy, despite a general skepticism of Global Climate Change.
The "Conservation in the West" study (embedded below), which was commissioned by Colorado College's State of the Rockies Project, surveyed 2,200 voters in Colorado, Wyoming, New Mexico, Utah and Montana from Jan. 23-27. The survey was conducted by Republican research firm Public Opinion Strategies, and Democratic firm Fairbank, Maslin, Maullin, Metz & Associates.
Researchers asked a series of questions aimed at deciphering Westerners' values regarding the environment, and how conservation efforts connect with local economies. The study found that fully 77 percent of Western citizens believe that it's possible "[to] protect land and water and have a strong economy with good jobs at the same time, without having to choose one over the other."
Just 19 percent, meanwhile say that "sometimes protections for land and water and a strong economy are in conflict and we must choose one over the other."
Seventy-one percent of self-described Tea Party supporters even say that environmental regulations can coexist with a strong economy.
"This research underscores an interesting and important trend in these five states," Walt Hecox, professor at Colorado College and director of the State of the Rockies Project, said in a news release Wednesday. "While there are differences of opinion on a range of issues, there are true common value shared between each state, including a commitment to protect the important natural resources that make this region so unique."
Indeed, 87 percent of Western voters say that "having clean water, clean air, natural areas, and wildlife" is either extremely (47 percent) or very (40 percent) important to quality of life.
Most Westerners rank air and water pollution as the most important environmental issues facing the region.
Climate change and global warming issues, meanwhile, rank below 11 other environmental issues in importance to Western voters. 51 percent express some skepticism of global warming.
Despite this, two-thirds of Western voters indicate some level of support for "requiring reductions in carbon emissions from sources like power plants, cars and factories in an effort to reduce global warming."
Two-thirds similarly believe that increased use of renewable energy--namely solar and wind--could result in more jobs in their states.
"What I see [in this poll] is a fairly significant endorsement that we can build a clean energy economy, even when extractive industries have a significant presence in a state," Bill Ritter, the former Colorado Governor famous for his advocacy of renewable energy, told the AP.
The study lists a +/- 2.08% margin for error, although it has not been without critics. Craig Wilson, a political science professor at Montana State University Billings, thinks the questions were one-sided.
"Overall, despite the extensiveness of the survey, they didn't ask pro-development questions," he told the Billings Gazette.
REAL LIFE. REAL NEWS. REAL VOICES.
Help us tell more of the stories that matter from voices that too often remain unheard.