BOULDER, Colo. (AP) — His mom gave the pregame speech. His defensive-back son started the scoring with an 80-yard pick-six. His quarterback son won it with a 98-yard drive for the ages and an overtime not soon forgotten.
It was quite a day for Deion Sanders. With a bunch of celebrity friends in town, too, to take it all in.
Shedeur Sanders threw a TD pass to Michael Harrison in the second overtime after leading the drive to tie the game with 36 seconds remaining in the fourth quarter and No. 18 Colorado rallied to beat Colorado State 43-35 early Sunday in front of a full house packed with famous names.
Sanders connected with Harrison for an 18-yard score and then found an open Xavier Weaver on the 2-point conversion. The Colorado defense took it from there, with Trevor Woods intercepting Brayden Fowler-Nicolosi's pass on fourth-and-23 to end the game at nearly 12:30 a.m. local time.
It set off a celebration as fans rushed the field for a second straight week. This was the biggest fourth quarter comeback for Colorado since 2005.
"We showed that we have no surrender or give-up in us," Buffaloes coach Deion Sanders said. "They never doubted themselves."
In the first OT, Shedeur Sanders patiently waited in the pocket until Harrison flashed open for a 3-yard score. Fowler-Nicolosi followed by connecting with Tory Horton on an 8-yard score.
With 2:06 remaining in the fourth quarter, Sanders and the Buffaloes (3-0) got the ball back on the 2-yard line and trailing 28-20. He led a seven-play drive that culminated with a 45-yard TD pass to Jimmy Horn Jr. with 36 seconds left. Sanders hit Harrison for the 2-point conversion.
"Well, we do it in practice all the time, so it's not really a surprise to us," Sanders said of the 98-yard drive. "We like these high-pressure moments"
"This is who he is," Deion Sanders said.
A 23 1/2-point underdog, the Rams led for a large chunk of the game. Their unraveling was 17 penalties for 182 yards, including a flag for a block below the waist that nullified a touchdown in the second overtime.
Rams coach Jay Norvell added spice to the Rocky Mountain Showdown earlier in the week by taking a jab at Deion Sanders for not taking off his sunglasses and hat in interviews. After the game, Sanders and Norvell shook hands near midfield amid a sea of fans.
"This rivalry has been going on way longer and before I got here," said Norvell, who's in his second season at Colorado State. "It's going to be going on way after I leave."
As for their squabble, it's water under the bridge to Sanders.
"I wish the best for him," he said.
Sanders and the Buffaloes fed off the perceived slight all the way into the game. Shilo Sanders donned sunglasses after his 80-yard interception return for a touchdown in the first quarter as his proud father raced down the sideline in happiness.
"Those ticket prices were worth it today," Shilo Sanders said.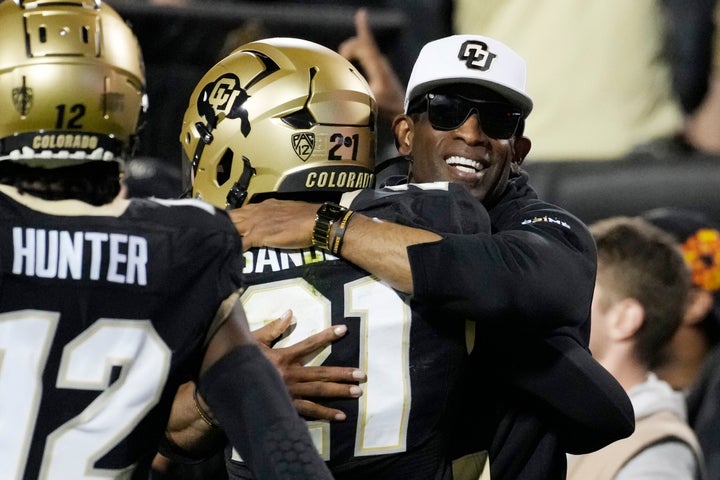 Shedeur Sanders finished with 348 yards, four TDs and one interception for the Buffaloes, who won their sixth straight over the Rams (0-2). Sanders was missing receiver/cornerback Travis Hunter, who was ruled out in the third quarter with an undisclosed injury and taken to the hospital for further evaluation. He could be out a few weeks.
Colorado State put a bye week to good use by finding ways to contain Sanders and the explosive Colorado offense for moments of the game. The Rams tried to spoil the party hosted by Deion Sanders, who had big-name celebrities in town such as Dwayne "The Rock" Johnson and rapper Lil Wayne.
Fowler-Nicolosi had 367 yards and three TDs. Receiver Tory Horton caught a TD pass and threw another on a trick play to tight end Dallin Holker.
"Every loss hurts but this one does hurt a little more just the way we lost it," Fowler-Nicolosi said. "It's brutal."
It was chippy at times, with Rams defensive lineman Mohamed Kamara getting a finger in the face mask from Shedeur Sanders after a play. Kamara was later disqualified in overtime for a targeting call on Sanders.
The emotions heated up early, too, with both teams gathering at midfield about an hour before kickoff and exchanging some words. Hunter left the gathering to run over to the student section and fire up the fans.
Deion Sanders has turned the Buffaloes into the talk of college football since taking over a team that went 1-11 last season.
This weekend, both ESPN's "College GameDay" and Fox's "Big Noon Kickoff" were both on campus. Some of the biggest names in sports and entertainment turned up in Boulder, including "The Rock" appearing on the set of GameDay and took off his jacket to reveal he was wearing Shedeur Sanders' No. 2 jersey. The Buffaloes took the field to a mini-concert performed by Lil Wayne in the end zone just before kickoff ( Deion Sanders gifted him a jersey).
"They've got Lil Wayne over here, Coach Prime doing his thing. They've got a whole animal running around," Shilo Sanders said of the pregame festivities that also included the live buffalo mascot Ralphie running the field. "I would've been so scared if I was the other team."
THE TAKEAWAY
Colorado State: The Rams have lost 17 straight games to ranked teams on the road, according to Pac-12 research.
Colorado: The announced attendance was 53,141 in a game where tickets were going for an average purchase price is $214, according to TickPick. The Buffaloes have sold out five home games this season and are close to selling out a sixth (Arizona on Nov. 11).
POLL IMPLICATIONS
Hard to say how voters will judge this. It was an epic comeback. But the Buffaloes were a big favorite.
UP NEXT
Colorado State: Play at Middle Tennessee on Saturday.
Colorado: At No. 13 Oregon on Saturday.
Support HuffPost
The Stakes Have Never Been Higher
Popular in the Community