Here's a look at the official estimates:
The official death toll rose to a likely 10, Thursday after the body of a man was discovered near a river drainage area and another person whose home was washed away was listed as presumed dead.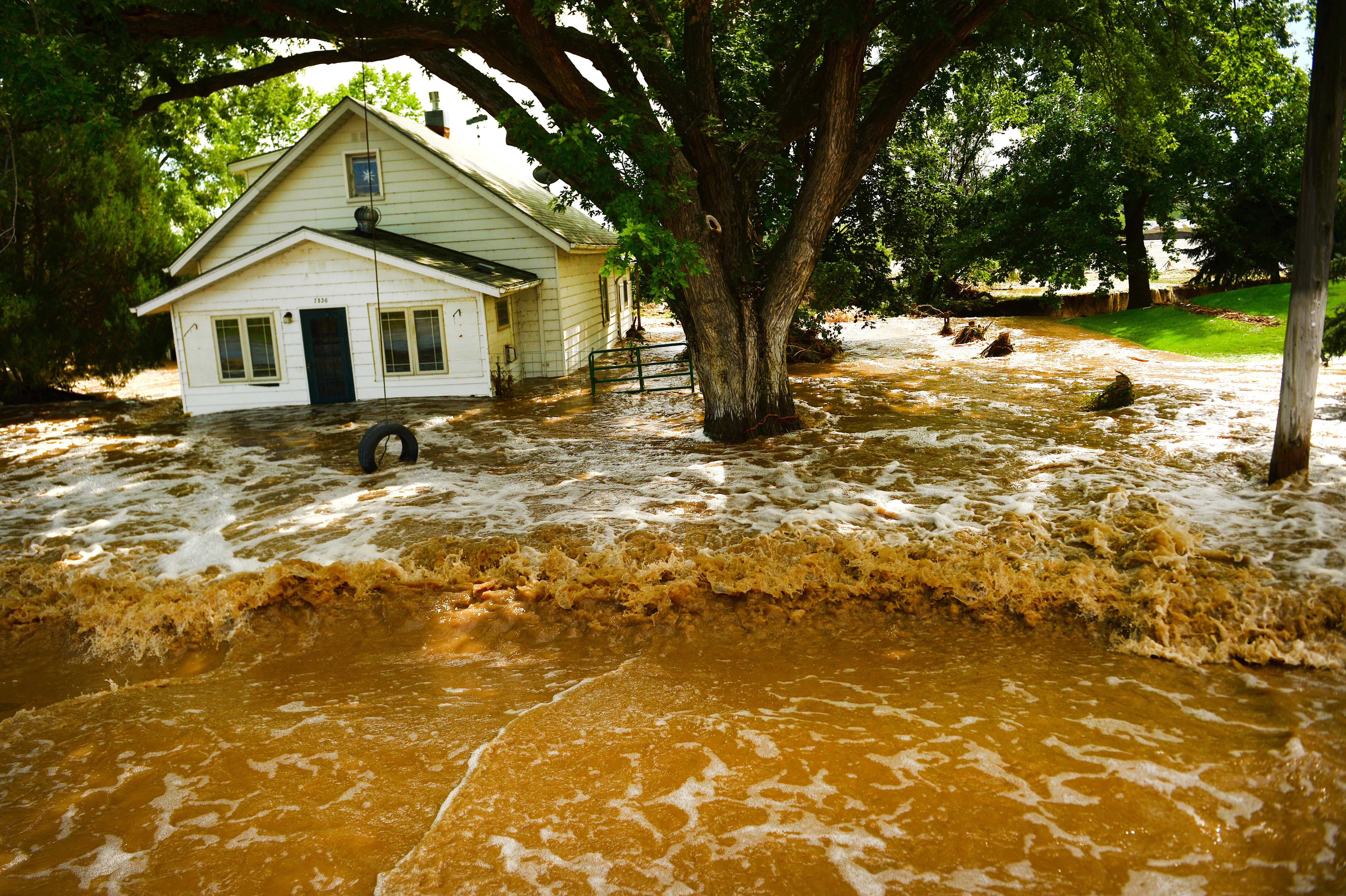 Flood waters have consumed a house along Hygiene Road east of North 61st street and west of Hygiene, CO on September 14, 2013. Massive flooding continues in Colorado. (Photo by Helen H. Richardson/ The Denver Post)
NUMBER OF PEOPLE "UNACCOUNTED FOR": 140
The number of people on the list continued to grow over the weekend as people struggled to reach friends and family in flooded areas who may or may not have access to a phone. And although that number is high, many are expected to be accounted for in the coming days. "We don't expect to find 1,254 fatalities," Micki Trost, a spokeswoman for the Colorado Division of Homeland Security and Emergency Management, told USA Today Sunday.
During an appearance on "Good Morning America," Gov. John Hickenlooper said that he hopes the majority of people unaccounted for are "safe and sound," but that authorities do expect the death toll to rise. A field of parked cars and trucks sits partially submerged near Greeley, Colo., Saturday, Sept. 14, 2013, as debris-filled rivers flooded into towns and farms miles from the Rockies. Hundreds of roads, farms and businesses in the area have been damaged or destroyed by the floodwaters. (AP Photo/John Wark)
More than 2,100 stranded people and 500 pets have been already been evacuated via helicopter. Local, state and federal emergency responders have been working together in relief efforts.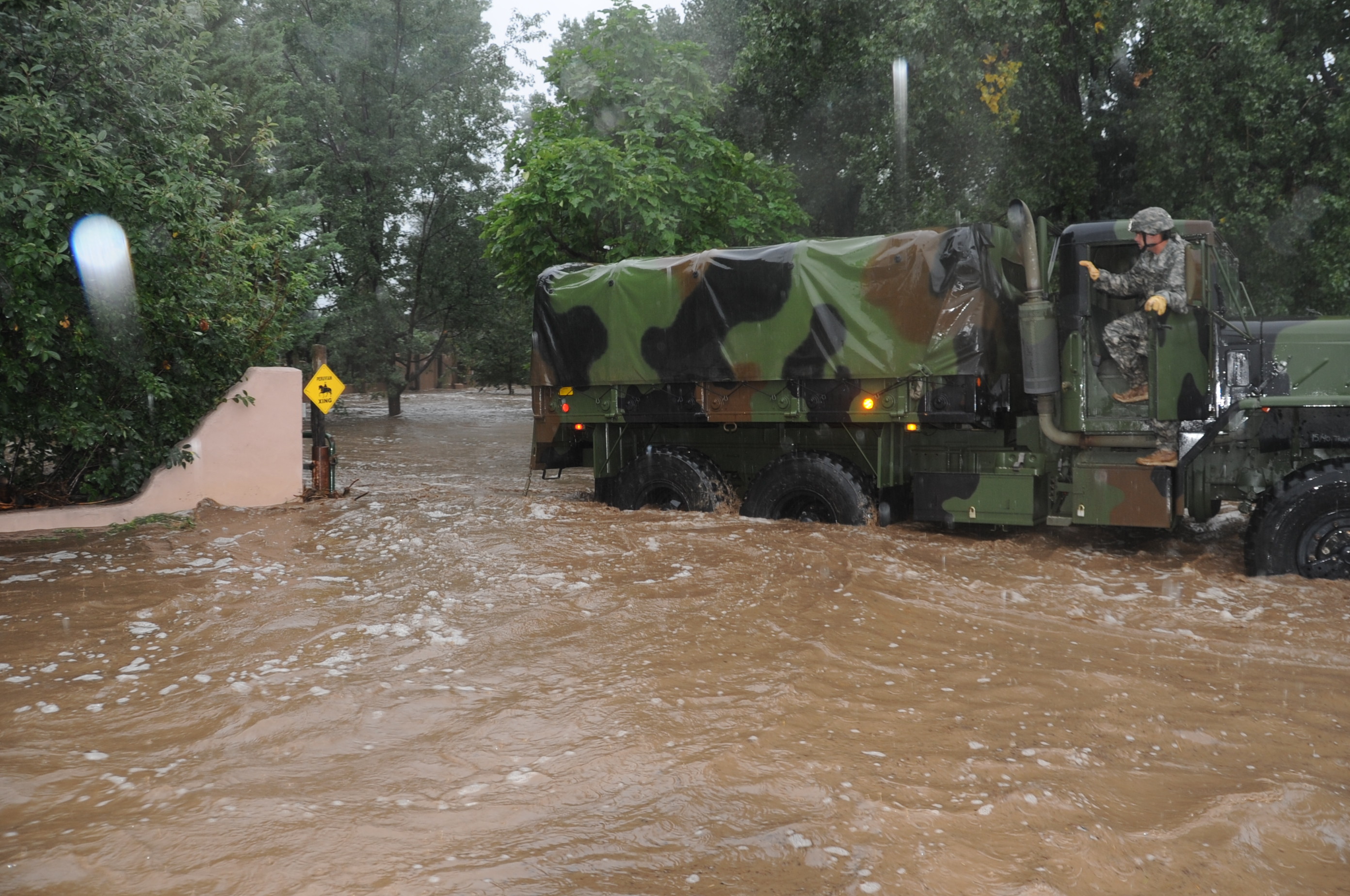 In this handout provided by the U.S. National Guard, Colorado Army National Guardsmen respond to flooding September 12, 2013 in Boulder, Colorado. (Photo by Sgt. Joseph K. VonNida/U.S. National Guard via Getty Images)
HOMES DAMAGED AND DESTROYED: 17,994 damaged, at least 2,000 destroyed
Emergency officials count 17,994 residential structures as damaged from the flooding with at least 2,000 destroyed.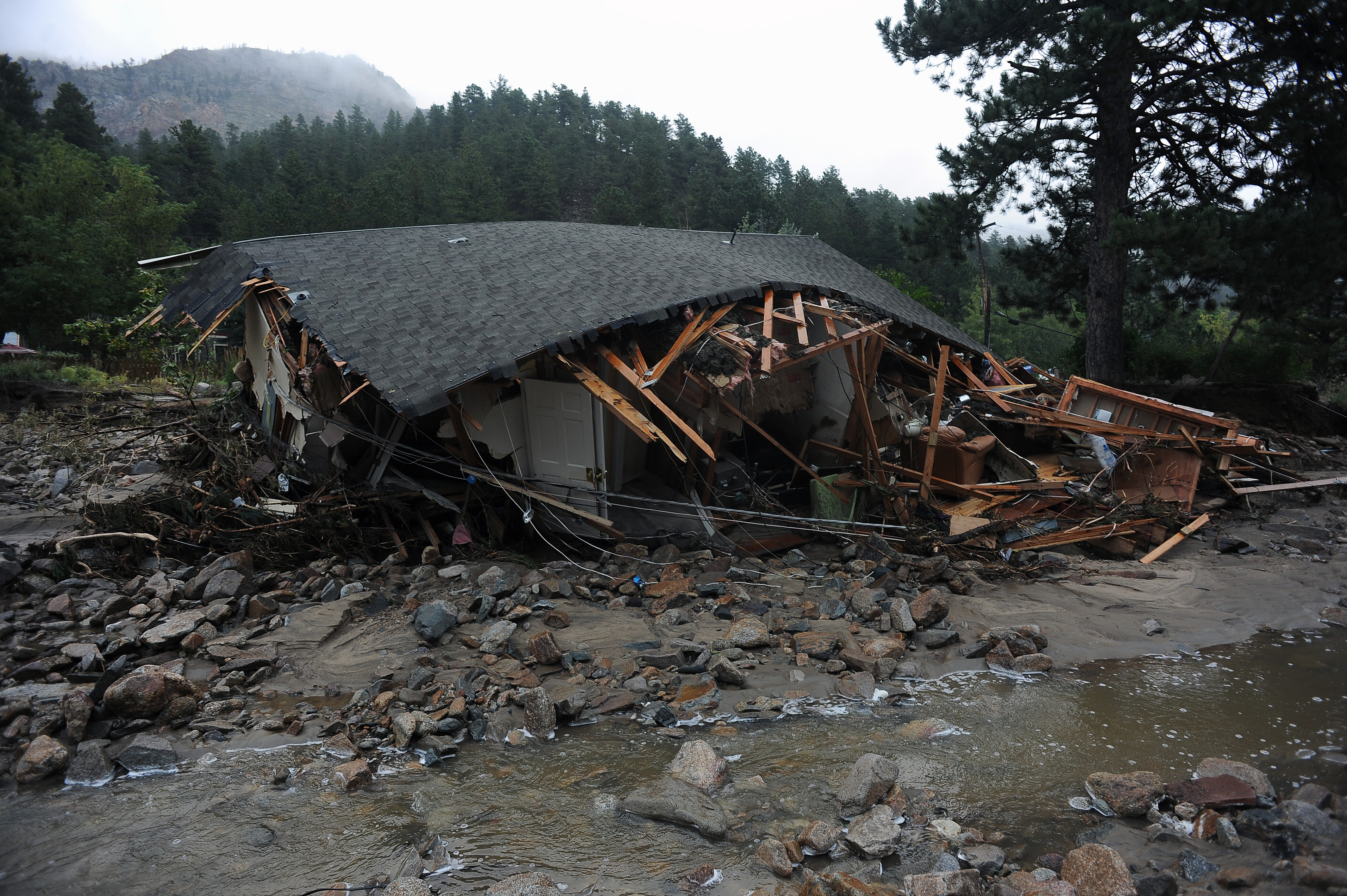 A house lays completely demolished in what was the path of the recent floods that have destroyed the town of Jamestown, CO on September 14, 2013. (Photo By Helen H. Richardson/ The Denver Post)
Floods have destroyed more than 30 bridges around Colorado and another 20 have been reported as seriously damaged, The Denver Post reports.
The Colorado Department of Transportation expects that count to go up higher.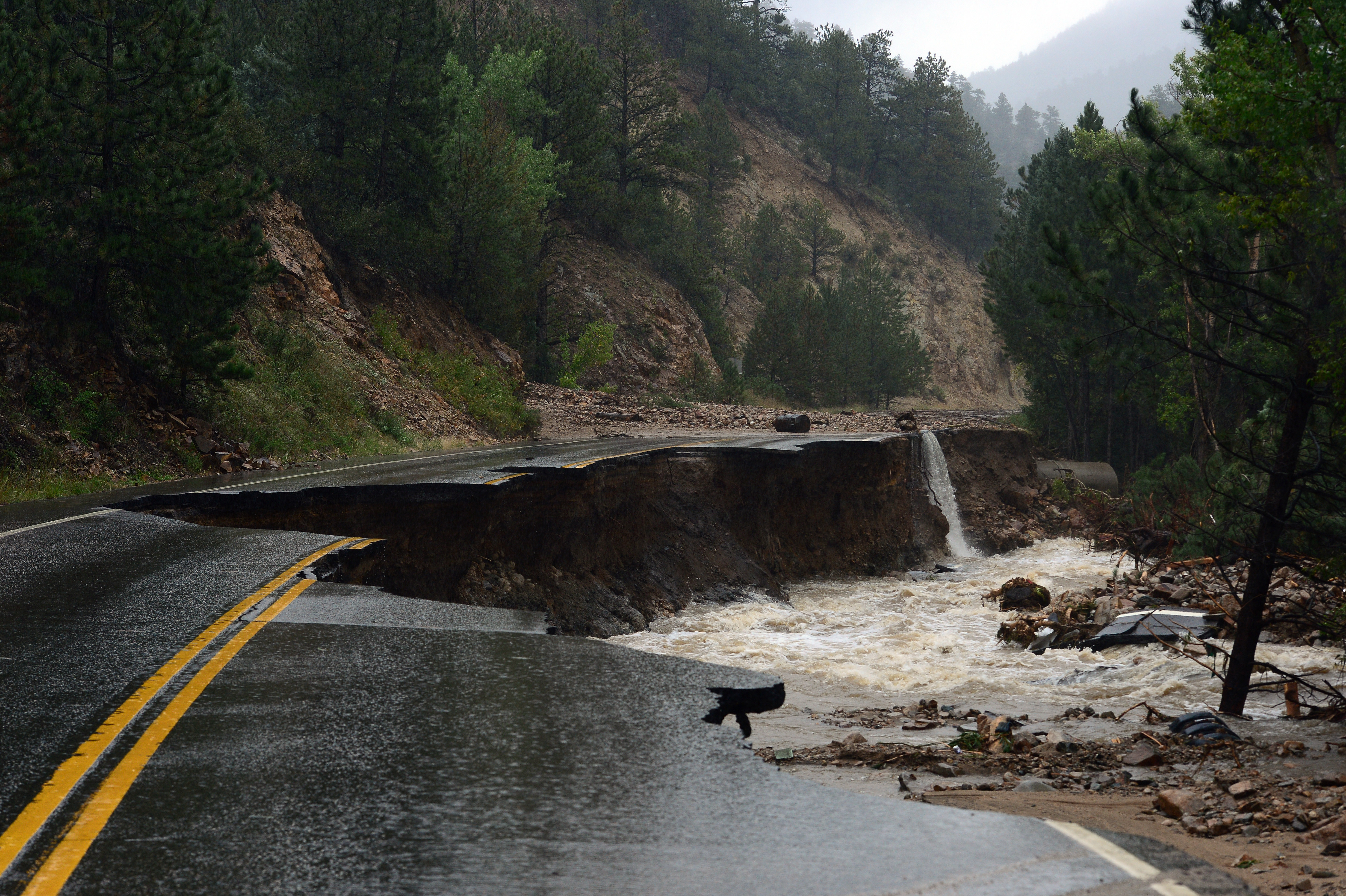 The floods have taken out huge portions of James Canyon Drive east and west of Jamestown, CO on September 15, 2013. (Photo By Helen H. Richardson/ The Denver Post)
The shelter population across the state reached 484 Tuesday, down from more than 500 over the weekend, with 16 total shelters open.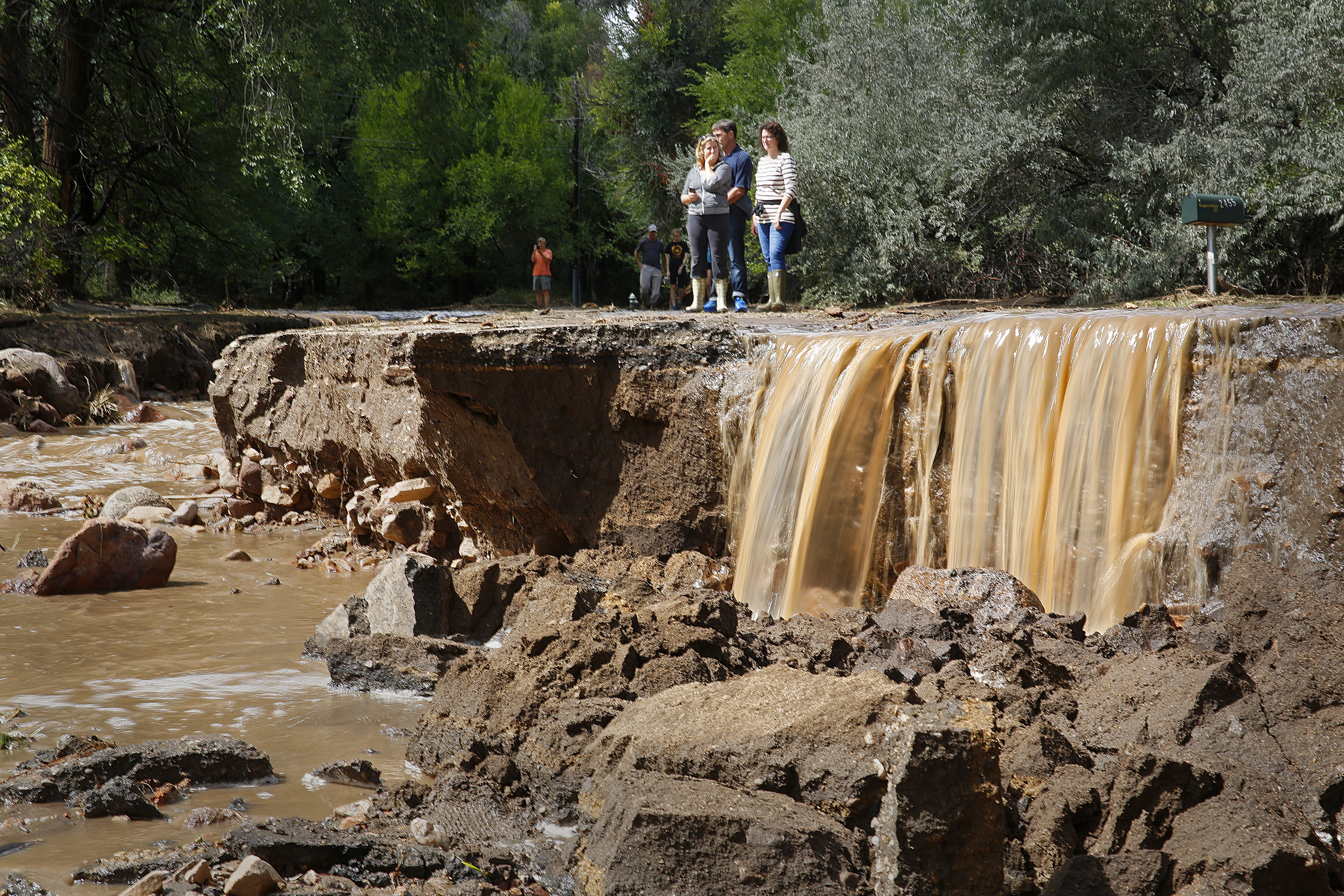 Local residents look at the damage along Topaz Street September 13, 2013 in Boulder, Colorado. (Photo by Marc Piscotty/Getty Images)
SCOPE OF DISASTER: 17 counties, 200 miles of Colorado (north to south), 2,380 square miles
Catastrophic flooding has affected 17 counties -- an almost 200 mile stretch of Colorado from north to south and impacting at least 2,380 square miles -- including: Boulder, El Paso, Larimer, Adams, Arapahoe, Broomfield, Clear Creek, Denver, Fremont, Jefferson, Logan, Morgan, Pueblo, Washington, Weld, Sedgewick, Otero and Archuelta counties.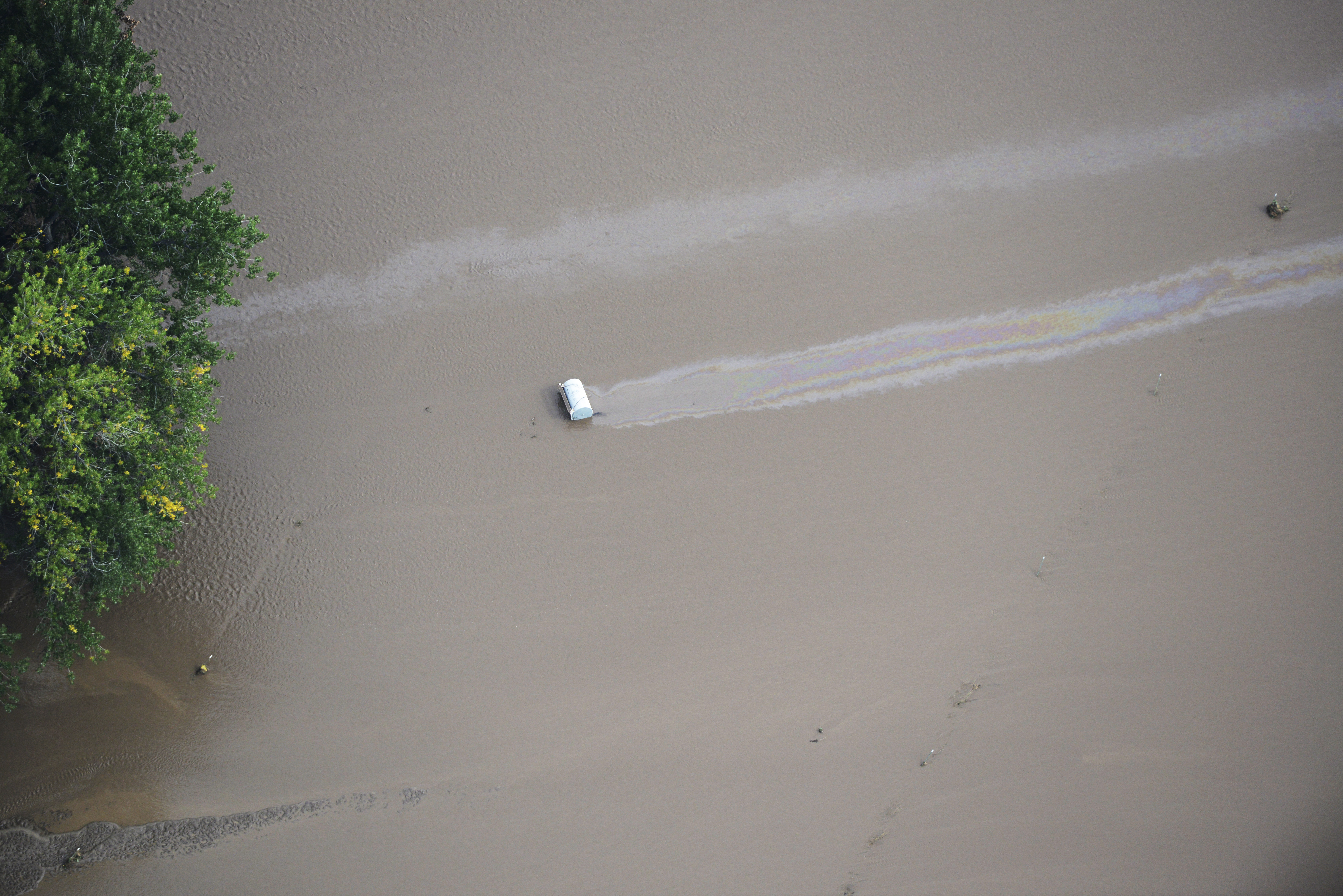 A floating tank leaks an unknown fluid on flooded farm Weld County Colorado Saturday morning, September 14, 2103. (Photo By Andy Cross/The Denver Post via Getty Images)
Boulder area: 18+ inches since Wednesday.
Aurora area: 15+ inches since Wednesday.
Golden area: 11+ inches since Wednesday.
Colorado Springs area: 11+ inches since Wednesday
Fort Collins area: 7+ inches since Wednesday.
Denver area: 6+ inches since Wednesday.
For perspective, 7News' meteorologist Mike Nelson reported that an inch of rain is equivalent to about 10-12 inches of snow, meaning that areas like Boulder which received nearly 20 inches of rain would have received 16-20 feet of snow. Local residents look over a road washed out by a torrent of water following overnight flash flooding near Left Hand Canyon, south of Lyons, Colo., Thursday, Sept 12, 2013. (AP Photo/Brennan Linsley)
Colorado emergency officials encourage anyone who has been evacuated and has not yet been able to make contact with family or friends yet to register at SafeAndWell.org to let loved ones know you are safe. Families and friends are also encouraged to check on loved ones at SafeAndWell.org.
To help those affected by disasters like floods, text the word REDCROSS to 90999 to make a $10 donation or visit ColoradoRedCross.org.
Related
Before You Go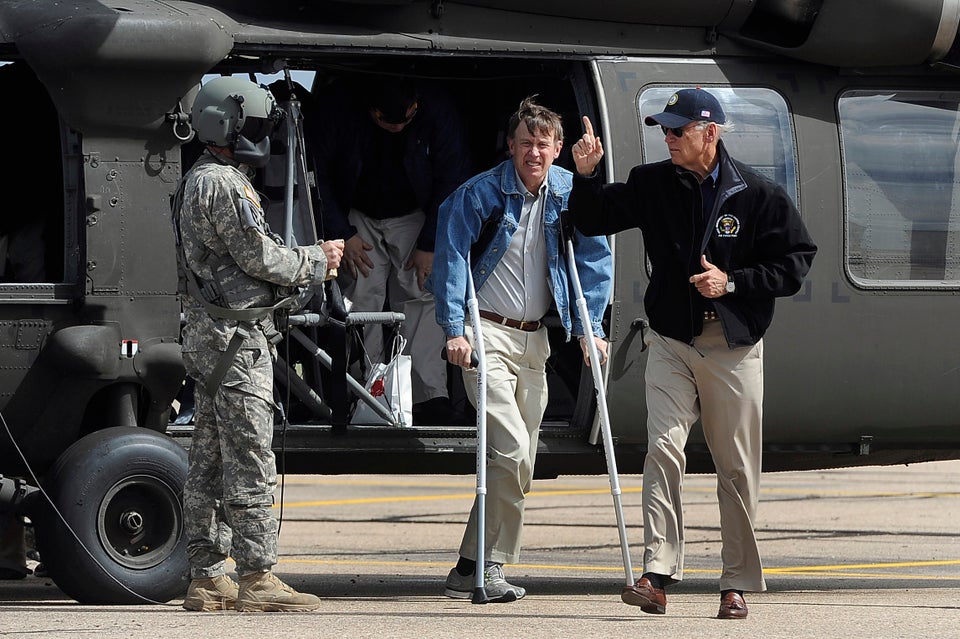 Colorado's Historic Flooding
Popular in the Community