As the sky finally clears in flood-devastated Colorado and official damage estimates continue to come out, questions remain about the stability of the state's fracking sites in one of the most densely drilled areas in the United States, many of which have been completely covered by floodwaters.
Photo and video continue to surface of flooded fracking sites, toppled-over condensate tanks, tanks floating in floodwaters leaking unknown fluid and scattered debris from drilling operations.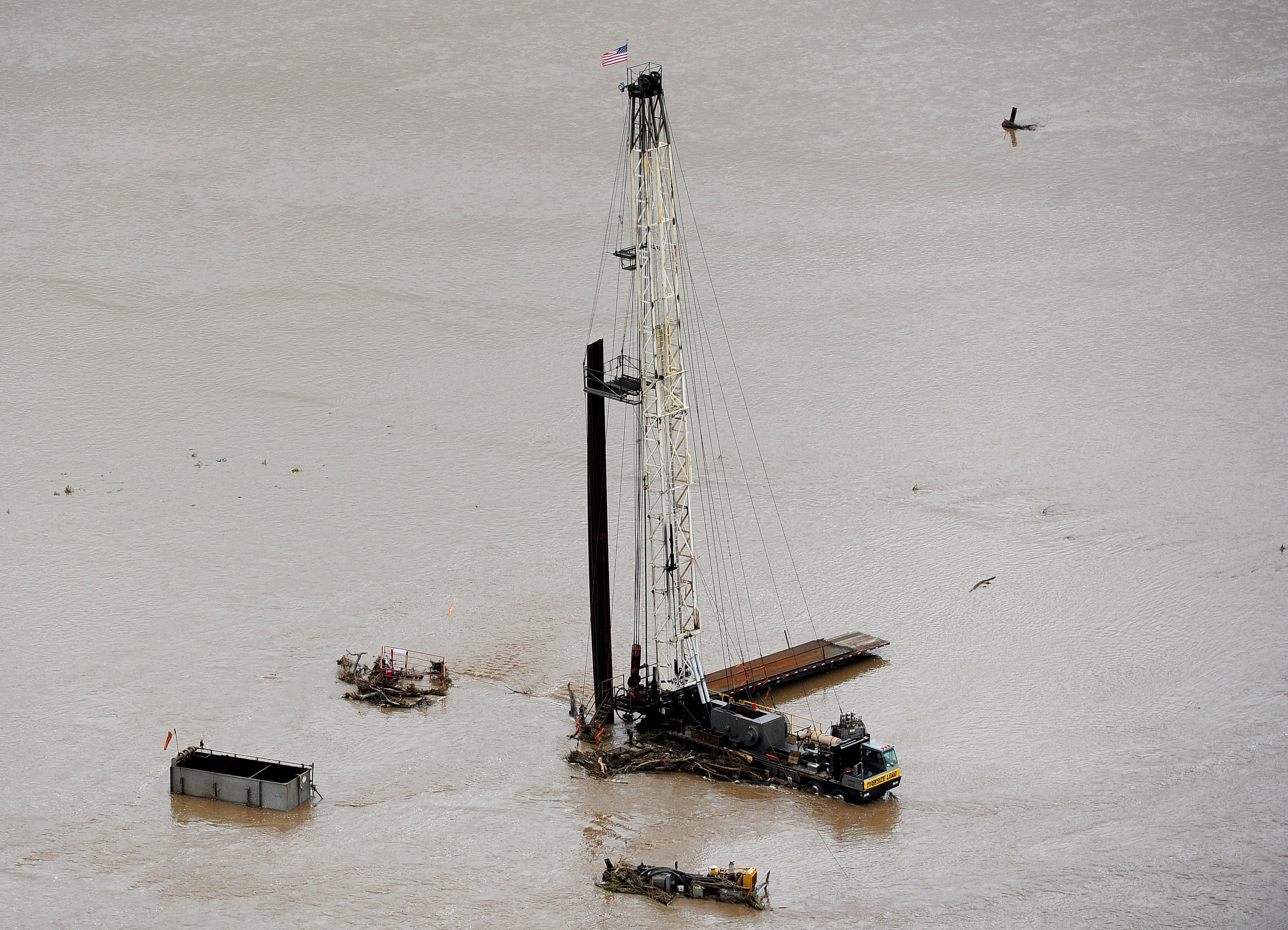 WELD COUNTY, CO. - SEPTEMBER 16: A drilling derrick near Greeley stands in land flooded by the South Platte River. (Photo By Tim Rasmussen/The Denver Post via Getty Images)
Colorado's historic and catastrophic flood has already resulted in the deaths of eight people, hundreds unaccounted for, the destruction or damage of nearly 20,000 homes, the evacuation of more than 10,000 people, the destruction or serious damage of 50 bridges. And as the state begins plans to rebuild, the possibility of a large-scale fracking disaster due to flooding has many activists worried.
"You have hundreds, if not thousands, of wells underwater right now and we have no idea what those wells are leaking," Lafayette-based anti-fracking activist and East Boulder County United spokesman Cliff Willmeng said Monday, Think Progress reported. "It's very clear they are leaking into the floodwaters, though."
Willmeng told Boulder's Daily Camera that he spent two days "zig-zagging" across Weld and Boulder counties and says he observed "hundreds" of wells that were inundated and several condensate tanks -- tanks which hold fracking site waste material -- overturned or at odd angles. Tanks matching Willmeng's description were posted by East Boulder United's Facebook page over the last couple of days and can be seen below.
The oil and gas industry has said that fracking shouldn't be a concern with regards to the flooding. "None [of the fracking sites] have been left open during the flood and we don't have any major issues going on," Colorado Oil and Gas Association President and CEO Tisha Schuller told 9News. "There were no fracking sites affected by the flood."
But with at least one pipeline confirmed to be broken and leaking, the exact extent of the damage to the fracking sites and the amount of possible leaked oil or waste material is still unknown. Mike King, executive director of the Colorado Department of Natural Resources told The Denver Post that the "the scale is unprecedented" and that authorities "will have to deal with environmental contamination from whatever source."
The Colorado Department of Public Health and Environment is urging everyone in Colorado to avoid contact with the water warning it could contain sewage or chemicals washed away from flooded homes, businesses or industry.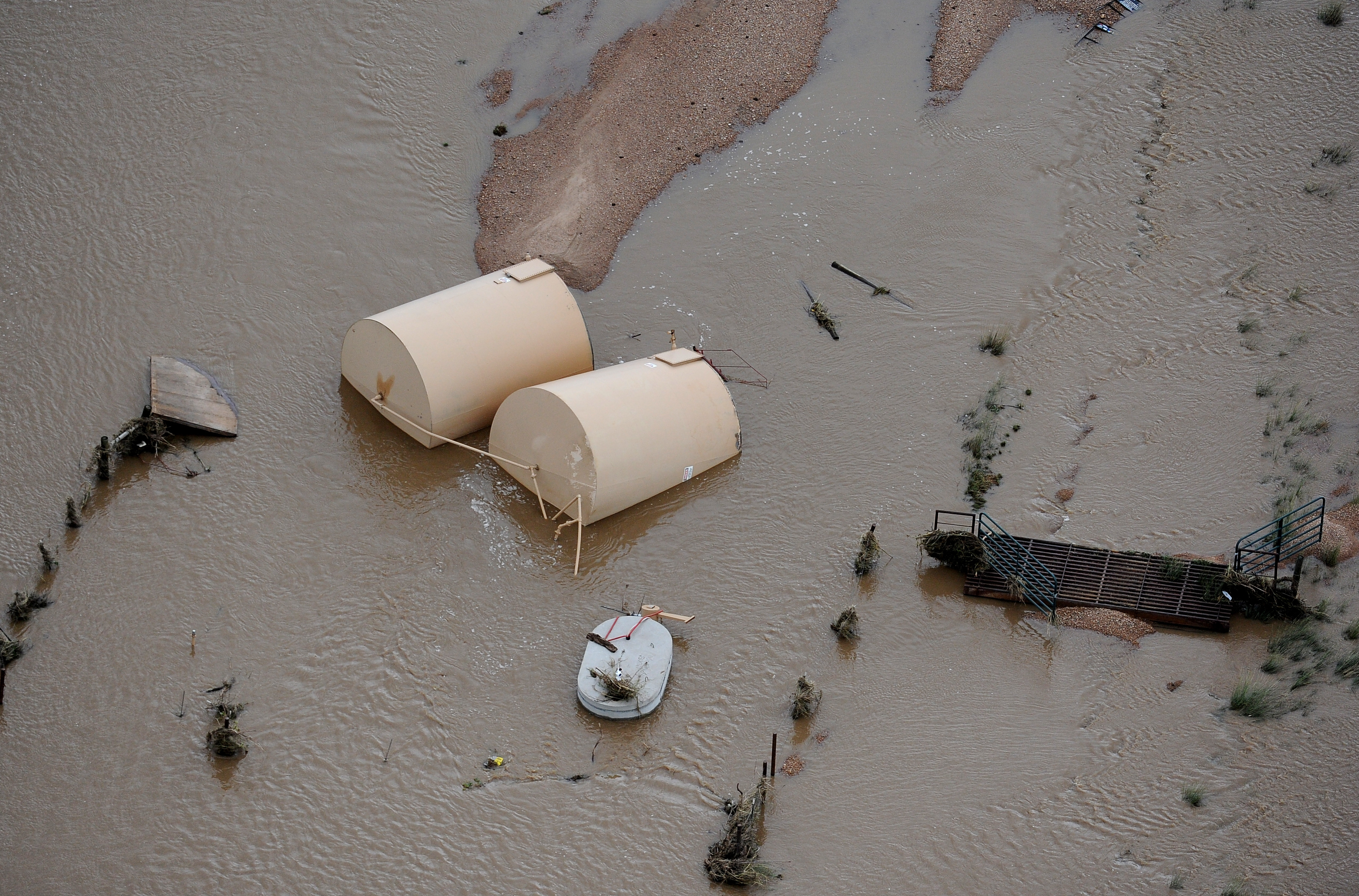 WELD COUNTY, CO. - SEPTEMBER 16: Debris from an destroyed drilling operation near Greeley in water flooded by the South Platte River. (Photo By Tim Rasmussen/The Denver Post via Getty Images)
As of Tuesday afternoon, Anadarko Petroleum Corp. has shut down 600 wells and stopped drilling activity, Noble says it has shut down 10 percent of its wells in the region, Encana Oil & Gas has shut down nearly 400 of their wells and PDC Energy reports that it has shut down a little over 100 wells in the affected area.
There are more than 20,000 wells in the oil-rich Niobrara Formation in Northern Colorado with 3,200 permits for open pits in Weld County alone, The Denver Post reports.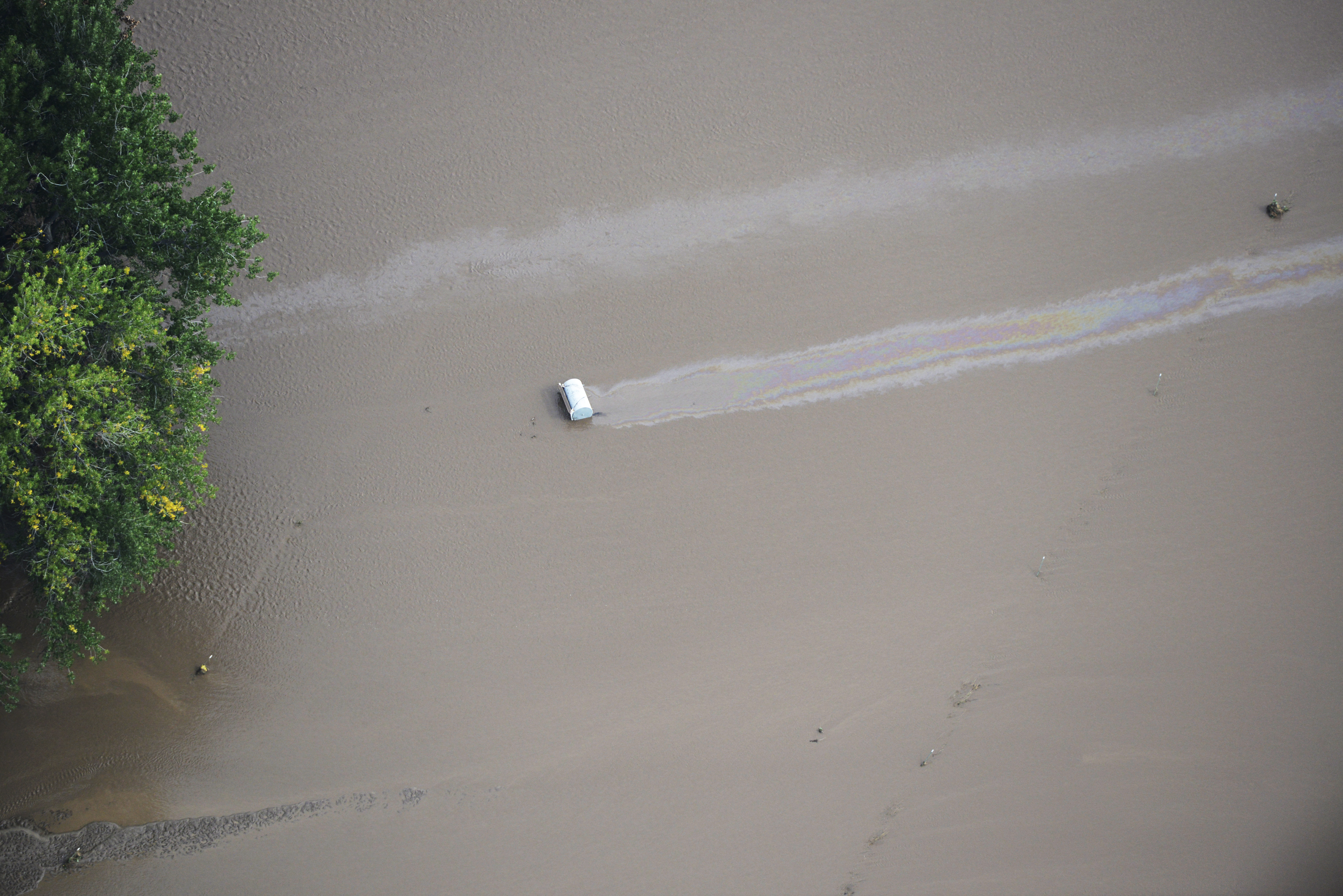 A floating tank leaks an unknown fluid on flooded farm Weld County Colorado Saturday morning, September 14, 2103. (Photo By Andy Cross/The Denver Post via Getty Images)
Overturned and leaking condensate tanks are largely noticeable and can be more easily tracked down, but waste flushed out of pits or, even worse, a ruptured gas line can be harder to spot.
Greeley-area radio host Scooter McGee went on a trip to what he claims is a ruptured gas line off U.S. Route 34, east of Greeley. McGee's claims have not been confirmed by state or gas industry officials, but his video appears below:
If you feel you have seen a leaking fracking site due to flooding, the Colorado Oil and Gas Conservation Commission has instructions online for reporting the issue.
Related
Before You Go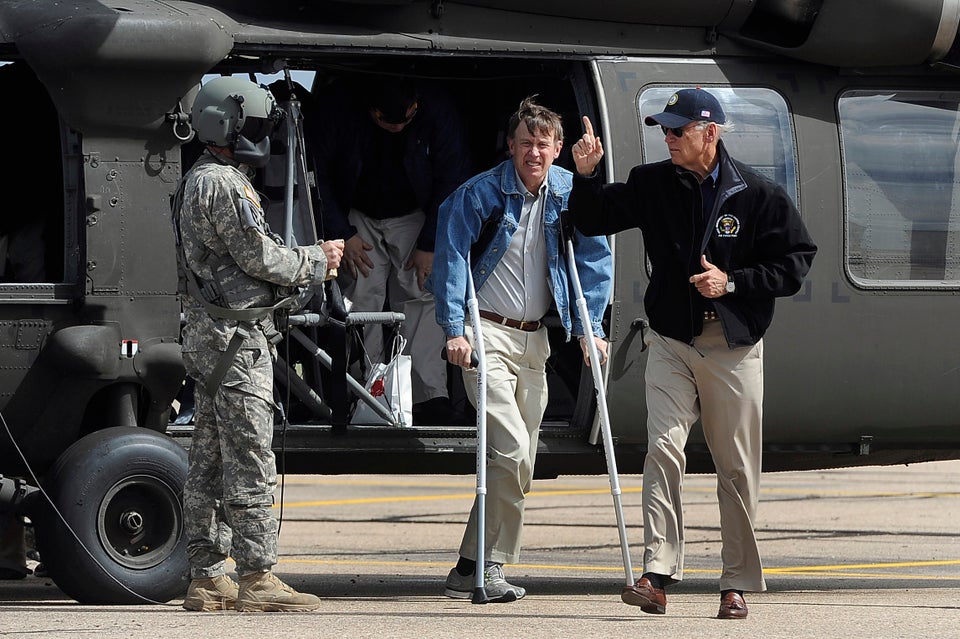 Colorado's Historic Flooding
Popular in the Community