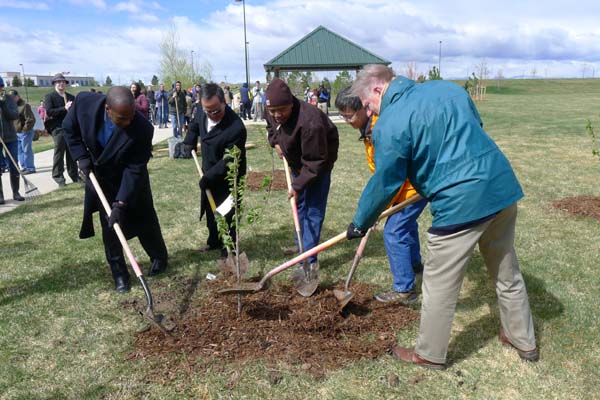 Above, some of the dignitaries plant the first cherry tree at Green Valley Ranch: (From left) Denver District 11 Councilman Chris Herndon, Executive Director of Denver's Human Rights and Community Relations Commission Derek Okubo, Gov. John Hickenlooper's Deputy Chief of Staff Kevin Patterson, Deputy Consul General Hiromoto Oyama and Japan America Society of Colorado President T.R. Reid.
When I was a kid in Japan, my family would make the requisite trek out every spring to see the cherry trees, or sakura, blooming at places like the Imperial Palace or Ueno Park, which is better known to the rest of the year for a bustling train station and crowded market with smelly fish vendors. Sakura-viewing is such a historically significant cultural event in Japan that it has its own name: hanami, or "flower-viewing."
People -- individuals, couples in love, entire families -- stroll parks and avenues for hanami and marvel at the fleeting beauty of the cherry blossoms, which bloom and then fall too soon as everyone picnics beneath the lovely pink cascade.
The country feels so strongly about its precious sakura, that in 1912 Japan made a gift of friendship of 3,000 cherry trees to the United States. They were planted in Washington D.C., around the Tidal Basin (near the Jefferson Memorial), East Potomac Park and around the Washington Monument.
Those trees have become a springtime ritual for Americans as well, a popular seasonal tourist attraction. There's a National Cherry Blossom Festival in Washington that runs from March 20-April 27 this year, with events throughout the month, as well as lots of "hanami," except we call it "bloom watching."
When my family moved Stateside in the 1960s and lived in northern Virginia, we would visit D.C. every spring to enjoy the sakura there.
My father even planted a cherry tree in our front yard in Sterling Park, the subdivision where we lived. It was a scrawny thing with a few blossoms when we were there. We moved to Denver in the '70s but the tree is still at our old ranch home, and it's now huge and pokes at the sky with authority.
I bet it's beautiful in the spring.
Japan is commemorating the 100th anniversary of that gift of sakura this year, and the Consul General of Japan at Denver last weekend hosted a tree planting at Town Center Park at Green Valley Ranch, a new subdivision off Pena Blvd. close to Denver International Airport.
The day was chilly and windier than mere bluster, and the attendees shivered through some speeches before walking around the lake and planting the trees along a walk that gives a nice view of the front range looming up above the horizon to the west. These trees have a nice home. The park plans to plant a total of 200 trees over time. They'll have to be hardier than the ones that thrive in Washington's humid climes -- I've seen only a few cherry trees in Colorado. My father never planted one after we moved here.
The Consulate threw a nice party inside the community center following the planting, with a banquet featuring three giant sushi boats provided by Japon, a tea ceremony demonstration, and a performance of lilting koto music by Junko Shigeta.
For the many non-Japanese in the room (and for the Japanese Americans, for that matter), it may have been the first time they enjoyed such cultural traditions. I've watched a tea ceremony, and tasted the tea after a ceremony, but never was taught until now, how to turn the large tea cup, sip three times and finish the serving with a fourth gulp, and then wipe the bowl and turn it again.
Japanese culture is all about rituals, like the ritual of hanami. It'll take a while for Coloradans to be able to picnic under the trees at Green Valley Ranch, but it'll be a beautiful ritual when they do.
Here's Junko Shigeta's performance of "Sakura" ("Cherry Tree"), the familiar traditional folk melody, on the koto, a traditional Japanese harp:
Calling all HuffPost superfans!
Sign up for membership to become a founding member and help shape HuffPost's next chapter