More than a thousand women gathered in front of the Colorado Capitol on Monday as part of a multiday sit-in demanding action on gun violence, including calls for the governor to move to ban all firearms in the state.
The event was organized by a group called Here 4 the Kids, which was founded in March after a mass shooting at a private Christian school in Nashville, Tennessee, left six people, including three children, dead. The group has called on Colorado Gov. Jared Polis (D) to issue an executive order to unilaterally ban guns and implement a statewide buyback program, a strategy its founders acknowledge is far-fetched but reflective of the urgent need for reform.
"This obviously flies in the face of the Constitution — of the Second Amendment," Saira Rao, a founder of the group, told Colorado Public Radio. "We would like to see the 28th Amendment repealing the Second Amendment. So yes, we are not morons. We are very well aware that this is unconstitutional, and this is how change happens."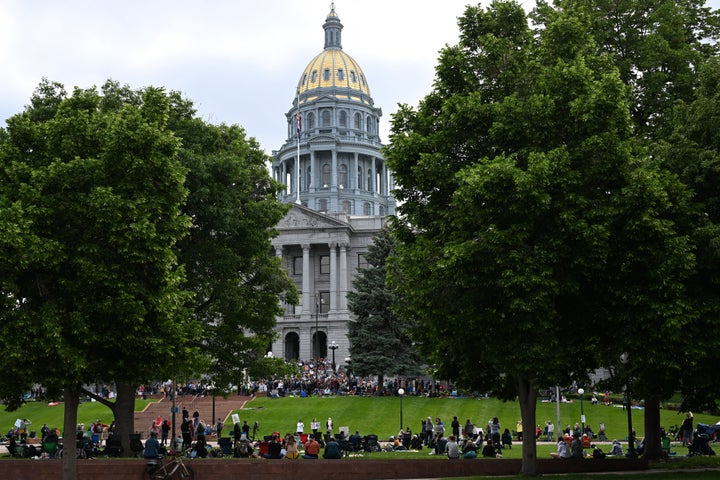 Rao and her co-founder, Tina Strawn, are both women of color but specifically called on white women to join the sit-in to leverage their "privilege and their power." Here 4 the Kids plans to organize similar events around the country and hopes to ultimately see 25,000 women show up.
"We respectfully ask white women to put their bodies on the ground as marginalized communities have always done and continue to do," the group said in a statement before the event. "As we prioritize the safety of historically marginalized and vulnerable populations such as BIPOC, LGBTQIA+, non-citizens, and disabled folks whose bodies are often on the front lines fighting for human and civil rights, we invite white women to take part in this act of civil disobedience."
By Monday afternoon, about 2,000 people had gathered outside the Capitol for the peaceful event. Some carried signs reading "Choose kids over guns" and "Save a 2nd grader, repeal the 2nd amendment," while the group held moments of silence throughout the day for victims of gun violence, according to The Denver Post.
The effort also attracted the attention of some celebrities, including actresses Lake Bell and Michaela Watkins, who both traveled to Colorado.
Polis' office said the governor shared concerns about gun violence, but rejected calls for an outright ban on firearms, saying an executive order on the matter would violate the Second Amendment. Other state Democrats have also criticized what they called "drastic" measures to address gun violence, saying such proposals are counterproductive in the long-term fight for change.
"The Governor takes the weighty responsibility of executive action and the trust Coloradans placed in him to govern responsibly seriously, and will not issue an unconstitutional order that will be struck down in court simply to make a public relations statement," his office said. "These individuals' calls to improve safety and prevent gun violence through their specific requests for an executive order banning all guns would simply be unconstitutional."
Popular in the Community