DENVER -- Standing in her driveway in Aurora, Colorado, a diverse suburb just east of Denver, a woman listened impatiently on Monday as a 17-year-old canvasser from the Latino advocacy group Mi Familia Vota attempted to talk to her about the election. The canvasser, Daniela Alonzo, had tried to enter the yard, but the woman asked her to go back to the sidewalk to avoid her dog. So Alonzo spoke to her from across a short chain-link fence instead.
"Hi, my name is Daniela and I'm with Mi Familia Vota," she said. "We're just reminding people about the upcoming elections."
It was a gray, chilly day, and Alonzo had hours of canvassing left to do. The goal was to knock on 20 doors an hour. If someone answered, Alonzo would remind them about the election, ask which issues were most important to them, and give them a pledge card to sign to get more information. But she didn't get that far with the woman in the driveway.
"My phone won't stop ringing," the woman said, cutting her off. "I remember."
Latinos could decide the outcome of Colorado's Senate race, which could in turn determine which party controls the upper chamber. That makes Latinos' votes -- or their decision to stay home -- particularly important. Both parties know it. Republicans and Democrats in Colorado both say they're making unprecedented Latino voter outreach efforts this year. Voters are inundated with mailers, ads and, sometimes, canvassers. After years out of the spotlight, since 2012 the Latino population in Colorado has come front and center.
Both parties have different hurdles to clear in order to win Latinos' votes. For Democrats, it will mean reassuring a frustrated Latino community that has been let down repeatedly during the Obama years. Republicans, for their part, need to convince Latino voters that they're not the caricatures that Democrats make them out to be, particularly on immigration.

If Republicans prevail, particularly Senate hopeful Cory Gardner and incumbent Rep. Mike Coffman, the GOP may rethink the way it approaches elections to come. Not too long ago, the party thought it needed to pass comprehensive immigration reform to stand a chance in states with large Latino populations. Now, Republicans may find solace in a formula that relies instead on softened rhetoric, aggressive voter outreach, a touch of Spanish speaking, and support for only piecemeal elements of immigration reform.
Polling shows that the Senate race is extremely close, with Gardner up slightly against Sen. Mark Udall (D). In a contest this tight, Latinos could be pivotal. It's been projected that 162,000 Latinos are likely to vote in Colorado this cycle, up 12.5 percent from the last midterm election in 2010, when Sen. Michael Bennet (D-Colo.) won despite a tea party wave.
A Pew Research Center poll released Oct. 29 found that for more than half of registered Latino voters -- 54 percent -- a candidate's stance on immigration wasn't a deal-breaker, so long as there was agreement on other issues. Still, immigration remains a highly personal issue for many Latinos, including in Colorado, where the polling group Latino Decisions recently found that 53 percent of Latino voters know someone who is undocumented.
Matt Barreto from Latino Decisions said that enthusiasm and interest in voting among Colorado Latinos is actually higher than in other states. He thinks polls have underestimated the Latino vote, and said that if turnout matches 2010 levels, those voters could end up lifting Udall to victory.

"At the end of the day, the candidates themselves have to make specific appeals and convince Latino voters to come out and vote for them, and we're still waiting to see if that has been developing and how strong Udall and Gardner have been in personally reaching out," Barreto told The Huffington Post. "The voters themselves seem to be enthusiastic and interested in voting."
The first pillar of the Republicans' new strategy is relatively simple: Have a presence in Latino communities. After disastrous results with Latino voters in 2012, the Republican National Committee upped its outreach in Colorado. Jennifer Korn, who leads Latino outreach efforts at the RNC, told HuffPost that in past years, the party used to "parachute in" just before the election, which made it difficult to counteract Democratic messaging. Now, she said, Latinos are disappointed with Democrats on immigration. That gives an opening to Republicans like Gardner and Coffman, both of whom she described as pro-reform.
"[Republican candidates] can talk about it in a way, because they're on the ground, that shows that the narrative that Democrats are trying to paint is not true," Korn said.

In particular, Coffman's handling of his race could serve as a future template for other Republicans. He represents an increasingly diverse district, and has moderated his previously tough anti-reform stance in order to win over a growing Latino population.

The Colorado Republican once called the Dream Act, the bill that would allow undocumented young people who came to the U.S. as children to become citizens, a "nightmare." In 2013, he signed an amicus brief in support of Arizona's hard-line immigration law meant to drive out undocumented immigrants. Now, however, he's sponsoring a bill that would allow Dreamers to join the military and eventually earn citizenship, and has voiced support for allowing undocumented immigrants to gain legal status.

It's not just a legislative evolution. Coffman has also learned Spanish, and even debated his Democratic challenger, Andrew Romanoff, entirely in Spanish on Thursday evening. (Romanoff has been fluent for more than 25 years, after spending time living in Costa Rica and Nicaragua.)

"I think Mike is rewriting the playbook for Republicans," said Tyler Sandberg, Coffman's campaign manager.

But immigration advocates aren't convinced that Coffman is a changed man. They commend him for learning Spanish but say he is trying to obscure the areas where his views remain at odds with those of most Latinos. Coffman still does not support a pathway to citizenship for the undocumented immigrant population at large, and he joined a House Republican conference that blocked comprehensive immigration reform efforts. Unlike other Republicans from Latino-heavy districts, Coffman chose not to sign on to the House's version of the immigration reform bill that passed the Senate.
"Instead of supporting policies that actually help our communities, he's taking Spanish classes, going to Latino markets and doing outreach," Angelina Sandoval, a student at University of Colorado Denver, said during a small anti-Coffman press conference held by Latino groups on Wednesday. "While reaching out to our communities is admirable, it's merely smoke and mirrors."
Gardner is a similar case. Like Coffman, he has attempted to reshape his image on immigration as tough but fair. He calls for border security first and opposes a "special" pathway to citizenship for undocumented immigrants, but has said that he expects legal status to be part of an eventual solution. It's a clever rhetorical maneuver to avoid saying whether he actually wants that to be part of the solution. Gardner's hedging has frustrated his opponents, who say he's avoiding taking a clear stance.

Conservative immigration reform supporters say Gardner would be likely to help with future efforts if he becomes part of the Senate. Alfonso Aguilar, executive director of American Principles in Action's Latino Partnership, said when announcing his support for Gardner on Tuesday that he thinks a Senate GOP-authored immigration reform bill would be more likely to pass through both chambers of Congress.

"We've been played by Democrats on the immigration issue," he told HuffPost in a phone interview. "It's been six years, nothing has happened, and we have to change the dynamic. I really do believe from my conversations with Republicans, and conservative Republicans, and even tea party-aligned Republicans in the House and Senate, that they want to do something."
It won't be easy for Gardner to pull this off. Republicans want to win over Latinos in the long term, but for this election, they have to contend simultaneously with pro-immigration-reform Latino voters and other GOP supporters who are less open to reform.
On Tuesday, Gardner spoke to about 100 supporters in a small, packed campaign office in the liberal enclave of Boulder. The attendees were mostly gray-haired and white, and when they filed out of the office to find immigration advocates protesting the event, their reactions ranged from confusion to mockery to outright aggression.

There were about a dozen protesters outside the event, most of them young and some undocumented. They chanted, "Gardner is wack. He's trying to take my DACA back," referring to the Deferred Action for Childhood Arrivals policy, which shields young undocumented immigrants from deportation. One Gardner supporter, with well-coifed gray hair and pearls, walked up to the protesters and yelled "Ahhhhhh!" in their faces. A man with a ponytail and cowboy hat grabbed a "DETECT. DETAIN. DEPORT" sign from his car and waved it at the protesters.

Standing nearby, a man named Charles who had attended the Gardner event remarked that Mexico puts unauthorized immigrants in a gas chamber and the U.S. should, too. Otherwise, he said, they'd just come back after being deported.

He said he knew Gardner didn't agree with him on that, nor did the candidate agree that every undocumented immigrant should be deported.
"He's more liberal on immigration than I am," lamented Charles, who declined to give his last name.

Gardner was inside the campaign office for most of the confrontation. When he walked out, he didn't acknowledge the protest or his supporters yelling back. Instead, he made a sharp turn and quickly walked away.
It's episodes like these that have convinced immigration reform advocates that Gardner is merely a wolf in sheep's clothing. They note his opposition to a pathway to citizenship, his lack of support for the Dream Act and his vote to defund the DACA program as evidence that he's more foe than friend. Gardner later shifted on DACA by voting in August against ending the program, but advocates haven't forgotten his previous position.

Sonia Marquez, an organizer with the Colorado Immigrant Rights Coalition, has been pushing Gardner for years to support a pathway to citizenship. She said it was frustrating to watch him refuse to budge while serving in the House, and she's worried that his influence on the matter will expand dramatically if he ends up in the Senate.
"Once we heard about him running for the Senate, you have to see what a shock that is for us," Marquez told HuffPost. "It's such a slap in the face to have been trying to move him on this issue, that is so very important to us, and that is so important to the entire state of Colorado."
It's unclear how much time and resources the Gardner campaign is investing to alleviate concerns like these. Although the Colorado Republican Party, RNC and outside groups have run Spanish-language ads in the state for months, Gardner waited until Wednesday -- less than a week before the election -- to run his own. His campaign did not return repeated requests for comment for this article.
The Udall campaign, in contrast, has been running Spanish-language ads since August. The senator speaks about immigration in his stump speeches and voted for the Senate's comprehensive immigration reform bill. He has also criticized the president for delaying executive action on immigration.
Chris Harris, a spokesman for Udall, argued that Latinos see through Gardner's softened tone and associate him more with immigration hawks like former Rep. Tom Tancredo (R-Colo.) and Rep. Steve King (R-Iowa), than with the pro-reform Republican caucus.
"He hasn't actually softened his policies," Harris said. "He's softened his language. He's never been as offensive as how he's talked about it as Tancredo or Steve King. But when the rubber hits the road and it's time to vote, he votes with them time and time again."
Romanoff makes a similar critique of Coffman. During the Thursday evening debate, the Democrat said Coffman "has voted against all of our priorities" on immigration. The district should be represented by a candidate who supports immigration reform "not just in days before an election, but in their whole career," Romanoff said. For his part, Romanoff conducts a weekly radio interview in Spanish, has visited Latino-owned small businesses, stopped by a citizenship class and held get out the vote events specifically aimed at Latinos.
Despite the critiques from Democrats and activists that their calls for piecemeal immigration reform are just a political ploy, Coffman and Gardner have a good chance of winning. Their victories could lead the GOP to adopt a new national strategy for winning Latino votes in years to come.
On the other hand, if Democrats do end up pulling out an unexpected victory on the strength of the Latino vote, they'll have a network of pro-reform advocates to thank. Groups like Mi Familia Vota and the Colorado Immigrant Rights Coalition have put considerable time into canvassing. But in doing so, they're running into the proverbial wind. Patty Kupfer, the managing director for the pro-immigration reform group America's Voice, told HuffPost in Denver that advocates feel that Democratic campaigns, particularly Udall's, could be doing more on immigration. Certainly, more help from the campaigns would make get out the vote efforts easier.
"I almost feel like if he wins and a lot of Latino voters turn out, it's going to be because of our efforts, not his campaign," Kupfer said.
Before You Go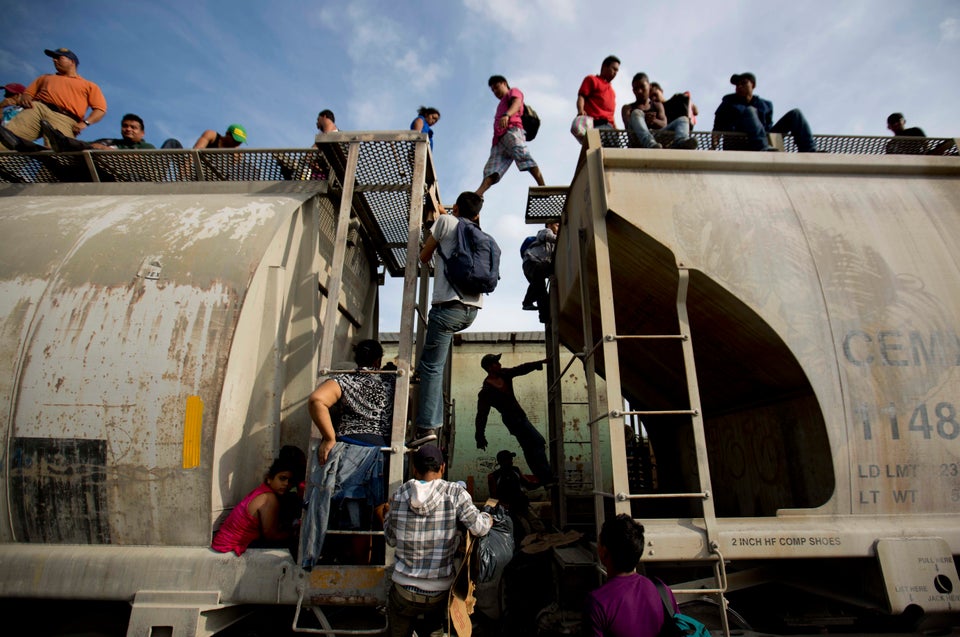 Why Latin Americans Really Come To The U.S.
Popular in the Community