Several Oklahoma lawmakers are calling for state Attorney General Scott Pruitt to drop his lawsuit against Colorado over its legalization of recreational marijuana, arguing that it's the "wrong way to deal with the issue."
In a letter sent to Pruitt's office last week, seven Republican state lawmakers, led by state Rep. Mike Ritze, expressed their concern that the case could significantly undermine states' rights, including Oklahoma's.
The lawsuit, titled States of Nebraska and Oklahoma v. State of Colorado, was filed in December by Pruitt and Nebraska Attorney General Jon Bruning. They contend that newly legal marijuana from neighbor Colorado is being illegally trafficked across their borders and that they're seeking to protect the health and safety of their states' residents. They argue that under the U.S. Constitution's supremacy clause, Colorado's decision to legalize and regulate the sale of recreational marijuana cannot stand so long as cannabis remains illegal under federal law.
The supremacy clause defines the Constitution, federal laws and treaties as "the supreme law of the land." It has been interpreted to mean that federal laws generally supersede state laws, although there are limits depending on the subject matter of the laws and how they're written.
The Oklahoma lawmakers fear that a decision by the U.S. Supreme Court against Colorado -- lawsuits between states go directly to the high court -- could sweep far more broadly than cannabis laws.
"If the federal government can force Colorado to criminalize marijuana," the letter reads, "using the exact same arguments, it could also force Oklahoma to criminalize a wide range of goods and activities that would be an anathema to the citizens of Oklahoma that we are sworn to serve."
The lawmakers argue that the best move would be for Pruitt's office to "quietly drop the action against Colorado, and if necessary, defend [Colorado's] right to set its own policies as we would hope other states would defend our right to govern ourselves."
Were the Supreme Court to rule against Colorado, Oklahoma lawmakers said they also have "deep concern" over the potential implications for the "national sovereignty of [the] entire country." They note that the lawsuit points to United Nations drug conventions that ban marijuana to strengthen its case -- an argument that the Oklahoma lawmakers said equates U.N. treaties with federal laws.
"If the argument in the lawsuit were successful, the federal government could, in theory, adopt any UN treaty, then force the states, including Oklahoma, to help impose it," the letter reads.
The state lawmakers said that many of their constituents have already asked them to file a brief in defense of Colorado if the court hears the case -- not because these Oklahomans want legal access to recreational marijuana, but because they fear their state's rights would be "put in jeopardy."
Recreational marijuana -- now legal under Colorado and Washington state laws, as well as those that will soon go into effect in Oregon and Alaska -- remains illegal under the federal Controlled Substances Act. The states that have legalized marijuana or softened penalties for its possession have relied on Justice Department guidance urging federal prosecutors to refrain from targeting state-legal marijuana operations.
The voters in the District of Columbia also legalized recreational marijuana this past November, but that measure is the subject of a congressional effort to block its implementation.
"This is not about marijuana at its core -- it is about the U.S. Constitution, the Tenth Amendment, and the right of states to govern themselves as they see fit," said Rep. Ritze in a statement about the letter. "Our Founding Fathers intended the states to be laboratories of self-government, free to tinker and experiment with different ideas. The founders, from Jefferson to Madison, were also strong proponents of states nullifying unconstitutional federal actions. If the people of Colorado want to end prohibition of marijuana, while I may personally disagree with the decision, constitutionally speaking, they are entitled to do so."
Joining Ritze in signing the letter were Oklahoma state Reps. Lewis Moore, John Bennett, Mike Christian, Dan Fisher and state Sens. Ralph Shortey and Nathan Dahm, all Republicans.
Pruitt's office did not immediately respond to a request for comment on the letter.
Colorado Attorney General John Suthers has said that the suit is "without merit" and that he will "vigorously" defend his state's marijuana laws before the Supreme Court, if necessary.
Before You Go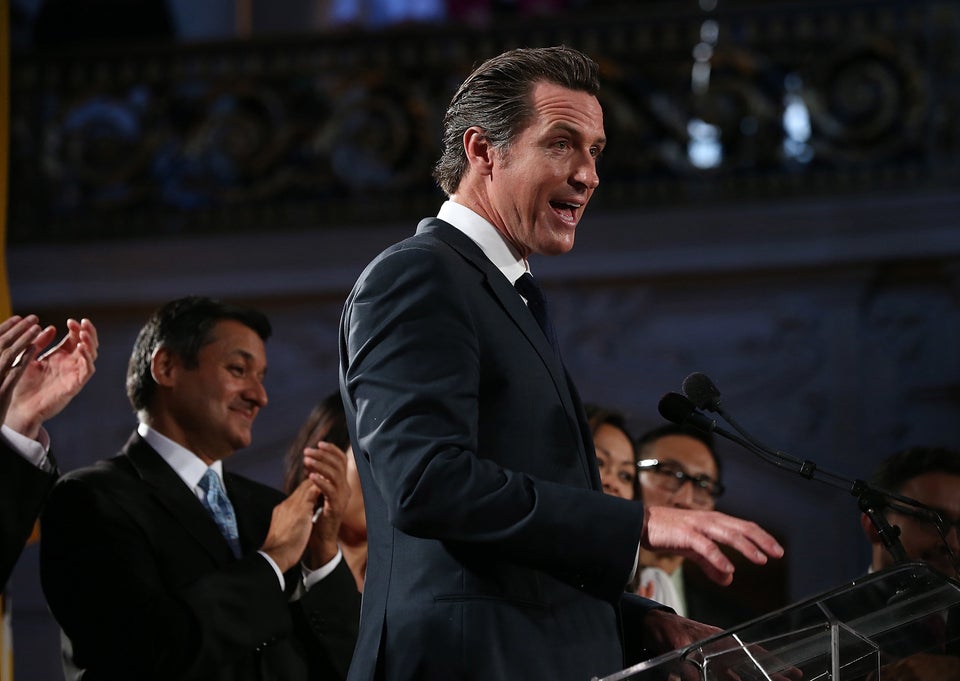 Politicians On Pot
Popular in the Community