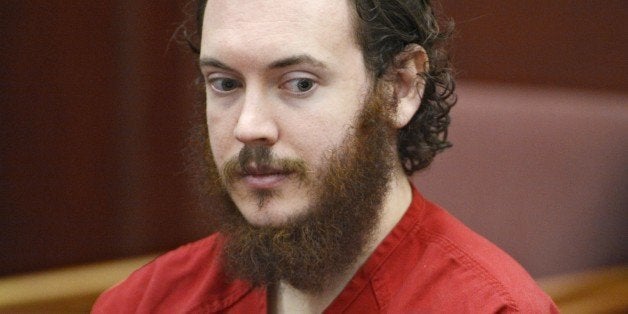 CENTENNIAL, Colo., May 11 (Reuters) - Lawyers trying to avoid the death penalty for Colorado movie massacre gunman James Holmes objected on Monday when prosecutors tried to bring testimony the defense called "upsetting" from investigators at the bloody crime scene in July 2012.
Public defenders for Holmes, 27, argued that the former graduate student's right to a fair trial would be jeopardized by lurid details of the scene where 12 people were killed and 70 wounded at the packed midnight premiere of a Batman film in a Denver area multiplex. Prosecutor Rich Orman responded with scorn.
"The upsetting thing is that the defendant went into a theater of innocent people and shot! The upsetting thing is the defendant shot a little girl," Orman said, his voice shaking with emotion.
"The upsetting thing is the crime."
Prosecutors are seeking the death penalty for Holmes, who has pleaded not guilty by reason of insanity to multiple counts of murder and attempted murder.
Beginning the third week of the trial that is expected to last four to five months, attorneys for the former neuroscience graduate student objected to prosecution plans to call a fingerprint expert who examined the bodies.
The defense lawyers said the testimony was likely to be "upsetting" and "unnecessary" because it follows multiple other law enforcement witnesses who described finding the victims inside theater nine of the Century 16 cinema in Aurora.
Arapahoe County District Court Judge Carlos Samour ruled that the prosecution can present evidence on identifying the dead, as long as it does not belabor the point. He said he would deal with defense objections on a question-by-question basis.
The jury also heard from an FBI special agent who showed photographs of Holmes' bomb- and booby-trapped apartment.
Among the images was a calendar hanging on his bedroom wall with the date of the massacre, July 20, 2012, circled next to a number 1 and the mathematical symbol for infinity.
His public defenders say Holmes suffers from schizophrenia and was not in control of his actions when he plotted and carried out the attack. They concede that he opened fire in the theater, and say only his state of mind should be in question.
They say the jury could be prejudiced against Holmes if the prosecution persists in its strategy of calling crime scene technicians to give detailed testimony, interspersed with heart-wrenching accounts from wounded survivors.
The prosecution says Holmes carried out the massacre because he had lost his girlfriend and career, and had a "longstanding hatred of mankind." (Reporting by Keith Coffman; Writing by Daniel Wallis; Editing by David Gregorio)
Calling all HuffPost superfans!
Sign up for membership to become a founding member and help shape HuffPost's next chapter
BEFORE YOU GO
PHOTO GALLERY
The Aurora Theater Shooting Victims