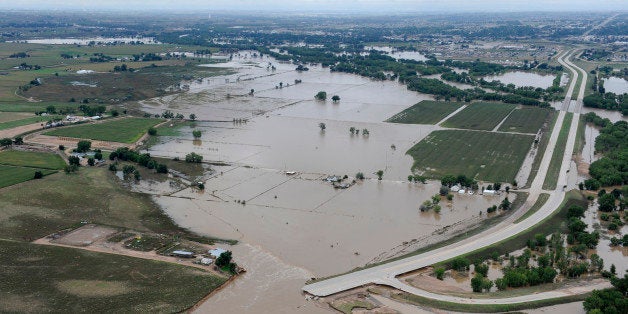 DENVER, Sept 18 (Reuters) - A damaged storage tank owned by energy company Anadarko Petroleum Corp. has spilled an estimated 125 barrels of oil into the flood-swollen South Platte River in north-central Colorado, the state oil and gas commission said on Wednesday.
The statement provided few details of the spill beyond saying that the mishap occurred near the town of Milliken north of the confluence of the St. Vrain and South Platte rivers, and that Anadarko was responding by deploying absorbent booms on the river.
Todd Hartman, a spokesman for the Colorado Department of Natural Resources, the parent agency of the state oil and gas commission, said the substance released into the river was "condensate," a very light form of petroleum.
He said the spill was reported to the commission on Wednesday, but he was not sure when it occurred, and he had no additional information about it.
The incident marked "the first sizable report that we've been made aware of" regarding oil spills stemming from the extensive flooding in Colorado unleashed by a week of torrential downpours along the eastern slopes of the Rockies, Hartman said.
Separately, the Denver-based Kerr-McGee Oil and Gas Onshore company, a unit of Anadarko, reported on Tuesday the spill of an unknown volume of condensate into the South Platte on Tuesday from a 300-barrel-capacity storage tank.
Hartman said he was unaware of that incident, which was reported to the interagency National Response Center for oil and chemical spills as having been discovered on Tuesday. It was not immediately clear whether the two reports were related.
Anadarko revealed little additional information in a statement issued late Wednesday, saying, "To date we are aware of two tank batteries that were damaged by floodwaters and have associated light-oil releases."
The statement added that the spills occurred "in floodwaters associated with the South Platte River and the St. Vrain River", and said the company was working with state and federal agencies to contain and clean up the spills.
A company spokesman reached late Wednesday declined to give any further details.
The 125-barrel Anadarko spill pales in comparison to the 1,500 barrels of oil that were released into the Yellowstone River in 2011 when Exxon's Silvertip pipeline in Montana ruptured during heavy flooding in that region.
The recent flooding in Colorado has severely disrupted oil and natural gas operations during the past week in the fossil fuel-rich region of eastern Colorado known as the Denver-Julesberg Basin, forcing hundreds of wells to be idled.
Anadarko has said that some 650 of the 5,800 wells it operates in the region and 20 miles of its pipelines have been shut down as of Wednesday.
Calling all HuffPost superfans!
Sign up for membership to become a founding member and help shape HuffPost's next chapter
BEFORE YOU GO
PHOTO GALLERY
Colorado's Historic Flooding