 Recent water samples from flood-affected rivers and streams in Colorado show no evidence of oil and gas contamination, but several rivers do show high levels of E. coli, the Water Quality Control Division of the Colorado Department of Public Health and Environment announced Tuesday.
Samples collected in 29 locations in eight rivers in the flood zone showed high levels of E. coli in the Boulder Creek, Big Thompson River watershed and South Platte Basin all the way to the Nebraska state line, according to the state health department.
Although the Colorado Oil And Gas Conservation Commission continues the tracking of 15 "notable" spills in the flood zone -- more than 40,000 gallons of oil -- the health department found no signs of pollutants associated with oil and gas in the rivers and streams.
"Although much attention was focused on spills from oil and gas operations, it is reassuring the sampling shows no evidence of oil and gas pollutants," said Dr. Larry Wolk, the executive director and chief medical officer at the department, to KDVR.
State health department officials estimate that about 20 million gallons of raw sewage and about 150-270 million gallons of partially treated sewage mixed with Colorado's floodwaters, The Denver Post reports.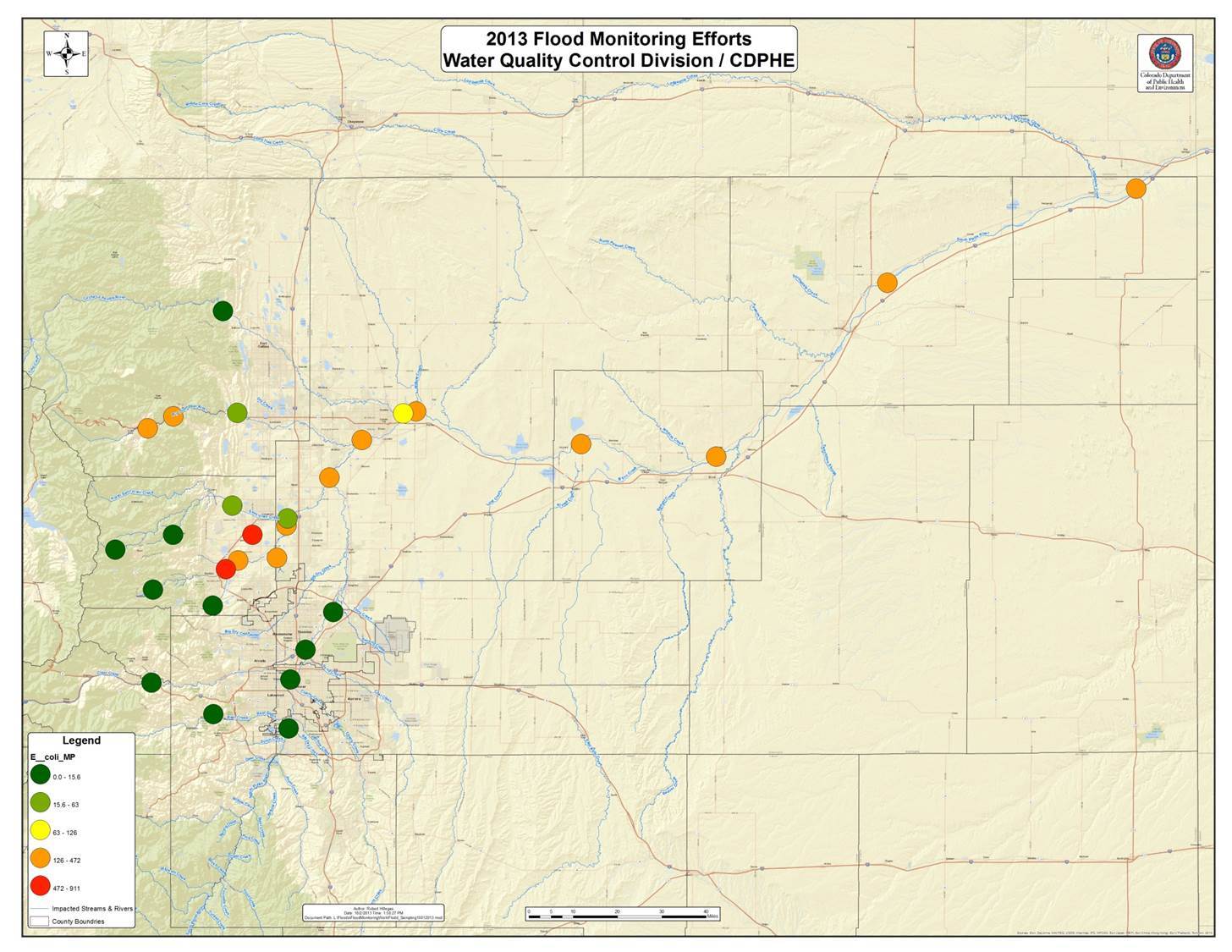 The Water Quality Control Division of the Colorado Department of Public Health and Environment tested for E. coli in Colorado's rivers and streams on Sept. 26. Green dots indicate low levels of contamination, while red are the highest. (CDPHE)
Since the historic flooding in Colorado last month which devastated the state resulting in the deaths of at least nine people and over $2 billion in damages, five public drinking water systems still remain on boil or bottled water advisories: Jamestown, Lyons, Mountain Meadow Water Supply, Lower Narrows Campground and Sylvan Dale Ranch.
COGCC announced last week that the cumulative total of notable oil releases is up to 1,027 -- or 43,134 gallons. Produced water releases are up to 13 with a total of 430 barrels -- or 18,060 gallons.
A total of 16 other locations with spills classified as "minor" by COGCC are also being tracked, as well as 57 other locations with evidence of flooding but no evidence of a spill.
The volume of oil released due to flooding remains small by oil and gas industry standards.
"In the context of this historic event, these spills are not an unexpected part of many other sources of contamination associated with the flood," the COGCC wrote in a statement. "Those include very large volumes (millions of gallons) of raw, municipal sewage and other hazards associated with households, agriculture, business and industry."
U.S. Rep. Jared Polis announced in September that he is calling on the House Resources Committee for a hearing on the spills caused by the floodwaters.
"Not only have my constituents been dealing with damage to their homes, schools and roads, they are increasingly concerned about the toxic spills that have occurred from the flooding of nearly 1,900 fracking wells in Colorado," Polis wrote in a letter to Resource Committee Chairman Doc Hastings, KDVR reported. "Congress must deal with this issue to ensure that natural disasters do not also become public health disasters."
Before You Go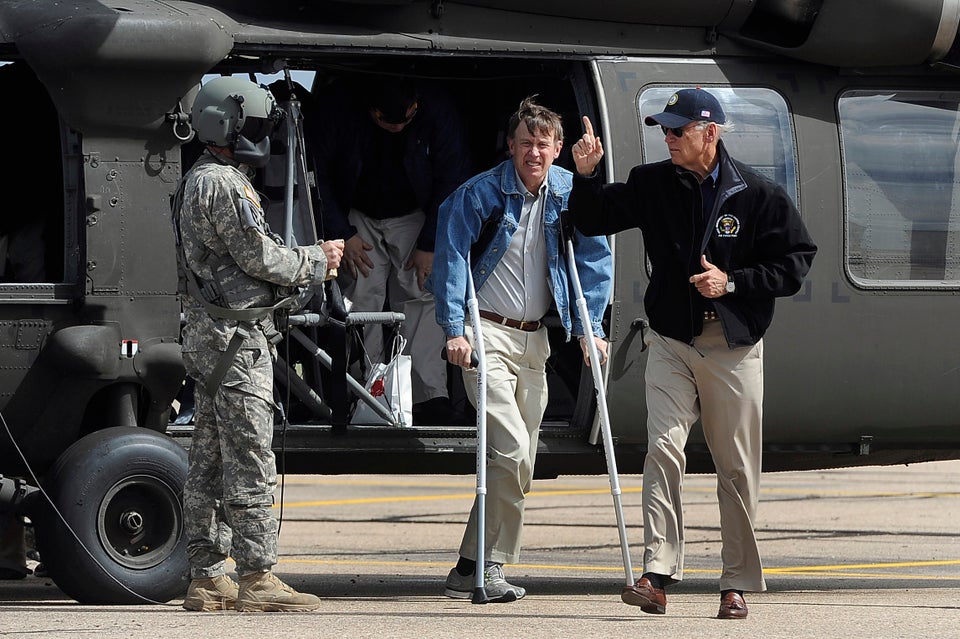 Colorado's Historic Flooding
Popular in the Community